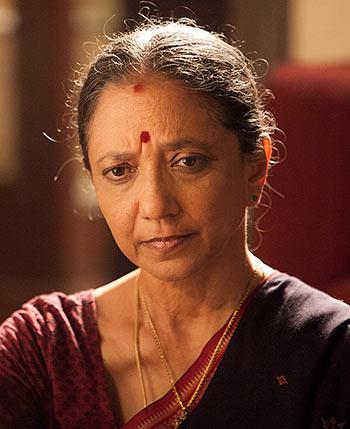 'I have never been offered roles before.'
'I accepted this because it excited me to do something challenging.'
Former Indian Censor Board chief Leela Samson talks about her acting debut in Mani Ratnam's O Kadhal Kanmani.
From an acclaimed Bharatanatyam dancer to being a former Indian Censor Board chief, Leela Samson has come a long way.
She recently added another feather to her cap by making her big screen debut with the recently released Tamil film O Kadhal Kanmani.
Her moving and convincing portrayal of an older woman suffering from Alzheimer's disease was much appreciated.
Written, directed and produced by Mani Ratnam, the film offers a modern take on love, commitment and live-in relationships.
In this interview with S Saraswathi/Rediff.com, Leela Samson talks about working with Mani Ratnam, preparing for her role, shooting in the rain and bonding with Dilquer and Nithya, the lead actors of the film.
This is your very first film and that too with Mani Ratnam. How did you get this opportunity?
I was called by Madras Talkies (a production company) to meet Mr Mani Ratnam on September 9, 2014. He narrated the story and asked if I would consider the role of Bhavani (her character in the film).
I said I would not mind trying!
I was given a camera test a week later and the next day they confirmed I would be playing the role.
How was it working with Mani Ratnam?
It was a learning curve for me. I had never been on a film set before; I had never even acted in a school play.
I had participated in dance dramas and had a successful career in Bharatanatyam as a soloist.
I have always been a keen student, though, so it was good to be observing and learning.
Have you been offered other roles in the past? Why did you accept this one?
I have never been offered roles before.
I accepted this because it excited me to do something challenging and with such a great director.
I had faith that he would guide me through.
What challenges did you face playing a woman suffering from alzheimer's disease?
Mani Sir spoke to me which helped a lot. Sharmishta Roy, the set designer, also guided me from her experience and provided me with a document on how a patient behaves under the circumstances.
Ultimately, you go with your instinct at the moment of the enactment.
Was it difficult shooting in the rain?
Yes, it was uncomfortable. But it puts you in the mood of the shot.
It was like being a kid again; whenever it rained, we would run out to play!
Were you nervous about working opposite a seasoned actor like Prakash Raj?
Yes, because I knew how experienced he was.
He made me feel totally at ease. So did everyone else.
How did you bond with Dulquer and Nithya Menen; your on-screen rapport with them seemed very easy and natural.
I loved them instinctively. Dulquer and Nithya are two lovely young people.
They showed the kind of maturity that I possibly did not have at their age.
They take their job seriously and work hard. I respect that.
They are also a lot of fun.
Can you share some interesting experiences you had on the set?
The very first day, I was sitting with the other junior actors and one of them asked me who my agent was.
I was taken aback. When I did not answer, she said, 'How much did your agent take for getting you into the film?'
I was pretty dumbfounded! I could not tell her I had none. She would not have believed me!
Have you accepted any more films?
No one has asked yet, thank God! I need to think about this.
The role really matters and there cannot be too many good ones like this for someone of my age.
If it happens, Madras Talkies will have to be my agent!