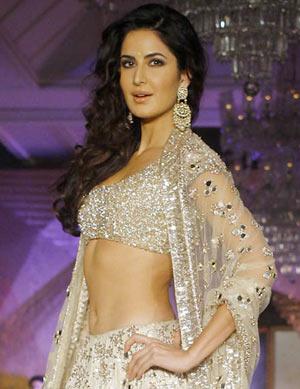 'I'm ruled by emotions. I think women are generally more emotional than men.'
'I believe love is like what we see in movies or what we read about.'
Love talk from Katrina Kaif.
Katrina Kaif's life seems to resemble the tagline of her latest film, Fitoor, which says 'Yeh Ishq Nahin Asaan', especially after rumours of her break-up with Ranbir Kapoor.
But the gorgeous actress has not lost her faith in love, or so she tells us in this interview.
Munching on her dinner -- chocolate chip cookies! -- Katrina gets ready for some straight talk. Jahnavi Patel/ Rediff.com listens in.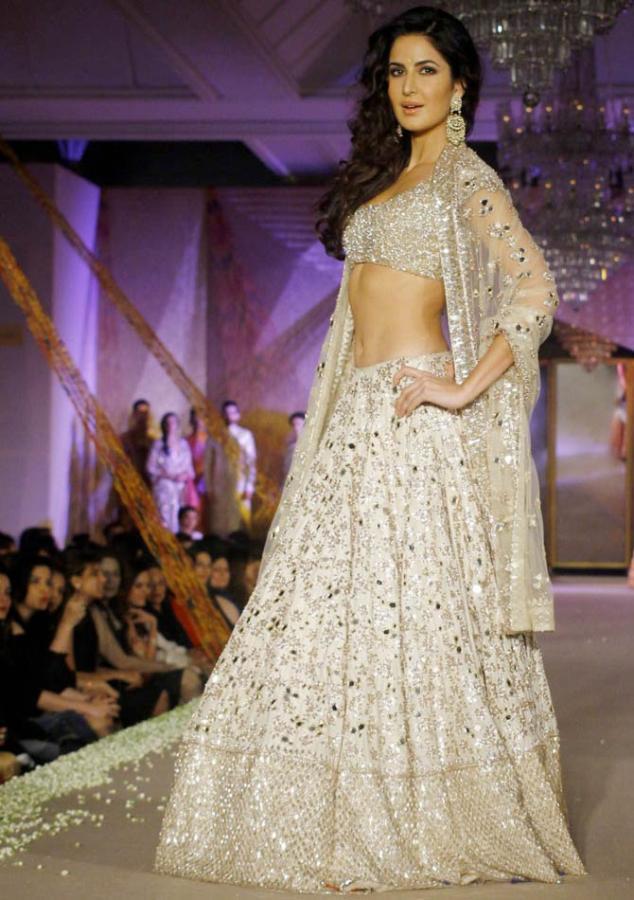 Image: Katrina Kaif at Manish Malhotra's fashion show. Photograph: Hitesh Harisinghani
After doing action films like Dhoom 3, Ek Tha Tiger, Phantom, Bang Bang, you are in a romantic film.

I didn't think of that, that's nice.
It would be a nice change for people who come to see Fitoor. Jab Tak Hai Jaan was my last love story even though, for me, Ek Tha Tiger was a love story as well.
In fact, this year I'm going to have three love stories.

Fitoor is a classic, romantic, passionate love story.
Jagga Jasoos is in keeping with Anurag Basu's style -- quirky and unusual.
Baar Baar Dekho is a very surprising love story. I cannot predict what people will feel but I'm certain that they will say it's a good attempt. It's something we have not seen before.

Has your sensibility of choosing projects changed over the years, as you have evolved?
You choose films according to the time, place and mood you are in at that time in life.
I remember when I decided on taking up Dhoom 3. I was driving in my car and just the excitement and thrill of being on set with circus people and the team, the visuals, songs, dance... that was very exciting for me at that moment.
When I got the script of Mere Brother Ki Dulhan, I was on the sets of Zindagi Na Milegi Dobara. I remember discussing with Zoya (Akhtar, director) and then calling up Ali (Abbaz Zafar), the director of Mere Brother...
People, who watch the film now, call it childish but for me, at that moment, it was exactly what I wanted to do.
Ali knew me so well. The character he wrote, he used that side of me that only my close friends know. When Aditya Chopra saw the film, he said, 'What are you guys doing? What's wrong with you?'
In the end, he was happy with it.

I'm happy with all my films because they were what I wanted to do at that time. You cannot predict the future and don't necessarily have the greatest foresight.
The story of Phantom seemed so new to me. I was reading the script with a friend, and we thought it was really unusual.

Were you upset that Phantom did not do well?

Phantom's opening weekend started out so well, we were all happy. I really think it's a good film -- well made, with an interesting story.
But then sometimes this happen. These things aren't in your control. You can't predict it.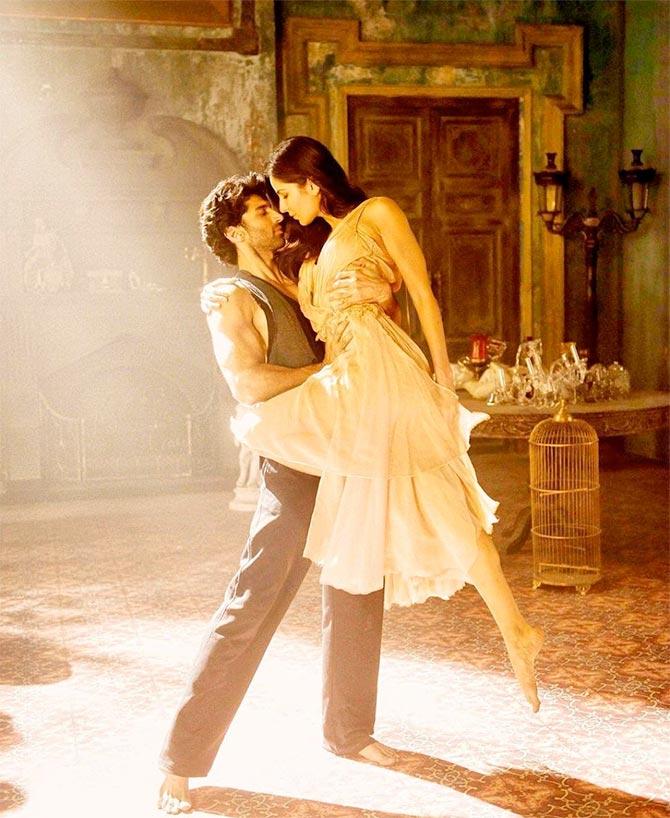 Image: Aditya Roy Kapur and Katrina Kaif in Fitoor
How was it working with Aditya Roy Kapoor in Fitoor? How would you describe your chemistry, on and off screen?
I have never understood the word 'chemistry'.
To me, it's the scene, the way a director directs you and the lines. I've read it somewhere, there is a great classic, romantic film ever made called El Cid, starring Sophia Loren and Charlton Heston.
When you read the trivia about the film, apparently, they hated each other on set.
If you have the script to back you up and you're a competent actor, when the camera rolls, the director -- if he's good -- will craft that chemistry between the actors, and you wouldn't even know it.
When you do a film like Ajab Prem Ki Ghazab Kahani -- where there's give and take, fast, upbeat and happy comedy -- you need to have that sync, the same comic timing. But even then, even with a great director like Rajji (Raj Kumar Santoshi), you can go off. To me, he is one of the greatest comic directors we have.
The chemistry between two actors comes from the script. You can't say someone has great chemistry with a silly script.
Coming to off-screen chemistry, Adi and I have a similar friends circle, a lot of common friends. I didn't know him very well, but was familiar with him. I didn't know him that well even during the making of the film, but now we're spending a lot of time together promoting the film.
Adi is very sincere, simple and honest. What you see what you get. He's very straightforward and easy to trust.
Rekha was initially a part of Fitoor. How was your experience shooting with her?

I consider myself fortunate to spend whatever little time I got with her. It will be a special memory for me.
Not many people know but I have had many interactions with Rekhaji over a long time. We have had many conversations. We have met on and off for quite a few years now. So I know her quite well. Not personally, but I have high regard for her.

Most of the characters in Abhishek Kapoor's films have an internal conflict.

With Kai Po Che, Rock On!! and now Fitoor, his characters are complex.
I think Abhishek is drawn to that because he has a very unique, in-depth understanding of human nature. When you talk to him about something important, on life, he always has interesting things to say. You'd be surprised with what he says.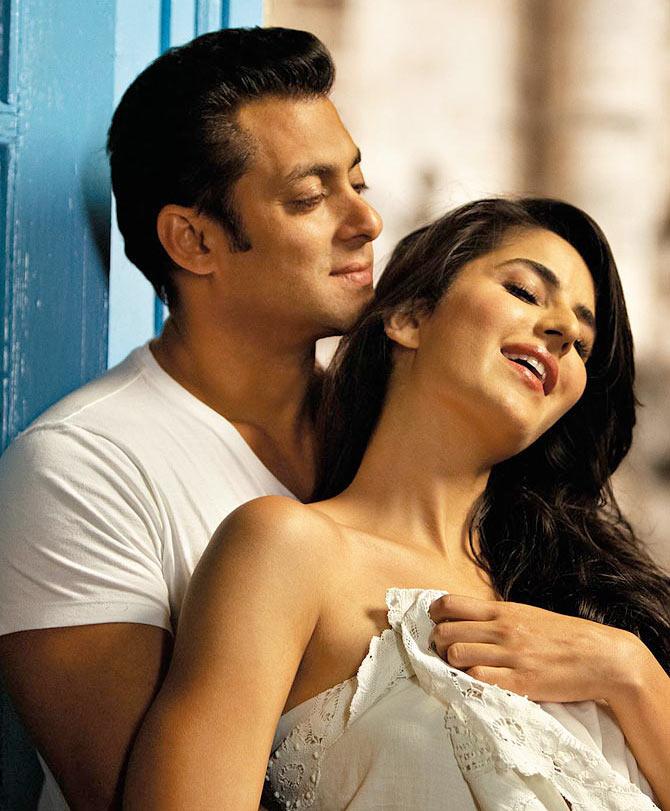 Image: Salman Khan and Katrina Kaif in Ek Tha Tiger
Would you like to do a film with Salman Khan again?
We did Ek Tha Tiger last, and the way it was received was really special. It's a good memory in people's mind.
If we do another film together, it should be something to match that or better it.

Don't you feel the pairing itself will work, more than the script?

That's the biggest mistake an actor could make -- to think that a pairing is bigger than the script.
I read the script of Ek Tha Tiger when I was shooting for Zindagi Na Milegi Dobara, and I loved it. Kabir (Khan, director) changed a bit once Salman (Khan) came into the film.

Are you doing Kabir Khan's next film, which stars Hrithik Roshan?

Honestly, because Kabir is my friend, I can tell you that Kabir himself is not 100 percent sure of his next film. So first, he has to be sure and only then will he decide on the cast.

What is happening with Jagga Jaasos?

Even during the making of Barfi (Katrina was initially roped in to play Ileana D'Cruz's character), I had a lot of discussions with the producers of UTV, which Dada (Anurag Basu) has already spoken about in interviews. During the making, everyone would say it's taking a lot of time and getting extended.
So it's not a troublesome feeling for me.
I think Dada's process is unusual. The films he has made are extra special and that's what we are hoping to achieve with this as well. Sometimes, for special things, it takes time.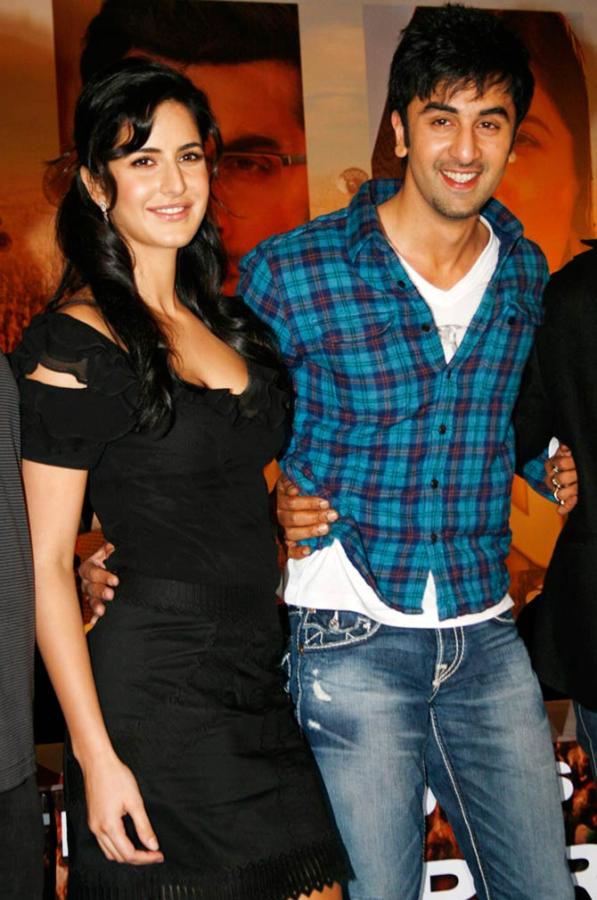 Image: Katrina Kaif and Ranbir Kapoor at Rajneeti's press conference in Mumbai. Image: Getty Images/Stringer
How do you deal with heartbreak?
Every person has to react to whatever situation they are in.
I know many people who are very pragmatic and practical about love. They think about things very clearly and simply; it's all planned and makes perfect sense.
Then there are some people who just go by the passion and emotion of being in love.
I don't know which is better; maybe it's a balance of both.
If you ask me, I'm ruled by emotions. I give love a lot of importance, like a lot of women. I think women are generally more emotional than men.
I believe love is like what we see in movies or what we read about. The example I go by is of my grandparents -- they have been married for almost 70 years now. On one side, we see some sad and tragic relationships which do not work out, and on the other, you see really beautiful examples of love which stand the test of time.

So your faith in love hasn't been destroyed.

Nobody's faith in love should be destroyed. If love holds great meaning for you, you should never give up on that. You should never become pessimistic or bitter.

Is it disheartening to read stories about your personal life?

Of course.
You'd rather wish that you open the newspaper and read that Katrina is one of the top five actresses in the world. Every woman wants to be spoken about for their work, but I think every actor accepts that their personal life would be spoken about.