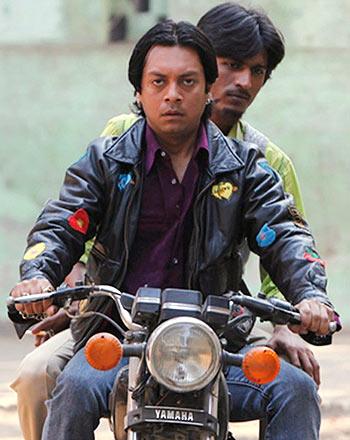 'What you saw in Gangs Of Wasseypur is only two percent of what really happens. Murder and other crimes are a daily affair even today. There is no value for life. People can shoot someone for Rs two!'
'Once, I was talking to a person. I turned around to ask for tea, and when I looked at him again, someone had shot him dead.'
Meeruthiya Gangsters director Zeishan Quadri talks tough.
If the tiny Indian town of Wasseypur, located in the heart of Dhanbad, is famous today, it is all thanks to Zeishan Quadri.
The 32-year-old actor-director calls himself a dabbang, and has made a career of working in gangster movies.
After scripting Gangs Of Wasseypur, he went on to direct Meeruthiya Gangsters.
Quadri speaks to Patcy N/Rediff.com about his fearless journey from Wasseypur to Bollywood.
I stayed in Wasseypur till I was 21. I still visit three-four times a year.
All the Dabbangs (fearless people) live where I do.

What you saw in Gangs Of Wasseypur is only two percent of what really happens. Murder and other crimes are a daily affair even today. There is no value for life. People can shoot someone for Rs two!
Once, I was talking to a person. I turned around to ask for tea, and when I looked at him again, someone had shot him dead.
The government doesn't care.
Still, I would say life was not full of terror. Also, women are well respected
I was never part of a gang because I was friendly to a lot of people. I was friendly with all the gangs! Besides I am a one-man army. I have got into fights but I was never involved in any killings. I became popular because I would get into fights.
My parents did not say much but I would know when the complaints would reach home. I decided to leave Wasseypur or else I would end up starting my own gang.
After my 12th, I was not interested in studies. So I sat at home for two-three years.

Then, I went to Meerut to complete my graduation. While studying, I took up a job as a salesman in Maharaja Whiteline food processors.

I set up a small shop with my friends, selling jeans. We went into losses, so I sold whatever I had and partied with friends.
Then I went to Delhi and got a job in the first 15 days. I had to sleep on the streets but I enjoyed that. I worked in a couple of call centres because they were easy to get, and they paid well.
But I knew this was not meant for me as a career.
In 2008, when recession hit, I quit my job and returned to Dhanbad. After a month, I sold my belongings in Delhi.
Then, I went to Mumbai.
***
'Every Indian wants to be an actor at some point or the other'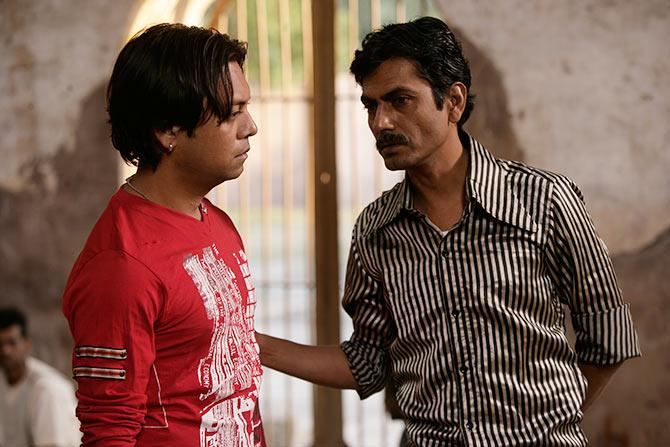 Image: Zeishan Quadri and Nawazuddin Siddiqui in Gangs of Wasseypur
I came to Mumbai for two reasons.
Firstly, I knew there were call centers in Mumbai.
Secondly, I wanted to act.
Every Indian wants to be an actor at some point or the other. I never did theatre or went to any film institute.
In the acting field, the struggle is not to get a movie but for getting a better film role.

My living arrangements were not a problem as I stayed with a friend from Wasseypur, at his place in Chembur (an eastern suburb of Mumbai).
I met (filmmaker) Hansal Mehta, and shared a story idea with him -- it was the Gangs Of Wasseypur story. We worked on the script for a month but since it did not take off, he said I was free to go.
After two and a half month, I met Anurag (Kashyap) sir. I read somewhere that he was doing a show at Prithvi theatre, so I met him there. I narrated the story to him, and that's when my film journey began.
My father knew I was working on a film script because I would visit my hometown to do some research, and there were some reports in the newspapers as well. My parents were very happy.
But after every 15-20 days, they would get worried because films take a lot of time to make and my father was getting impatient. Sometimes, he would get angry because he thought nothing was happening.
Then I asked my elder sister, who lives in Delhi, to explain to my father that films take time. That is when my father stopped worrying about me.
I am very quick in business. I started film production companies called Friday to Friday and Magical Sevenus. I am producing Sarabajit (starring Aishwarya Rai Bachchan and Randeep Hooda) through the first company. My second company has tied up with Balaji Telefilms to make non-fiction shows.
I have already produced and directed Meeruthiya Gangsters and have lined up some more films. I can do things really fast.
***
'I had just one condition for Anurag Kashyap: 'If I give you a script, give me a role'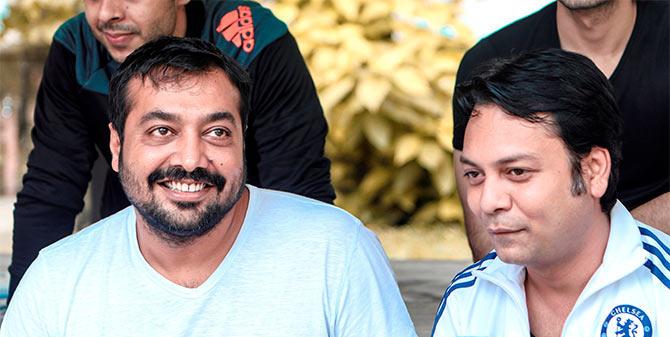 Image: Anurag Kashyap and Zeishan Quadri. Photograph: Pradeep Bandekar
I had just one condition for Anurag: 'If I give you a script, give me a role.' I gave auditions for seven days, and got selected.
Anurag sir is not just the director of GOW, he is also my mentor. I have learnt a lot from him.
The other person whom I can never forget is Vasan Bala.
Vinod Rawat helped me hone my acting skills. When the shooting started, I learnt from Manoj sir (Manoj Bajpayee) and Nawazbhai (Nawazuddin Siddiqui).
I worked in Revolver Rani but the director did not exploit my talent.
Some of my films have not released.
I played the main negative role in John Abraham Production's Banana but it hasn't been released yet. Vipin Sharma's Akki Te Vikki Te Nikki, I play Vikki, one of the main leads. That's also stuck.
I wrote Madamji with Madhur Bhandarkar. One day, I read Madhur Sir's quote in the newspaper that the film has been shelved.
I wrote Oh Womaniya for Pritish Nandy Communications, to be directed by Anu Menon. The script is locked but I don't know what is happening on that front.
I have written Firauti for Fardeen Khan Productions. The script is almost ready but Fardeen Sir is in the UK. Once he returns, we shall have a narration and make whatever changes would be needed.
But I am not worried. I have moved ahead in life.
I'm working on the third installment of GOW. I will direct it and Anurag Kashyap will produce.
***
'Meeruthiya Gangsters is based on real incidents'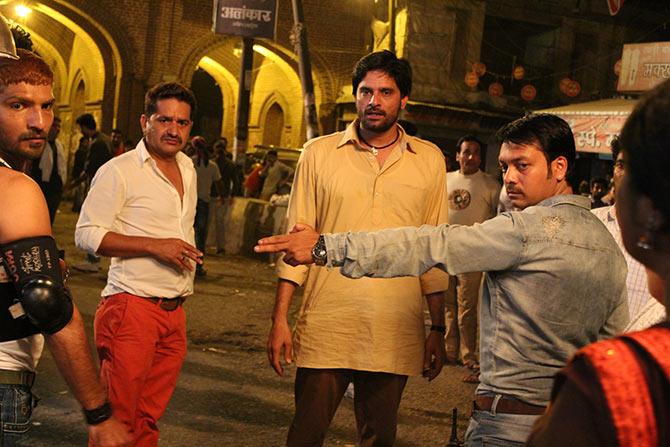 Image: Zeishan Quadri directs a scene from Meeruthiya Gangster
Meeruthiya Gangsters is based on real incidents. I have taken all new actors in the film.
When I decided to make the film, I first approached people whom I had worked with on GOW. I told them I was making a film. But the next time I called them, they did not take my calls.
Today, they must be regretting their decision.
I don't mind if I fail as a director. But I don't want to be friends with people who give false promises.
There were teething problems when I started directing Meeruthiya Gangsters. My shot taking is very different, so the first few days, the technicians and actors were a little confused with what I am doing. Later, they were very supportive. I was very firm on my style because, after all, whether the film is a hit or a flop, the burden falls on the director.
Shooting on real locations was a nightmare because no film has ever been shot in Meerut.
Once, some people threatened us with guns.
I sent the actors to their vanity vans and I faced them myself and asked them what their problem was. Some of my friends from the locality also got involved.
One of the locals thought the film was about their father. So we convinced him that that was not the case. I told them that I was also from Wasseypur, so the issue got resolved.