'I believe in giving my opinions and standing up for what's right but in the past two-three years, I thought it was scary to say anything because everything is twisted and a lot of it was damaging my career. People are just nasty.'
Sonam Kapoor puts on a brave front for Neerja.
As Sonam Kapoor munches on her salad, she asks me if she is looking fat.
Wearing a pretty ankle-length dress, the actress looks gorgeous and quite fit.
So I answer no, quite truthfully.
She wonders aloud why she is being made to eat salad, even as she scoops in more mouthfuls.
Sonam is busy promoting her new film, Neerja, based on an air hostess who was killed in a hijacked flight.
She's obviously worked very hard on the film, and is quite emotional about it.
She tells Jahnavi Patel/ Rediff.com what made her take up the film.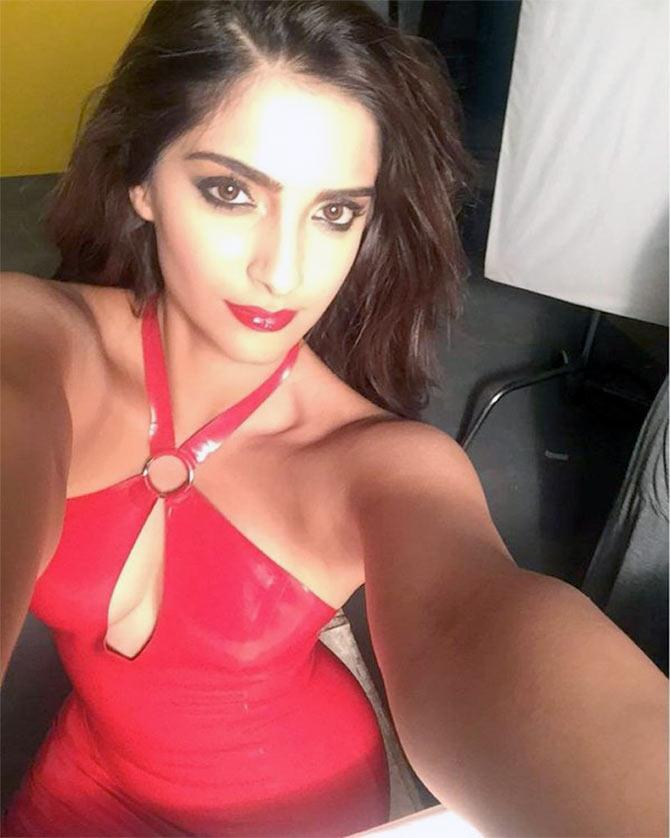 Image: Sonam Kapoor. Photograph: Sonam Kapooor/Instagram
What made you take up a biopic?
When I heard Neerja Bhanot's story, I felt it needed to be told.
I'm grateful and humble that it has come to me.
Writers Saiwyn Quadras and Sanyuktha Chawla Sheikh have done a brilliant job.
Neerja was someone who really believed in doing her duty, and doing the right thing. It wasn't that she was talented, or that she could box well or sing like a nightingale or dance like a dream... she wasn't larger-than-life. She wasn't a hero. But because she did her duty and showed courage in the face of fear, she became heroic.
She wasn't trained in military nor did she know how to fly a plane or shoot a gun. She was a normal girl, who faced her fears. Doing the right thing made her extraordinary.
For me, that is the most amazing thing about her.
A year or two ago, before I knew who Neerja was, if someone asked me who my hero is I would have said Mother Teresa, Meryl Streep, Sarojini Naidu, Lata Mangeshkar... They are still my heroes because they have extraordinary talent. But now I would say Neerja Bhanot. She was the youngest recipient of the Ashok Chakra, a civilian who wasn't trained in any battle decided to show exemplary kindness and courage.
Was there any pressure since you were playing a real life character?
The pressure was that she has a family that's still alive. For them, it didn't matter that she was a hero when she died
When I was talking to Rama aunty (Rama Bhanot, Neerja's mother), she told me that people were asking her, 'Aren't you proud of your daughter?' and 'Aren't you proud that you're her mother?'
Yes, she was very proud, but at the end of the day, she said she was an ordinary mother who wanted her child to have a future and live her life.
She has a lot of pride and a lot of grief.
For me, the pressure was portraying her daughter, Akhil and Aneesh's (Neerja's bothers) sister, who loved her so much.
She was called laadoo, she was the laadli of the family.
I was hoping I wouldn't let the family down.
I worked ridiculously hard and tried to imbibe everything about her. It wasn't the mannerisms or voice, all that is superficial. You have to read up on her. If you meet people who know her, you'll know that she was a kind, amazing and shy person. She wouldn't even eat non-vegetarian though she was a Punjabi and they live on non-veg food. There was so much compassion in her. She was the only vegetarian in her family.
It's sad that her life had to be sacrificed for people to realise that these qualities should exist in every person.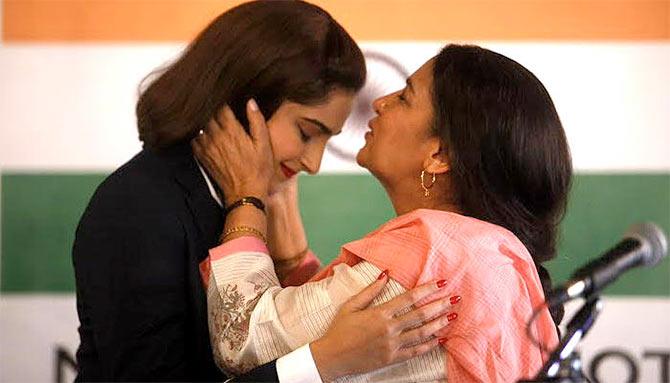 Image: Sonam Kapoor and Shabana Azmi in Neerja
Neerja's mother had visited the sets to bless everyone. How was it having her around?
She had a certain way of saying 'khush raho, jeete raho aur maze mein raho' (stay blessed, be happy).
I felt there was somebody up there blessing the film because this girl's story will inspire a lot of people, especially because a lot of people live on the fence. They are silent and do not stand up for what they believe in.
Neerja has a strong supporting cast in Shabana Azmi. How was it working with her?

It was amazing. I have grown up in front of Shabana aunty, who plays my mom in the film.
At the end of the day, it is a mother-daughter story, in a way. There is such an emotional connect between a child and their mother.
In the aircraft, apparently, she just wanted to get back to her mom. No matter how old we get, when we're sick or scared, we just want to go to our mom.
Neerja was blessed with an incredible mother.
There were three unaccompanied minors on the flight, whom she shielded with her body. She sacrificed her life for the three kids, and all they wanted to do was get back to their mothers. She sacrificed her life so that they could go back to their mothers, but she couldn't.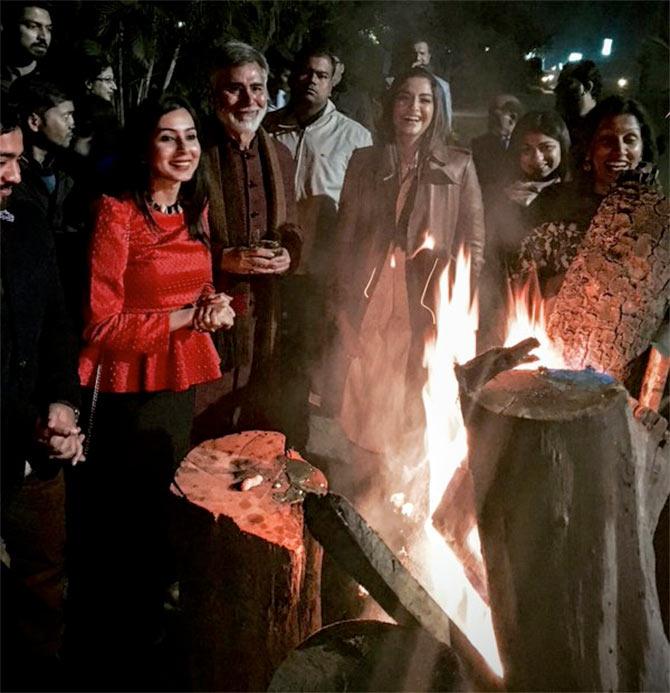 Image: Sonam Kapoor celebrates Lohri with the Bhanots. Photograph: Fox Star Hindi/ Twitter
You celebrated Lohri with her family and they were present at the trailer launch as well. Did spending time with her family help you to prepare for the character?
Of course, it's important to understand the upbringing of the person you're going to play and the atmosphere she/he grew up in.
Your nurturing makes you who you are.
Her father was a journalist at Hindustan Times and they had very strict morals. He used to tell her 'bura mat sochna' (don't think evil); if anybody is unjust to you, don't tolerate it. She would take that literally.
Her dad would ask her, 'Bahadur baccha kaun?' (Who is the brave child?).
We have used that in the film.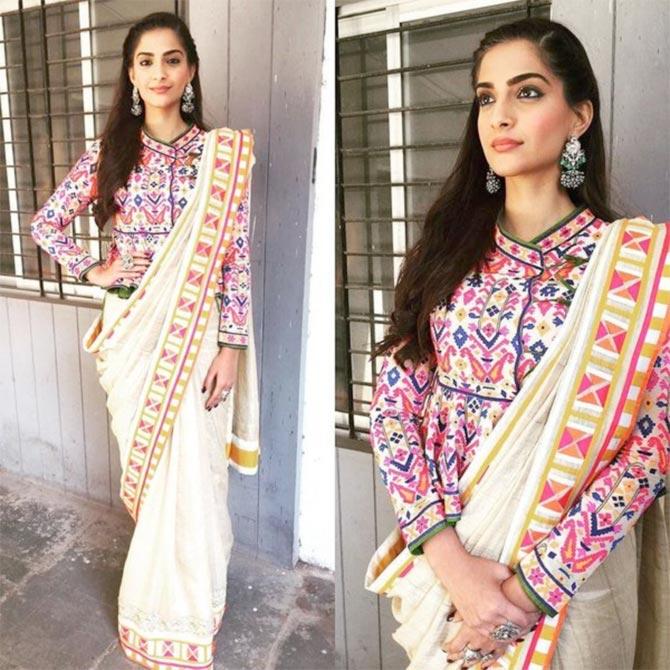 Image: Sonam Kapoor. Photograph: Sonam Kapooor/Instagram
Has Neerja, as a person, inspired you in any way?
Yes, she has.
She has inspired me to be someone who stands her ground and does the right thing.
I always was like that. I believe in giving my opinions and standing up for what's right but in the past two-three years, I thought it was scary to say anything because everything is twisted and a lot of it was damaging my career. People are just nasty.
But once I did this film, I thought I shouldn't get disillusioned. No matter how nasty people are, I should still do what I believe is right.
If I have to give an opinion, I should say it because she had the courage and she sacrificed her life to do that. I'm just saying a few words and if some people write nasty tweets or a journalist writes a nasty piece on me, that's not my karma. I should still do the right thing.
A pilot's daughter had written a letter to the team of Neerja thanking them for making this film. What was your reaction to that?
She wrote a long mail, I have it. Only a bit of that got printed because people can't write the entire letter.
She mentioned than her father never liked being in the spotlight in general but he made it a mission to make sure that anyone who asked about her, knew about her. She was only 14 years when this incident happened and her father told her about the incident, and the heroism impacted her in so many ways.
Neerja saved her father's life as well, that's why she wrote the letter.
There are so many people who owe Neerja their lives; she saved everybody on that plane.
This girl said that they were all trained to do their duty but she was the only one who stood up.
The tagline of the film says 'Fear gave her courage.' She was so afraid but she faced her fears and said that I need to do my duty. She was the one who opened the emergency door. She could have been the first one down but she made sure everyone off that flight.
What would be the best reward for you?
My best reward would be for people to watch the film. I don't care about what people think about my acting. I just hope people get inspired and understand what she was about.