'When I started off the process for Kaabil, we were making the character sympathetic as he is blind.'
'Just looking at him and his environment, you would say, "Arrey bechara".'
'But meeting blind people, I realised there is no essence of helplessness in them.'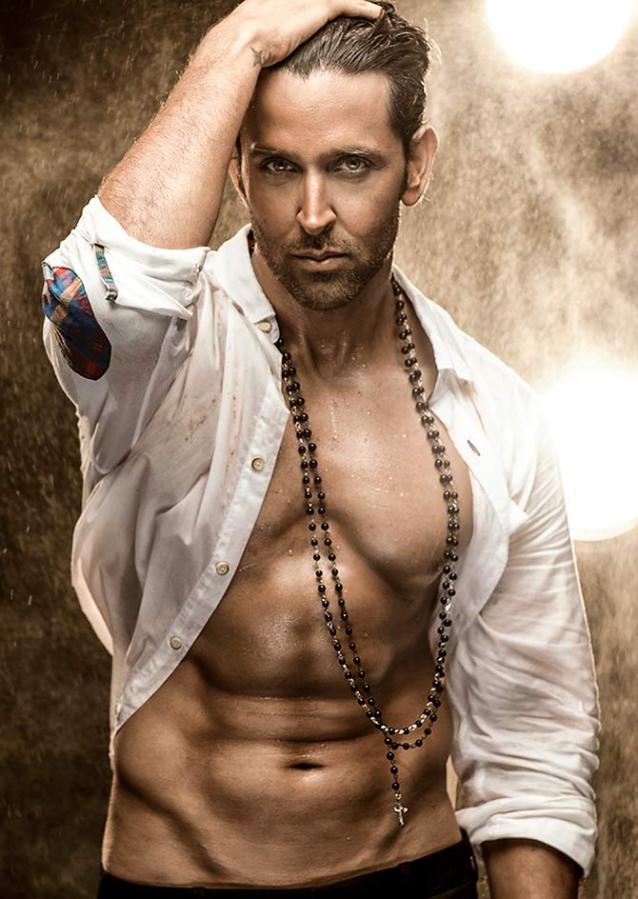 IMAGE: Hrithik Roshan turned 43 on January 10, 2017.
When we ask Hrithik Roshan what his plans for his birthday were, he consults his PR.
"How much time will I get to celebrate my birthday?" he asks.
"No time," the PR replies.
"I have a working birthday," Hrithik says, turning back to me.
The actor is working hard these days, promoting his new film Kaabil, co-starring Yami Gautam and directed by Sanjay Gupta. It will release on January 25.
Hrithik speaks to Rediff.com's Patcy N.
You've become an international star. What's keeping you away from Hollywood?
Being in Bollywood, if you are calling me an international star, then it is already done.
Everyone agrees you look like a Greek god. So why not?
I have been to Greece, but no one recognised me. (laughs.)
Everyone's been lying to me about my Greek god looks. I am hurt. (laughs.)
One of your co-stars Priyanka Chopra is all set to debut in Hollywood with Baywatch.
She is a go-getter. I always knew that there were aspects of her we hadn't seen yet. All that is coming out now.
Bollywood's top actresses are heading West, but not the top actors. Why is that?
I don't think going to Hollywood is their goal. The goal is to do good Hindi films.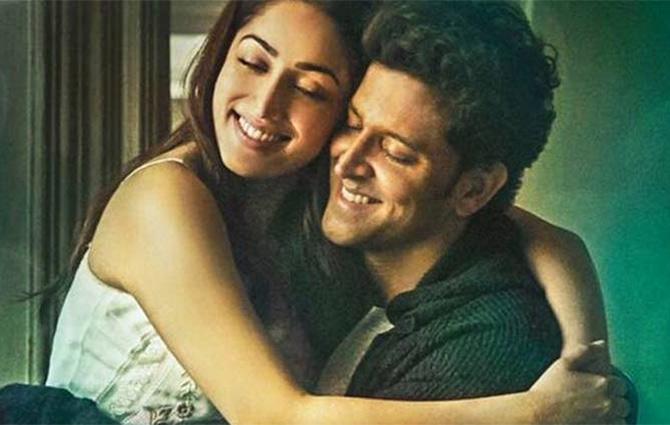 IMAGE: Hrithik and Yami Gautam in Kaabil.
You've said Kaabil is one of your most challenging roles. Why is that?
After a long time, I have got such an opportunity.
After doing films like Krrish, Bang Bang and Mohenjo Daro, this was one film where you cannot lie at all.
You have to be real, be yourself, and that was a challenge.
It was also coming after a long time since I did films like Koi... Mil Gaya or Guzaarish.
Those were films where you had to put in your heart and soul and leave the judgement to the people... not try and impress.
Secondly, playing a blind person is the most challenging role I have played.
I have played a mentally challenged person and a quadriplegic, but I realised that playing a blind man is more difficult because eyes have involuntary muscles -- the flinching of the eyes, the dilation of the pupils...
During action sequences, when there are lights flashing or a punch coming towards you, the eyes will flinch because of the involuntary muscles.
Sanjay Gupta loves to shoot in 500 frames. Which means that during the shot, we would think that I have not blinked at all, but when we would see the rushes on the monitor, the shot would be good, but my eyes would flinch.
In 500 frames, you can make out any defect and it looked wrong because blind people don't have visual stimuli.
So I had to control my involuntary eye muscles and that took a lot of practice.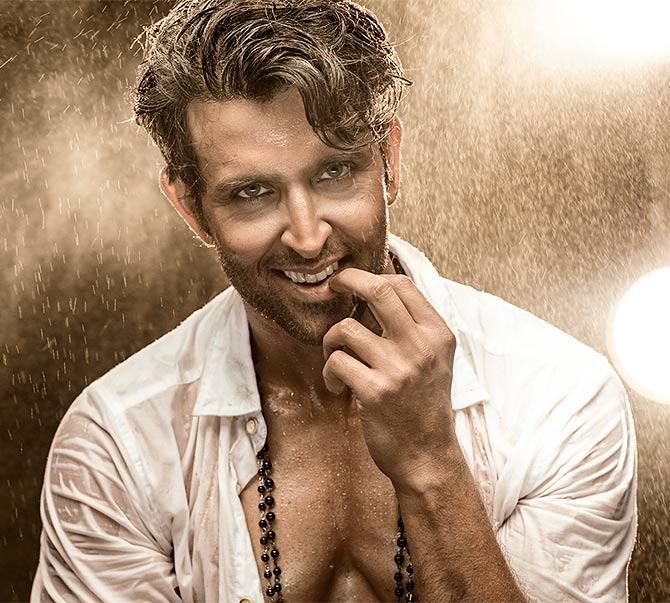 IMAGE: Hrithik, arguably the best looking Bollywood star.
Was it a conscious effort not to play a typical blind person?
I have been so surprised by the blind people I have met.
Blind people are not what we imagined them. The CEO of a company earning millions can be blind.
There are blind photographers... how does that even make sense?
But there is a blind photographer, who is nationally famous.
There is a blind bodybuilder, a blind guitarist, a blind band...
When I started off the process for Kaabil, we were making the character sympathetic as he is blind.
The environment and screenplay helps a lot in building sympathy for the character.
Since it is author-backed, it becomes easy for the actor.
Just looking at the character and his environment, you would say, 'Arrey bechara.'
But meeting blind people, I realised there is no essence of helplessness in them.
So I came back to the drawing board and we changed the screenplay, the scenes, the way the people interact with them, changed my whole process of making this person just like me.
That he is blind is inconsequential.
The challenge was to win hearts even without building sympathy.
We had to be very careful that the other characters in the film should not treat the blind people as helpless, but as equals.
Films are inspirational, they teach you certain things.
One thing I learnt is that blind people are not bechara.
Even when I met my blind friends in the beginning, I was extra nice to them.
But after 15 minutes of being with them, I was back to normal as they were so cool and did not make me feel that they needed something.
They are always smiling, cracking jokes and enjoying life.
How does a blind man perceive love?
The first blind person I met came to my house from Amboli (northwest Mumbai). He came alone, without a stick.
He came by train, and then autorickshaw.
He had lunch with me; we spent 4, 5 hours together, chatting.
I was amazed by him. I wondered how he managed all that. It was shocking for me.
He told me he was a big fan of mine. I felt awkward, but I had to ask how he could be a fan if he hadn't seen me or my films.
And he told me he had seen all my films.
He explained senses... like, whatever comes to our eyes comes to other senses too, like our ears, nose, touch... he said there is an energy field with which you can feel the presence and and all the feelings.
We are unaware of it because since we are born with sight, we have never learnt the other senses.
I learnt that while making of this film.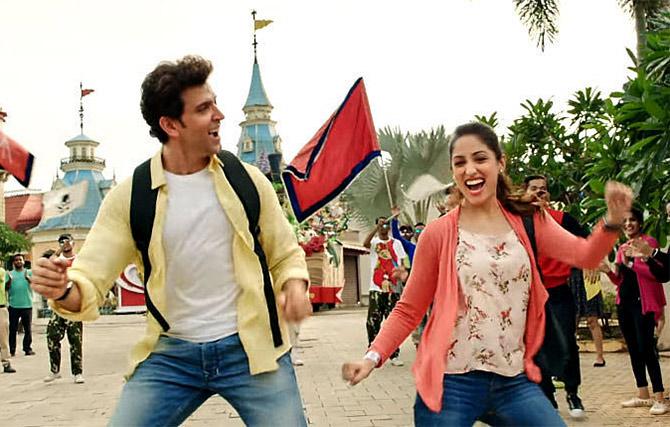 IMAGE: Hrithik and Yami Gautam in Kaabil.
Do you think wearing dark glasses would have helped your acting?
We did not wear dark glasses in the entire film.
We did the screen test with the glasses, and had them all along, but every time I wore them, it felt unnatural. So I decided not to use it.
I thought I needed to do more with my eyes.
If I wear glasses, it would hide whatever good I can do with my eyes.
How was it working with Yami Gautam?
My experience with Yami has been enlightening.
I was a bit concerned (initially) because the film is all about the girl and if the girl did not work, the film would not work.
What she brought to the film is so special and beautiful.
This is the first time you are working with Sanjay Gupta.
Dad (filmmaker Rakesh Roshan) has told me himself that he could not have made Kaabil the way Sanjay did.
He has given it the (Quentin) Tarintino twist.
Does Kaabil have an edge over Shah Rukh Khan's Raees, which is releasing on the same day?
No. I don't think either film needs to have an edge over the other.
Both films have to be judged by the audience.
Both films will be loved.
Did the clash in the release dates affect your friendship with Shah Rukh?
Business and friendship should not be mixed.
Raees and Kaabil can clash, but friendship and business cannot clash.
They have to do the best they can do for their film and we have to do our best for our film.
The friendship stays intact.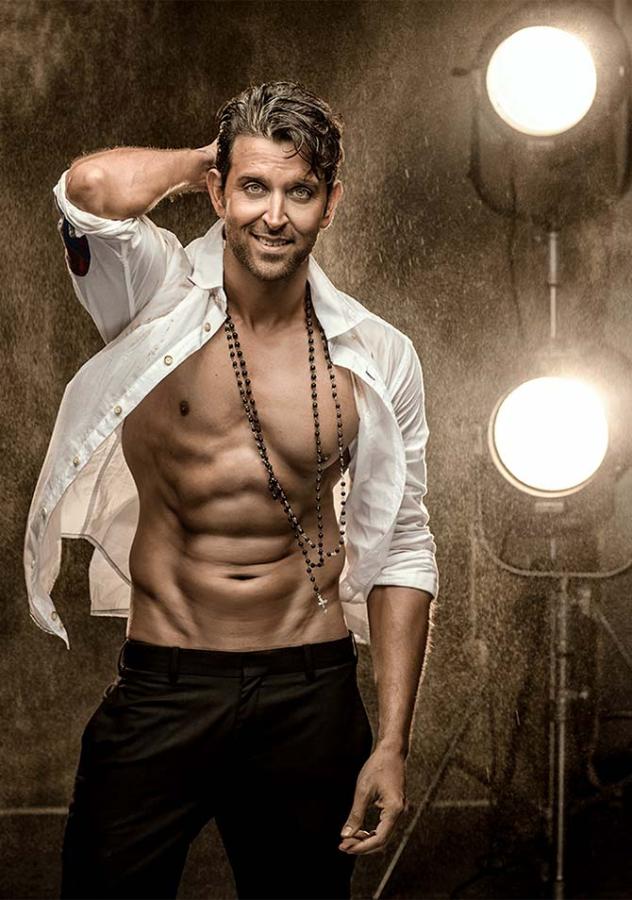 IMAGE: 'Raees and Kaabil can clash, but friendship and business cannot clash,' says Hrithik.
Did you watch the Raees trailer?
Yes. It's good. I like it.
They say love is blind. Have you ever fallen in love blindly?
Love is not blind, romance is.
Romance is very dangerous. Romance is an illusion; it will show you things that don't exist.
Whatever is left after romance is love and that is not blind.
Has your idea of romance changed in recent years?
I romanticise everything in my life. Everything has a background score and all that.
You remain dignified and silent even when things get controversial.
Whatever you are from within -- good or bad -- will manifest in the world... it will come out in your work and your word.
Are you vengeful?
No.
Are you the forgive and forget kind of guy?
Not even that. You have no reason to get distracted from your life.
If we're sitting here in this room, and someone on the beach outside is abusing you, will you leave everything and go there to sort it out? No, na?
How do you stay positive?
I am not positive at all. I am objective.
I go by evidence and it is all around you in life.
For example, when I had my brain surgery, people would ask why I wasn't scared.
But I was looking at the evidence, which was saying that out of 1,000 surgeries, my doctor had no failures.
So why will I be afraid?
I was singing songs and watching television when it was time for the surgery. I made the nurses sing with me.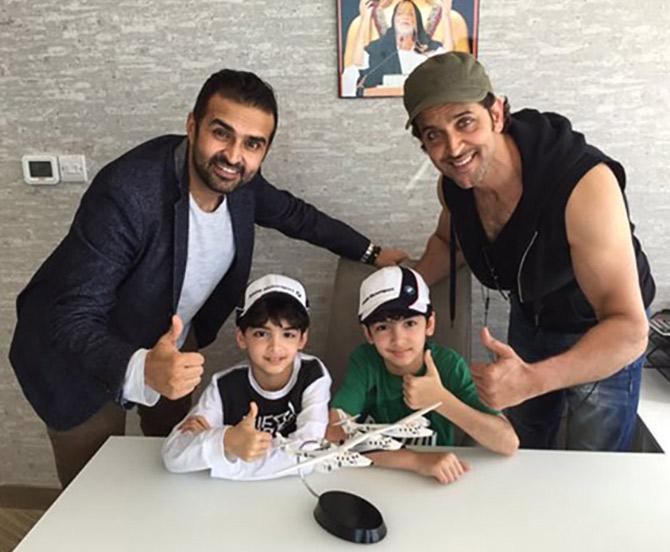 IMAGE: Hrithik with his sons Hrehaan and Hridhaan and friend Ashish J Thakkar in Dubai. Photograph: Kind courtesy Hrithik Roshan/Twitter
Which of your films do your kids love you in?
My kids are very honest with me. They have not rated me above 8.5 on 10 for any trailer, but they said Kaabil was 8.5. They have a mind of their own.
They saw Mohenjo Daro after it did not do well.
I told them it is a slow film and that they may not like it and that it has not done well. But they came back and said, 'Dad, it was nice.'
A R Rahman, who composed the music for Mohenjo Daro, just turned 50.
Really? He is a national wonder, rather an international wonder.
He is simple minded and spiritual.
He has interpreted his life in a beautiful way, which is why he interprets music so beautifully.
He is definitely a creator who has inspired the entire world.