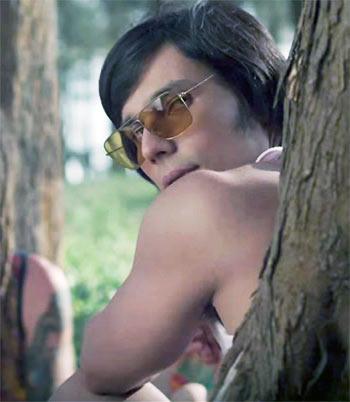 'I am sexy in my own self.'
Randeep Hooda puts his sexiness on display in Main Aur Charles.
Randeep Hooda will play criminal Charles Sobhraj in Prawaal Raman's Main Aur Charles, and he seems to have got the look right.
The film revolves around Sobhraj's Tihar jail break of 1986.
Randeep tells Rediff.com contributor Rajul Hegde what to expect from the film.
You're playing the sexy side of Charles Sohbraj in Main Aur Charles.
Yes!
Charles was in jail and yet, so many girls fell in love with him.
These girls would find so many sides in Charles. I am being sexy like him on reel. But I am not as sexy as Salman Khan... I am sexy in my own self. (smiles wickedly)
What kind of research have you done for this character?
Director Prawaal Raman has done a lot of research on the film. He met a lot of people who were in jail with him and the people in and around him.
Amod Kanth, the former Joint Commissioner of Delhi Police who handled the Sobhraj case, presented his side of the story.
All the people Prawaal met had different stories to tell, as if it was a different man. But this gave us an insight into him and his ability to mould himself in front of others.
I learn and unlearn certain things for every role that I play, whether it is Highway, Rang Rasiya or Once Upon A Time in Mumbaai, Sahib Biwi Aur Gangster... My thrill is to discover something new about myself.
We didn't refer any books for this film but consulted news articles and reportage.
We found documentary footage for his mannerisms and accent.
How would you sum up your acting journey so far?
It has been fruitful enough but I do not look back.
I live for today because today turns into tomorrow.
I have had a good Bollywood journey, and I have obtained that with dignity.
I am happy about my Hollywood film Beeba Boys, directed by Deepa Mehta. It's doing well because it is unlike other Holywood films which showcase India in poor light, showing only poverty, rape etc. I am glad I am not part of those films.
Not many know that you are an animal lover, or that you have a polo team.
I fell in love with horses the day I watched Clint Eastwood in The Good The Bad And The Ugly.
I went to a sports school. I used to be a swimmer but had chronic bronchitis so I had to pick up a sport which was breathing-friendly.
At the age of nine, I took to horse riding and ever since I have been a keen participant of the sport.
Nurturing horses is less expensive as compared to owning a cricket team.
Today, I have a team of horses called Royal Rooster. We are preparing for the Pataudi Cup. If I win it, I will open a champagne bottle for Kareena (Kapoor) and Saif (Ali Khan) to honour them.
Tell us about your next projects.
Do Lafzon Ki Kahani is a love story of a fighter and an innocent girl. The shooting is over.
Then, there's Ya Laal Rang, where I play a Jat. This film is about the blood bank mafia and fraud that happened in Karnal. It's a real life story and has some dark comedy.
I will start shooting for Sarabjit's biopic next month.
Aishwarya Rai will be a part of that film. Are you excited?
I work with the director, not with co-stars.
My interest lies with the director. I have little or no interest in the cast.
Will you a part of Kick 2?
I have not been approached yet. I don't know what's happening about that film.
I would love to be a part of it.