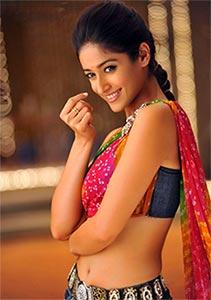 'I have doubts before the release of every single film. I never really like my work as I am never happy with what I do.'
'After Barfi! released, I ran away for three-and-a-half weeks! I didn't want to face the media because I had heard some horrific stories.'
Ileana D'Cruz gets ready to face the world again, with Happy Ending.
Ileana D'Cruz is the kind of person you wish all movie stars were like. Unassuming and friendly and at the same time, straightforward about the things she believes in.
The actress will be seen in this week's release Happy Ending.
In this conversation with Sonil Dedhia, Ileana, who has done several south Indian films, talks about her preference for Bollywood, being a pro at intimate scenes and why she doesn't believe in happily ever after.
You turned 28 on November 1. How did you celebrate your birthday?
I was working the entire day but I had a little outing with girlfriends and had a good time.
When you grow older, you don't think about celebrating your birthday.
The last time I planned my birthday was when I was 16!
It's been almost two years since your last South Indian film released. Have you decided not to make any more regional films?
I started work when I was 18. Now I am 28. So it's been a very long time.
I want to take it easy and enjoy myself now. I want to do special work. I don't like rushing any more.
After doing 16 films down South, you tend to get picky. I will only do a film when I get a mind-blowing offer. I don't want to do a film I will later be irritated about.
Do you enjoy working in Hindi movies more than regional ones?
What I like about working in Bollywood is that my involvement is more than that in the south. I get to dub my own voice here; I also know the language that I speak.
Also, there is equal importance given to the promotion of the film.
Directors here are open enough to allow you to improvise which isn't the case when I am doing movies in the South.
Bollywood is more challenging. Barfi! was a film I never thought I could pull off. Later on I did an out-and-out commercial film with Shahid Kapoor (Phata Poster Nikla Hero) which didn't work.
Main Tera Hero was super fun to do and now I hope Happy Ending works.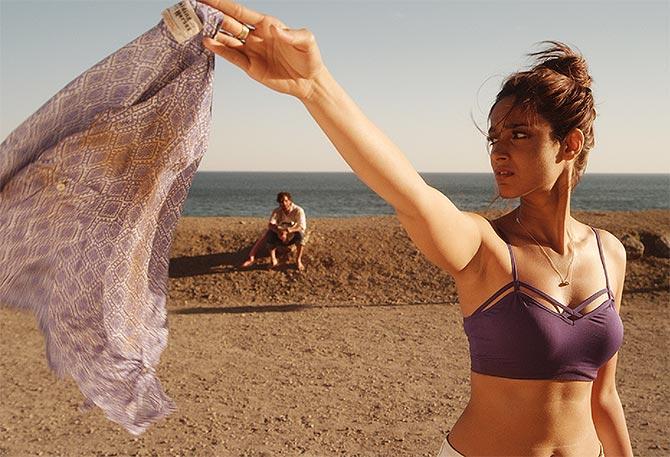 Image: Ileana D'Cruz in Happy Ending
Do you have doubts about Happy Ending?
I have doubts before the release of every single film. I never really like my work as I am never happy with what I do. I am very critical about myself.
After Barfi! released, I ran away for three-and-a-half weeks!
I didn't want to face the media because I had heard some horrific stories (laughs).
I would sneakily read the newspapers and find out the good and the bad things written about me. Surprisingly, the film did really well and people appreciated my performance.
You were offered a film with Saif Ali Khan before Happy Ending.
Yes, but unfortunately things did not materialise. I always wanted to work with Saif and luckily Happy Ending came along.
This is the perfect film to do with Saif. He has mastered this genre. The kind of expressions and faces he makes, I can't do that.
He made me comfortable. If it was not for him, I wouldn't have been able to deliver in the movie.
He is a chilled out person. I think no one can do what he does.
My role is brilliant. I play a sassy girl who is quite a guy in the way she thinks. She does not believe in love or relationships and is extremely commitment phobic.
Personally, are you averse to commitments?
Not any more (laughs). Earlier I used to be like my character in the film very commitment phobic.
I was the kind of girl who got bored in a relationship. But I have changed. So yes, there is a lot I could relate to in the film.
Image: Saif Ali Khan and Ileana D'Cruz in Happy Ending
You've seen Happy Ending. What do you think of it?
The film is well scripted and beautifully made. There are so many cameos in the film that are well written and relevant to the film.
Preity (Zinta) is beautiful in the film. Kalki (Koechlin) is brilliant. Kareena (Kapoor) is just in one scene and she shines in it.
Saif is just wonderful and has done an amazing job.
I hope I have given a satisfactory performance because as I said earlier I am never happy with the work I do.
There is one more person who is making a cameo in this film…
(Thinks) Oh, I forgot Govinda!
No, I was thinking about someone else.
Who?
Your boyfriend.
Who is my boyfriend?
Andrew Kneebone (the Australian photographer is rumoured to be her boyfriend).
I never admitted to having a boyfriend or being in a relationship.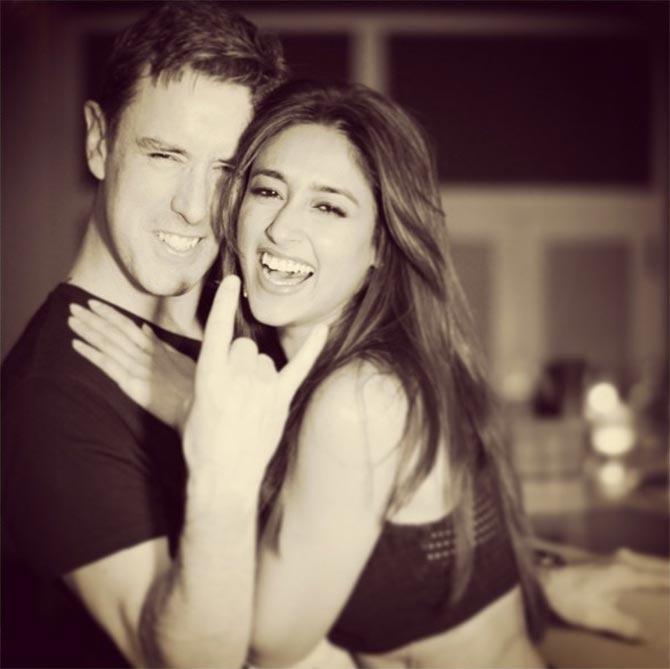 Image: Andrew Kneebone and Ileana D'Cruz. Photograph: Ileana D'Cruz/ Instagram
Raj Nidimoru and Krishna DK (the directors of Happy Ending) have been quoted about it in the media.
Raj and DK talking about my personal life doesn't count (smiles). And you are saying that you believe them more than me.
I am saying that there is no smoke without fire. You were quoted saying you didn't have any hand in Andrew Kneebone playing a cameo in the film.
Yes. Andrew is in the film, but I wouldn't say anyone is my boyfriend.
I don't like to talk about my personal life. I like to keep my personal life very private.
Okay, so let's get back to the film and Govinda. I love him in the song G Phadke.
He is brilliant. I worked with him on the song and I guess that's the best part one can do with Govinda.
He is a very humble person. I was really nervous on the day we were to shoot the song.
He was so chilled out. When the cameras started rolling, I completely forgot that I was dancing next to Govinda.
It was later, when I saw myself on the monitor, that I realised how comfortable he made us all on the sets. He doesn't have any airs.
You have some intimate scenes with Saif Ali Khan in the film. Were you nervous doing them?
No, I wasn't. I take it as any other scene. It needs to look real and I wouldn't be able to do it if I was nervous.
Saif and I don't have a lot of intimate scenes. There were a couple of romantic shots.
Saif constantly teased me and said, 'You are a pro at romantic scenes' (laughs). I took it as a compliment.
Did Kareena have an issue with the intimate scenes?
I think Kareena is the most chilled out wife I have ever met. I don't think she should have an issue with the intimate scenes between me and Saif.
We did not have any scenes together, but we kind of bonded off the set when she was staying there.
We hang out together now and go out for dinners and movies.
Do you believe in love?
Yes. I am quite a romantic, sappy fool.
I don't believe in happily ever after because I think that is something which just happens in fairy tales. No one talks about who is cleaning the dishes at home (laughs).
I believe in living a happy life. I have actually studied a little bit, that human beings are the kind of animals that are not meant to be with one mate for the rest of their lives. So when people talk about cheating, it's kind of normal.
What is your idea of an ideal man?

Honesty, genuineness, politeness, and chivalry are what I always look for. I would also like my man to have a good sense of humour.
Is marriage on the cards?
I don't know. I believe in marriage and I will get married when I feel like it.
Reports state that you have been cast opposite Shah Rukh Khan in Fan?
No, I don't know where this is coming from. I haven't been approached for Fan.
Will you act in the film if you are asked?
If approached at all, I will decide on the basis of the film's story and my role.
I want to work with all the big superstars but I don't want to do a film in which my character is insignificant.