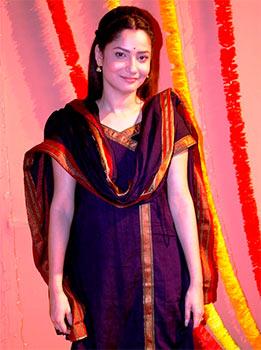 'The best thing that happened to me on the sets of Pavitra Rishta was Sushant,' Ankita Lokhande tells Rajul Hegde.
One of Zee Television's top shows Pavitra Rishta will conclude on October 24, after running successfully for over five years.
Its protagonist Ankita Lokhande, who became a household name with the show, also met the love of her life Sushant Singh Rajput on its sets.
Ankita talks to Rajul Hegde about the best moments from the show and her relationship with Sushant Singh Rajput.
Was shooting the final episode of Pavitra Rishta an emotional moment for you?
Yes. But at the same time, I am happy because it ended on a good note.
All good things have to come to an end some day.
Obviously I am sad because I have been part of the show for close to five-and-a- half years.
Can you remember your very first shoot of Pavitra Rishta?
It was a railway crossing scene in Goregaon (a Mumbai suburb), where I had to pick up my niece Punni from school.
Though it was a candid shot, I was scared and nervous as it was shot in a public place and I was new as an actress.
You have shot your last scene with your boyfriend Sushant Singh Rajput (who returned to Pavitra Rishta, in which he played the protagonist Manav Deshmukh for two-and-a-half years before he quit and moved to films).
I can't talk about my last scene because I want everyone to watch it.
But, yes, it was emotional and special to shoot with Sushant again.
Actually, it was Sushant who told me that he wanted to come back to the show and shoot for the last time for the final episode.
Ekta (Kapoor, producer) told him that she would love to get Manav back on the show.
It was a huge surprise for the entire team. Everybody wanted him for the final episode, but nobody had expected him to come back after he has moved on to films.
I must say that he is still so simple and grounded.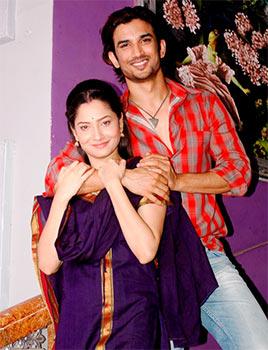 What was your most memorable moment on the show?
Each and every scene I have shot for the show is memorable. I had a great bond with some of the actors like Hiten Tejwani, Mrinalini Tyagi etc. I am going to miss them and the show.
The best thing that happened to me on the sets was Sushant. Our relationship started on the sets of the show. We met for the first time during the promo shoot of Pavitra Rishta.
Both of us were full of attitude. Even after five months of shooting, we hardly spoke to each other because of our egos (smiles).
Gradually, we realised we had something in common and then the equation changed.
In our relationship, nobody proposed. It just happened. We knew we would be there for each other (smiles).
You are a household name because of Pavitra Rishta. Is there any fan incident that makes you happy when you think about it?
Yes. The older generation know me by my character name, Archana, while the youth know me as Ankita because of the dance reality show (Jhalak Dikhhla Jaa) I participated in.
When people call me 'Archu', I love it. That is because my Aai, Baba, and family members fondly call me Archu in the show.
It shows the kind of connect the audience has with my character. They feel that I am one among them. It's really amazing.
Sushant has some good projects in hand. What do you have to say about his Bollywood career?
I am very proud of Sushant. When he left the show, I stood by him.
I knew that he didn't leave Pavitra Rishta for films; he left the show for creative reasons. He is so passionate about his work that he sleeps at 4 am and wakes up three hours later.
He is always thinking, reading or writing.
Every person who has passion for his work does this, I guess.
Sushant will definitely go far in life. I am so happy that because of his hard work and enthusiasm he is getting good work which he deserves.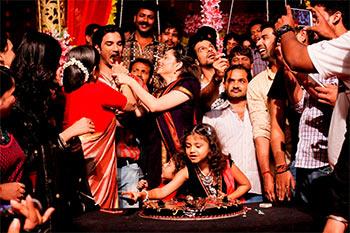 So what next for Ankita?
I seriously need a break. I want to chill out with my family, friends and my dog Scotch.
But the break won't be for long. I will come back with a show that gives me creative satisfaction.
I haven't got any offers yet from anyone, not even from Ekta Kapoor.
As of now, I don't want to do a reality show because I don't want to be judged, but to be myself. I don't plan things. Let's see what's in store for me.
When are you planning to get married?
You will come to know very soon (smiles).