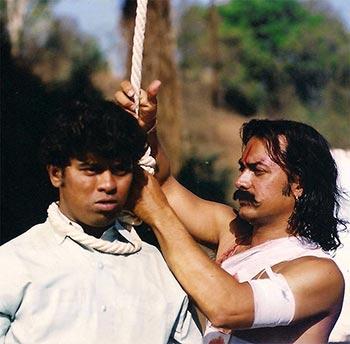 'I was Mukesh Rishi's body double in Aashiq. In one scene, he is chasing Bobby Deol, and he breaks through a glass, falls off a building and lands on a pandal.'
'I had to jump from the ninth floor, breaking through the glass. The timing went wrong and instead of landing on my feet, I landed on my head. People thought I was dead, but I stood up.'
Glimpses into stuntman-turned-director Aejaz Gulab's amazing life.
From being Hema Malini's body double to directing Nana Patekar in Ab Tak Chhappan 2, Aejaz Gulab has come a long, long, way.

He takes Patcy N/Rediff.com on a fascinating journey about his life and movies.
My father Gulab Rao was an action director (he did films like Fakira, Farar, Mehrbaani, Purani Mandir, Purani Haveli, Bandh Darwaaza, Tahkahana, Veerana).
I would visit dad on the sets. I saw that each time a stuntman did a good stunt, he was appreciated by everyone, including actors like Dharmendra and Sanjeev Kumar. They would get up and hug him.
That inspired me to become a stuntman.
We are a big family -- six brothers and three sisters. I am the fourth. My eldest brother Aiyaz worked as a tailor in Saudi Arabia.
My brothers Faiz and Mushtaq were sofa-makers.
My brother Asif and I completed school together, but only one of us could go to college. He went to college and I became a stuntman.
'If I did a stunt well, actors would give me an envelope with money'
I was 18 when I joined the film industry.
The Stuntmen's Association has guidelines about height and weight and you had to pass a test. I passed the test easily because I had trained in acrobatics, action-reaction, horse-riding, how to take a fall from a height and how to fall in the safety net.
I did not get work initially because I was very thin and short.
I started getting work from 1989 and became a body double for actresses like Hema Malini (Insaaf Bhavani Ka), Sujata Mehta (Prathighaat Sripradha) and for Jaya Prada.
Actors treat us well because they know that at the end of the day, we are doing the stunts for them. If we do them well, they will look good on the big screen. If I did a stunt well, actors would give me an envelope with money.
A body double was paid Rs 540 per day. If you did special stunts like breaking glass, body firing, jumping from a height or underwater shots, then it was more -- but not more than Rs 1,000. Our per day payment would increase every year by 10 per cent.
'I have always done Aamir's stunts'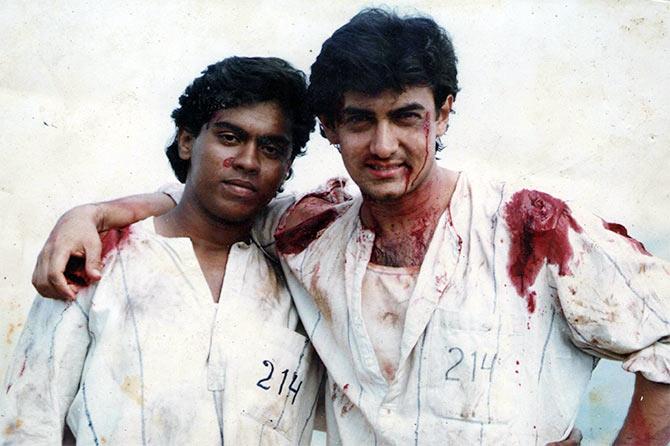 Image: Aejaz Gulab with Aamir Khan on the sets of Baazi.
My father passed away in 1993, a year after my good days had started.
I worked with my dad's assistants, Abbas Ali Moghul and Hanif Bhai, who had turned action directors.
Abbas Ali Moghul was the action director for Baazi and took me as Aamir Khan's body double. Aamir wanted another stuntman, Usman Fazal Khan, to do the stunts.
Abbasbhai persuaded him to let me do just one stunt and if he didn't like it he could call Usman.
There is a jail fight in the film where some prisoners attack Aamir. After Aamir saw my work, he thought it was perfect. From then on, I have always done Aamir's stunts.


'The stunt in Veergati was the most difficult stunt in my life'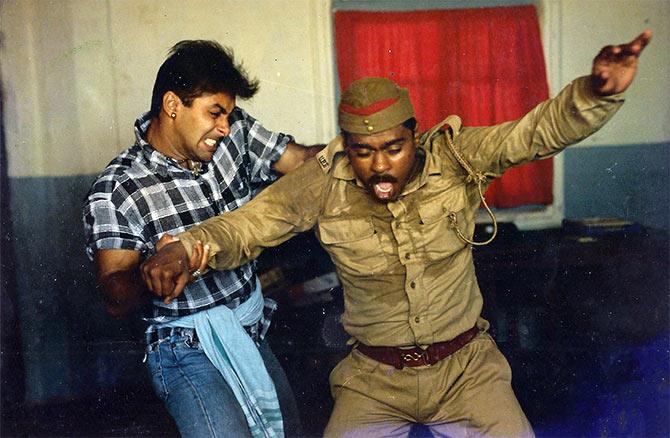 Image: Aejaz Gulab with Salman Khan on the sets of Bandhan,
In 1995, I did a bomb blast scene for Salman Khan's Veergati. That was the most difficult stunt of my life because we used dynamite to blow up the house and 40 litres of petrol.
During the shoot, the femur bone in my left thigh broke into two pieces. I was advised surgery, but I was very scared to do it.
Salman came to my house in Nawab Chawl in Mumbai Central to tell me to get the surgery done. After a month I called him and said I wanted to get the surgery done.
Sohail Khan went to Nanavati Hospital (northwest Mumbai) and made all the arrangements.
I had to sit home for a year. Abbasbhai and Hanifbhai gave me some money and took care of the medical expenses.
I did many complicated stunts after I recovered: Falling from horses, jumping from running trains, car stunts. I even jumped from 15 floors up in Chor Machaye Shor as Bobby Deol's double.
I jumped backwards for Dalip Tahil from the ninth floor in Talaash. Akshay Kumar congratulated me because it is one of the most difficult stunts since you jump without seeing where you will fall.
I did stunts for Jackie Shroff and Amitabh Bachchan. The car chase and when the car topples scene in Amitabh's Aitebaar was done by me.
I did stunts for Aamir Khan in Sarfarosh and Ghulam. In Ghulam, I was Dalip Tahil's double when he sets himself ablaze and jumps from his house.
I worked in Elaan, Talaash, Khiladi 420, and did Salman Khan's stunts in Bandhan andJudwaa.
I invested my money, bought a house and a shop.
'Our first film as action directors was Shootout At Lokhandwala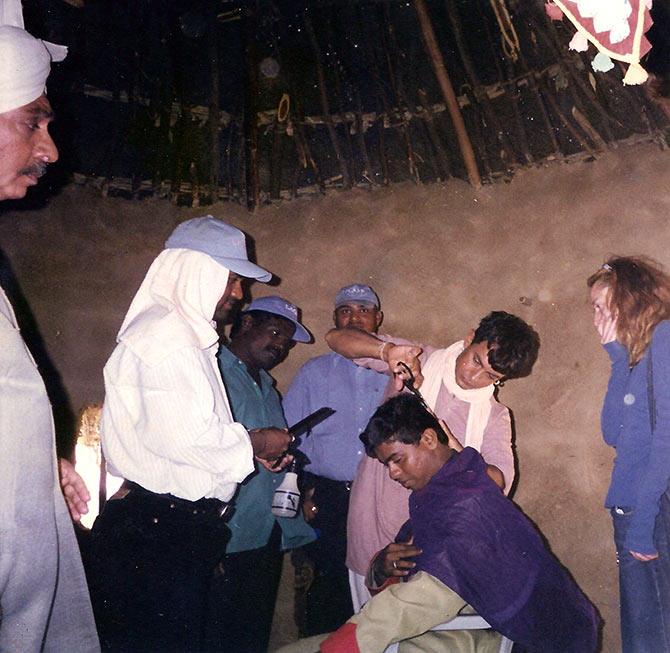 Aamir Khan cuts Aejaz Gulab's hair on the sets of Lagaan.
My childhood friend Javed's father Abdul Karim Shaikh was also a stuntman. We had trained together and did stunts together. But he started working with other stunt directors, and I worked with Abbasbhai. After my accident, he started working with Abbasbhai.
(Director) Apoorva Lakhia told us to direct Amitabh Bachchan's Mumbai stunts in Ek Ajnabee.
Javed and I registered with the Stuntmen's Association and became action directors under the name, Javed-Aejaaz.
Our first film as action directors was Shootout At Lokhandwala in 2006.
'Bobby Deol was so impressed with my stunt in Aashiq, he gave me money'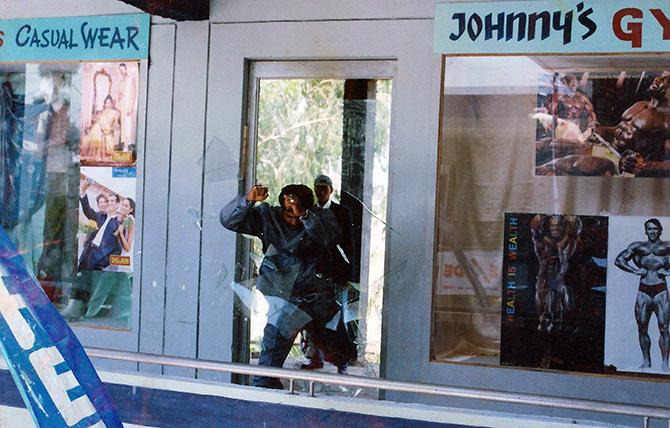 Image: Aejaz Gulab performs a stunt in Aashiq.
By the time we became stunt directors, safety measures had improved. Still, there were dangers.
There was an incident when a senior stuntman, Hajibhai, was dong a car stunt for Humla. He was Anil Kapoor's body double. The stunt required him to drive a speeding car into the water. He did the stunt properly and drove into the water. But his seatbelt got stuck and he drowned.
There was a scene (in Dushman), where Sanjay Dutt's blind character bangs his hands on a glass window. In that scene, I had to bang my hands and break the glass. When I did that, a huge piece of broken glass struck another stuntman, who was standing at a distance. His vein was cut and we had to rush him to hospital.
I was Mukesh Rishi's body double in Aashiq. In one scene, he is chasing Bobby Deol, and he breaks through a glass, falls off a building and lands on a pandal where Johnny Lever's wedding is going on. He falls on Johnny's to-be wife and the wife turns into a dwarf.
We were shooting at the Horizon Hotel in Juhu (north-west Mumbai). I had to jump from the ninth floor, breaking through the glass.
The timing went wrong and instead of landing on my feet, I landed on my head. There was pin-drop silence. People thought I was dead, but I stood up.
I knew the stunt went wrong because of me, so I asked for another take.
When I got the stunt right later, Bobby was so impressed, he gave me money.
'Akshay mostly does all his stunts'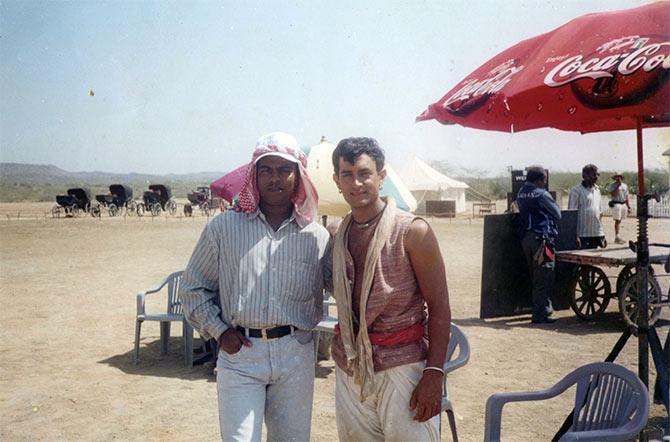 Image: Aejaz Gulab with Aamir Khan on the sets of Lagaan.
When we were shooting for Chor Machaye Shor, Javed and I jumped from the 15th floor of the Challenger Tower in Kandivli (a northwest Mumbai suburb).
If you fall with the harness and wires, the freefall does not look good. So we jumped onto 3,000 boxes placed in 10 layers. We tore through eight layers and were stuck in the ninth layer. All the boxes were over us and it took the crew members more than 15 minutes to search for us.
Today, everyone does stunts with wires on. The rent for wires is the same as for boxes and it is safer. Earlier, we used cotton mattresses for jumps and fights. Today, we use crash-mats with sponge.
Sometimes, actors want to do their own stunts, but it is risky. An actor works simultaneously in many films, so it is not wise to risk his life.
There was a scene in Talaash where I was the body double for Akshay Kumar who had to break through a glass and fall from a height. Akshay wanted to do the scene himself, but it was too risky.
I did that scene and even though I landed on the boxes properly, I twisted my foot and got minor cuts on my face. Akshay mostly does all his stunts.
We have directed stunts in Mission Istanbul, Murder 2, Jannat 2, Once Upon A Time in Mumbaai Dobaara and The Dirty Picture.
After becoming an action director, you can't perform stunts. It is against the association's rules unless you are playing a character in the film. So I play small roles. In Shootout At Lokhandwala, I played Chote who gets beaten up by Vivek Oberoi.

'Ram Gopal Varma asked whether I would like to direct'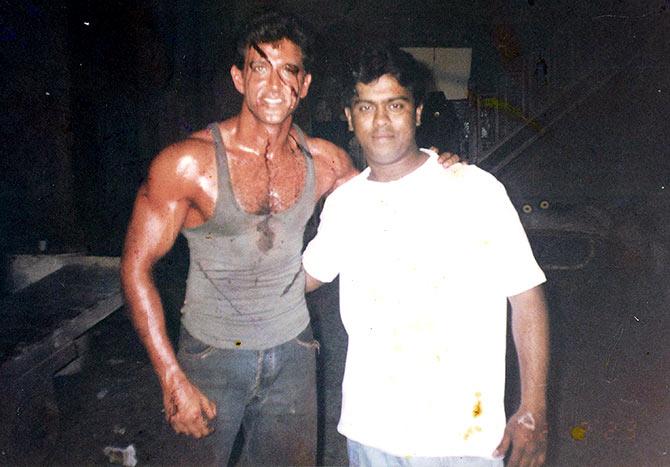 Image: Aejaz Gulab with Hrithik Roshan on the sets of Aap Mujhe Achche Lagne Lage.
My first film with Ram Gopal Varma was Aagyaat.
His involvement in the action sequence was very little; he saw how I worked and gave me a free hand. I worked with RGV on many films.
He asked me to direct a film during Rakth Charitra, but I did not find it interesting and turned it down.
During Department, he asked again whether I would like to direct and gave me the script of Ab Tak Chhappan 2.
I was happy because the first film was very good and Nana Patekar was playing the lead again.
During the first schedule, RGV sat with the editor during the editing sessions, but later, he stopped. Our next two schedules were delayed because Nana had given dates to Malamaal Weekly, and then our producer Ponty Chadda died.

'Nana Patekar loses his cool when he is rehearsing'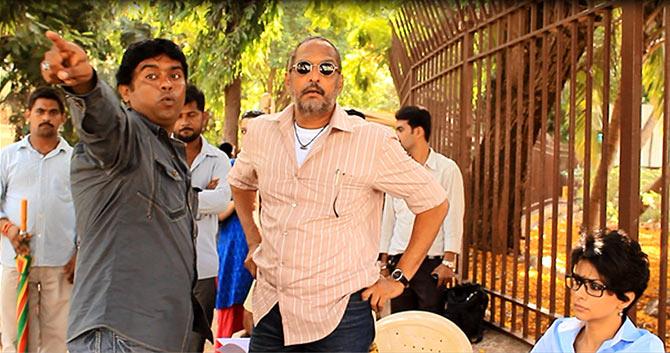 Image: Aejaz Gulab with Nana Patekar and Gul Panag on the sets of Ab Tak Chhappan 2.
Nana had worked with my father in Ankush and Mohre. I had worked with Nana in Tirangaa.
Ab Tak Chhappan was directed by Shimit Amin, who was brilliant. I was stepping into his shoes, so I had to work hard to do the job better.
I had told Shimit Amin that I was directing Ab Tak Chhappan 2 and he was very happy.
He only asked one question: 'How does Nana behave with you?'
He told me Nana is very aggressive and short-tempered.

When I told Salman I was directing a film, he started laughing, then asked me who the hero was.
I said it was Nana. He hit his head with his hand, and then asked, 'Does he trouble you?'
I showed him the first trailer and he liked it.
I showed Aamir the trailer and he said he wanted to watch the film.
Nana loses his cool when he is rehearsing. If a light-man makes a noise, Nana gets angry as he gets distracted.
He was very nice to me. We would stage the whole scene, lock the movements and then shoot.
Nana would cook for us on the sets. He made sambhar and mutton for everyone in the unit. Whoever was free was given the work of chopping the onions and tomatoes!
When we were shooting in Goa, he made fish fry for everyone. He is a very good cook.

'I have not been paid for Ab Tak Chhappan 2'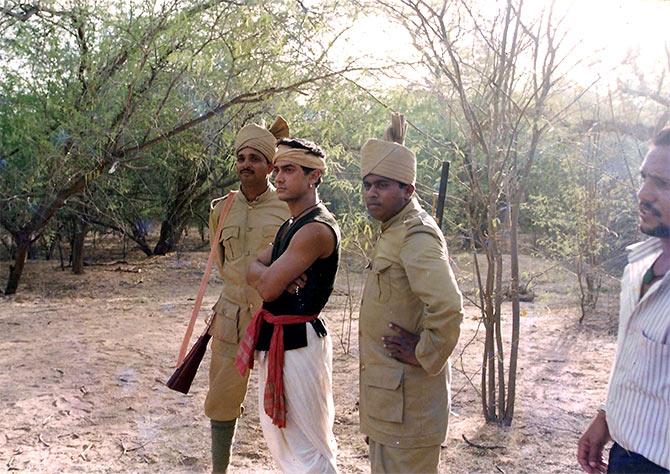 Image: Aejaz Gulab with Aamir Khan on the sets of Lagaan.
The promotion of Ab Tak Chhappan 2 was very low. They told me we will go on shows like CID and Savadhan India, but it never happened.
The budget was also low -- it was around Rs 14 crore to Rs 15 crore (Rs 140 million to Rs 150 million).
I have not been paid for Ab Tak Chhappan 2. But that's okay. I got the chance to direct.
We got paid for the action direction. I gave my share to Javed because he did the action.
Action directors get paid anywhere between Rs 10 lakh and Rs 45 lakh (Rs 1 million to Rs 4.5 million).
I am working on a script with Nilesh Girkar on a film which may star for Nana Patekar and Salman Khan. I will approach them if ;Ab Tak Chhappan 2 does good business.
Right now I am working as the action director on Sanjay Gupta's Jazbaa, Aishwarya Rai Bachchan's film.
I am also working on Bejoy Nambiar's Wazir and Saurabh Varma's Seven Days To Go.