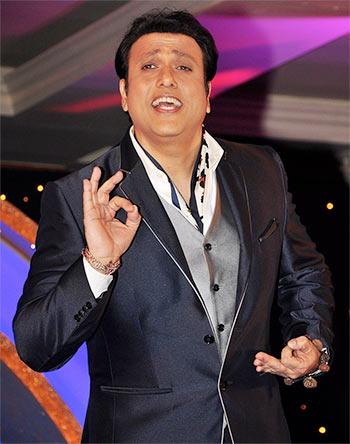 'David Dhawan did not stand by me during my bad phase. When a person thinks that you are not competent enough to do his film or work with him, one should not ask for work from that person.'
Govinda vents out against the director.
Govinda and director David Dhawan have given us a string of hit films like Coolie No 1, Raja Babu, Bade Miyaan Chhote Miyaan, Hero No 1, and Partner.
But they may never work together again.
Asked if he would like to be part of David Dhawan's upcoming projects, Govinda said clearly, "No, I don't want to work with him as he didn't stand by me during my bad phase.
"When a person thinks that you are not competent enough to do his film or work with him, one should not ask for work from that person.
"I think the love between us that has been there over the years should remain the same. We have not worked together for many years. I have nothing to do with his films nor do I discuss his films."
"Currently, he is a proud father; let him be happy," Govinda says.
Shifting gears, he commented on the new, young actors.
"The whole process of looking good, working on your body has changed. Now it's tougher to maintain the kind of body actors need to maintain these days. They are professional in everything and they have to work hard. Yet, I think we worked harder."
One of the recent films he has liked is Barfi.
"After many years I really liked a film. Ranbir Kapoor, Priyanka Chopra and Ileana D'Cruz were all very good. The hard work which they had put in for the film was evident on the screen," he says.
He and Salman Khan have acted together several times and Govinda says they are much alike in nature.
"Both of us are family oriented persons. He offered me Mahesh Manjrekar's film Shikshanachi Aai Cha Gho. I didn't like the subject because it was like an art film. Otherwise, if Salman asks me to play a villain's role even when I am on top and my films are doing well, I would say yes," he says.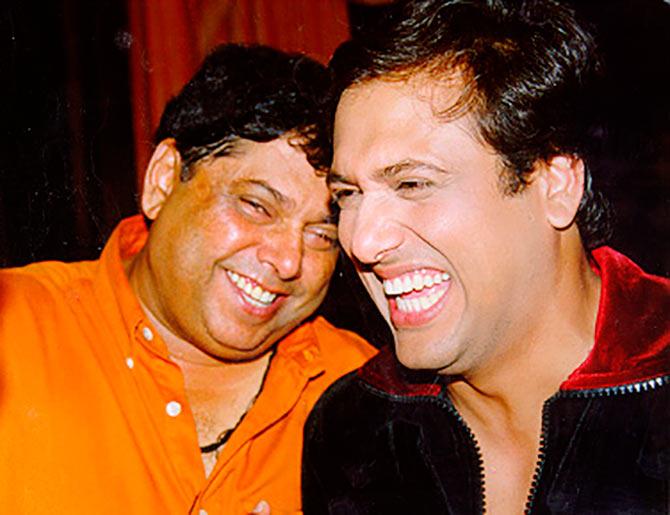 Image: David Dhawan and Govinda, in happier times
Though his film Kill Dil was not a box office hit, Govinda says it has worked for him.
"At least it released. I didn't expect a song in Kill Dil but they added a song which worked for me.
"When I was producing films, people would ask me why the films were not being released. Sunita (his wife) told me to take up work that comes my way instead of doing what I want. I think she was right."
The actor will make his television comeback as a judge for DID Super Moms. His co-judges are choreographers Geeta Kapur and Terence Lewis.
He has been offered many reality shows, but had refused.
"This I couldn't refuse because the 'Mother' has always been special to me. My mother is responsible for whatever success I have achieved today," he explains.
A good dancer is someone who, "without saying a single word can express emotions."
His last appearance on TV was as host on Jeeto Chappar Phaad Ke in 2001.
"I had become so choosy that there was nothing left to choose from. Now that I have decided to come back, I am taking up anything promising that comes my way, be it television or films," he says.
This year he will release his first home production, Abhinay Chakra.
His daughter Narmada Ahuja will make her Bollywood debut with the film Second Hand Husband.
"I haven't gone on the set of her shoot to date. I don't want people to think that I have helped her. She has done everything on her own but I am always there for her. She is a sensible girl. Sometimes, if I am confused over something, I ask for her opinion," says the proud dad.