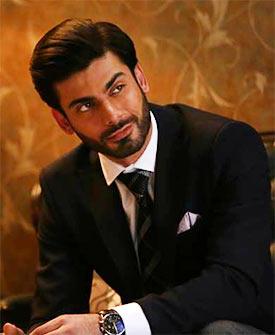 'If there is anything a man fears, it is financial instability and it matters to me as well,' Fawad Khan tells Sonil Dedhia.
Even before he makes his Bollywood debut, Pakistani actor Fawad Khan enjoys a sizable fan following, especially among the women in India.
The actor shot to fame here with the popular telly soap Zindagi Gulzar Hai.
His first Hindi film Khoobsurat releases this week, where he romances Sonam Kapoor.
In this interview with Sonil Dedhia, Fawad talks about his fascination with Bollywood, and admits he is hesitant about doing sexy scenes.
You are a big star in Pakistan. Isn't it difficult to start afresh in a new film industry?
Yes, it's difficult. I stumbled into acting because a friend persuaded me to leave my 9 to 5 job and get into acting.
Bollywood was never on my to-do list. It just happened.
I took up Khoobsurat to try out something new. Yes, I am nervous. I want to carry forward the legacy that I have created in Pakistan.
Zindagi Gulzar Hai has become the rage in India and has got you a big female fan following.
I am glad that people like me as an actor. The fact that the audience has accepted me in a television show means that they will support me by watching the film.
The flip side is that there is a huge expectation from my fans. As I said earlier, that makes me nervous (laughs).
Does your wife feel insecure about your female fan following?
My wife is not insecure at all. She is one of the most sensible persons I know.
She is very supportive. Her attitude is, 'I am glad people are jealous of me because of who I am married to'.
We have had a very long relationship which is an outcome of trust.
Do you wish you had chosen a hero-oriented film to start with in Bollywood? Khoobsurat revolves around Sonam Kapoor's character.
Not at all. I believe you can do a lot even if you have a 15-minute part in a project.
I didn't have any apprehensions working in a female-centred film; I have done such projects back home in Pakistan.
What matters is to make my mark on the people I am working with. I decided to do this film because Rhea (Kapoor, producer) is extremely intelligent and I feel she has presented Khoobsurat beautifully.
Also, this is Disney's first Hindi film. It is catering to a universal audience.
How did you get the part?
I got a call from the casting director. Since I like to do my homework, I made sure I saw the original film, a timeless classic.
I read the script of this film and I think it (the original film) is the inspiration for this one. Other than that, it is different.
I came to Mumbai for the readings with Sonam and ultimately things fell into place.
Did you have any preconceived notions about Bollywood?
No, I didn't. I am a fan of Bollywood films. When we talk about India, the first thing that pops up is Bollywood.
Rhea, Sonam and Anil sir (Anil Kapoor) have treated me wonderfully. Sonam and I have become good friends. She is a wonderful co-star and human being. She is very chilled-out and has no hang-ups. She didn't make me nervous.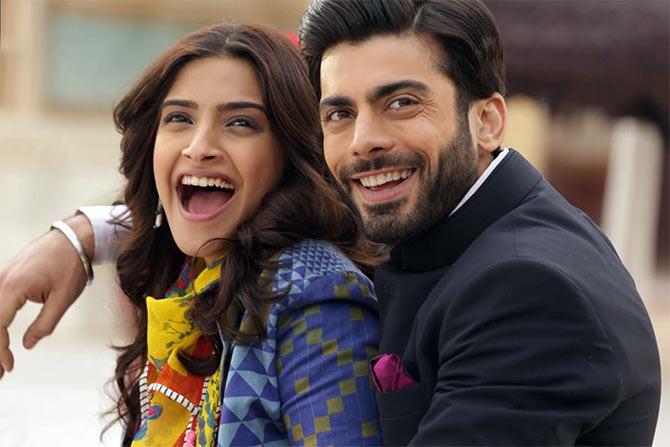 Image: Sonam Kapoor and Fawad Khan in Khoobsurat
How was your first interaction with Anil Kapoor?
I was star struck when I saw him.
I am a little shy and hesitant. I was at a coffee shop at a Mumbai hotel once and I turned around and saw Rishi Kapoor standing right next to me! I told myself, 'No, you've got to be kidding' (laughs loud).
He looked in a bit of a hurry so I thought it wasn't the right time to tell him how big a fan I was.
Were you exposed to Hindi films when you were growing up?
I grew up watching Amitabh Bachchan, Rishi Kapoor, Anil Kapoor, Amjad Khan, Kader Khan, Amrish Puri and so many other legendary actors.
I would rent movies like Sholay, Do Aur Do Paanch, Mr India, Mr Natwarlal, Satte Pe Satta, Shahenshah, Woh Saat Din...
In my teenage years, I became rebellious. I had shoulder-length hair and loved metal and rock music so much that I tried my hand at music.
You had a rock band…
Yes, it was called EP (Entity Paradigm). My attention in my teenage years was diverted from cinema to music.
Ultimately, we had a falling out. It was a time when I was very emotional. I was very passionate about music but the fallout was the deathblow.
I still have a studio and I like dabbling in composing. As of now I am busy with acting but if time permits, I will surely compose music.
Many actors from Pakistan have worked in films in India, but none of them have really excelled. Does that scare you?
If there is anything a man fears, it is financial instability and it matters to me as well. You have to keep your house running.
I had minimum expectations from my work even back home but I was fortunate in many ways.
No one in my family is a musician or actor so for me, it has been a huge journey. I don't think about what's going to happen tomorrow because if I start doing that, I will limit myself.
Ali Zafar had said he wasn't comfortable kissing on screen. What about you?
I have certain reservations. I will play it a little safe for now. I feel a scene can look crappy or classy depending on the presentation.
There is a thin line between vulgar and aesthetic. I am a fan of all kinds of films but starting with Khubsoorat was easier as it appeals to the sensibility of a larger number of people.
As of now, I am hesitant about choosing bold projects but at the same time, I must admit that I am very unpredictable.
Are you planning to juggle between India and Pakistan? And will you continue doing television?
I'm staying away from television for a while here and back home. I'm currently in talks for a Pakistani film and a couple of Bollywood films.