'Lagaan and Talaash are among his best films. In Talaash, he underplayed his character. It was a wonderful film.'
'He did some really bad films after QSQT. He was doing those films without thinking. He realised that, stopped and changed his approach.'
Mansoor Khan, cousin and director, speaks to Ronjita Kulkarni/Rediff.com for our Aamir 50 series.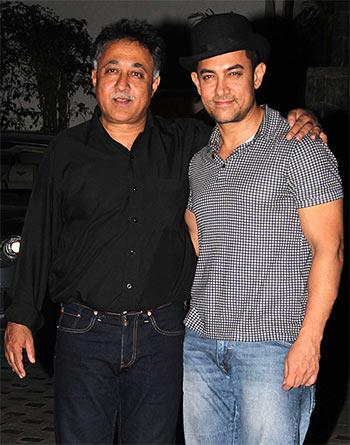 Aamir Khan was not always the self-confident star he is today.
There was a time when Aamir was so shy that his cousin Mansoor Khan was shocked that he had opted for a career in showbiz.
Mansoor Khan has many interesting insights into Aamir, who is seven years younger than him.
In Rediff.com's special series to celebrate Aamir's 50th birthday on March 14, we asked Mansoor -- who directed Aamir in Qayamat Se Qayamat Tak, Jo Jeeta Woh Sikander and Akele Hum Akele Tum -- about his lil bro.
Kiran (Rao, Aamir's wife) invited me for Aamir's birthday party, but I can't attend. I live in Coonoor and cannot make the trip unfortunately.
We don't usually celebrate birthdays. Since he's turning 50, it's a big one, and will be quite elaborate.
As children, our birthday parties meant chutney sandwiches and cake! There would be a lot of running around, and that's it.
Our families have been the closest since we lived nearby. Aamir would come over to my place a lot. His building had a lot of kids, so I would go there often to play.
Our families would holiday together in Mahabaleshwar, Panchgani and our Panvel farmhouse. We had very rustic holidays. We never went abroad. Going abroad is a waste of money. I believe small is beautiful, and Aamir agrees with me. He may be a big movie star, but he is very rooted.
'Aamir came out of his shell by doing movies like Dil'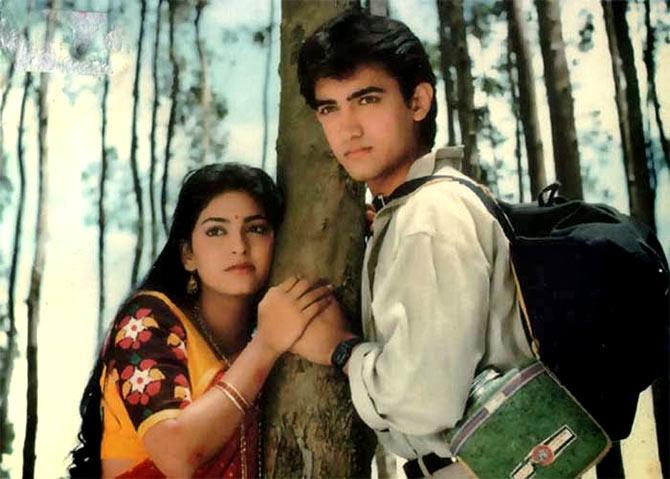 Image: Juhi Chawla and Aamir Khan in Qayamat Se Qayamat Tak.
When we were younger, Aamir was very shy, quiet and introverted. When he said he wanted to become an actor, I was like 'Oh my God!'
I was scripting Joh Jeeta Woh Sikander at the time, and I wrote it with Aamir in mind.
My father (Nasir Hussain) was scripting Qayamat Se Qayamat Tak with Aamir in mind. I wasn't ready with the script of Jo Jeeta, so I started working on QSQT. I'm glad I did QSQT first because I gained some experience to shoot Jo Jeeta.
I was constantly worried about Aamir's shyness when we started shooting QSQT.
Later, he came out of his shell by doing movies like Dil, where he played loud, aggressive characters.
'Aamir started the trend of doing one film at a time'
Aamir is very clear in his head, and his selection of movies is very clear. He has sound reasoning and a high IQ.
He started the trend of doing one film at a time.
Earlier, actors would do multiple films together, not paying attention to what the producers may be going through or the fact that they look exactly the same in all their films!
It seemed like a suicidal decision, but Aamir did it and changed that trend.
Aamir wanted to play Shah Rukh Khan's character in
Josh
, not Chandrachur Singh's, which I had offered him.
He did not want to play a romantic hero because he wanted to change his image.
I remember he was shooting for Ghulam then. He wanted to change his image to aggressive, manly, roles because he was fed up of doing soft romance.
'Aamir would try to be a perfectionist'
During the shooting of Akele Hum Akele Tum, Aamir would give a lot of inputs. He would try to be a perfectionist.
Baba Azmi (the cinematographer) and I would laugh and make light of his suggestions.
He would question why a shot was being done in one way, not another.
He would try to enhance the whole scene, not just his character. He would know what the scene needed.
I realise now that he was just being sincere about his work.
He was coming into his own then.
We would take it lightly, and I am responsible for that too. Aamir would not take offence.
'Aamir did some really bad films after QSQT'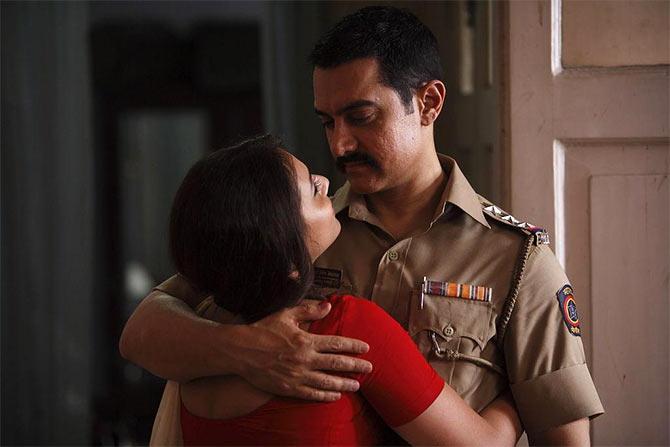 Image: Aamir Khan and Rani Mukerji in Talaash.
I would not call QSQT Aamir's favourite film. I don't think Aamir considers it his favourite either.
He cringes looking at himself in some scenes now.
Lagaan and Talaash are among his best films. In Talaash, he underplayed his character. It was a wonderful film.
He did some really bad films after QSQT. I won't give any names. He was doing those films without thinking. He realised that, stopped and changed his approach.
He has a good sense of script and character. He put his trust in the script, rather than in the director.
Directors can make good and bad films, but it is the script that is finally important. He decided to never trust the director blindly after that.
'Aamir was too shy to think of girls'
Growing up, Aamir was too shy to think of girls. I would be with my girlfriend and make him sit around. He had a girlfriend much later, in college.
I never watched movies in my younger years. I was more into gadgets and electronics. I remember once I bought a video cam, the first of its kind. We went to the beach, and he was a willing model.
Today, he has changed. But stardom didn't change him, it was just evolution.
He still remembers his building friends. I am sure they will be there for his 50th birthday party.
'He has been too busy for his kids, but he makes time now'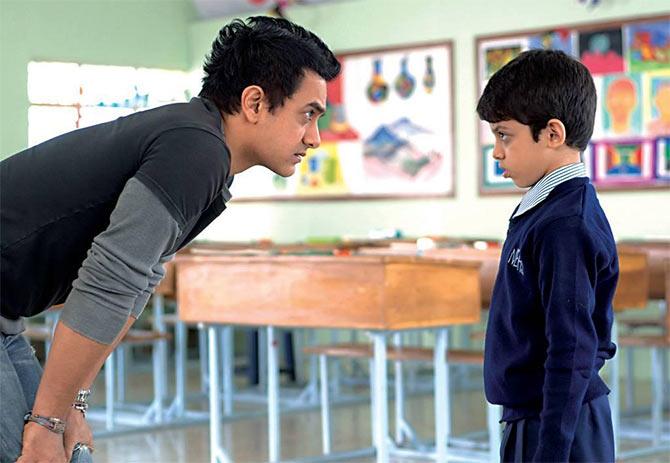 Image: Aamir Khan and Darsheel Safary in Taare Zameen Par.
He did a great job in Taare Zameen Par. Handling kids is his forte. He knows how to instruct a child.
The scene where the child cries in the bathroom is so good. I've never seen it in the films before.
He has been too busy for his kids, but he makes time now. You can judge how good a parent is by looking at how happy the kids are, and he has got very happy kids.
Junaid has assisted him on his films, and has done a good job. My daughter Zayn is two months older than Junaid. They are very close. She visited him in California and stayed with him for some time.
Azad, being the baby of the family, is always fussed over. Of course, Imran's baby is the youngest now.