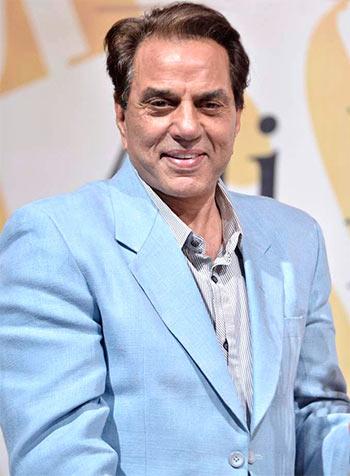 'When an actor is punching or beating up the villain, he goes miles away and falls, which isn't possible.'
'You see the same kind of action in all the film, which makes it monotonous. We should get back to real action.'
Veteran actor Dharmendra talks action.
"Acting is not a profession for me; it's my mehbooba (girlfriend)," says Dharmendra, star of Indian cinema for over five decades.
He starred in more than 200 films and, at 79, shows no signs of stopping.
His latest film is Second Hand Husband, in which he plays a Casanova-like character.
"I've been part of the Hindi film industry for 50 years. The only force that keeps driving me even today is the love and support of the people. I am thankful to them that even after 50 years, they have not thrown me out of their hearts," he says gratefully.
He explains how he got to do his latest film.
"I had earlier worked with director Smeep Kang in a Punjabi film called Double Di Trouble, and I really had a great time. When Smeep came to me with Second Hand Husband, I liked the story and agreed to do the film," he adds.
Dharmendra doesn't believe in promoting his movies. The Deols have always maintained a low profile, and that sometimes affected the outcome of their films at the box office.
The veteran actor remembers advice he once got from Shah Rukh Khan.
"Apne was a good film and there was no film like this in the sports genre. A lot of films in the sports genre got support from the media but our film did not. Shah Rukh told me that I should have promoted and marketed it well to grab attention," he shares.
He says there should be "a proper way to promote a film. I can't blow my own trumpet. I don't feel that is right."
The veteran actor was admitted to Breach Candy Hospital on May 27 after he complained of weakness and pain in the right shoulder. He will undergo surgery after the release of his film.
"My shoulder got injured as I missed a step while I was getting into my vanity van. We also did a routine check up and found that my haemoglobin was low, but I am fit now," he says.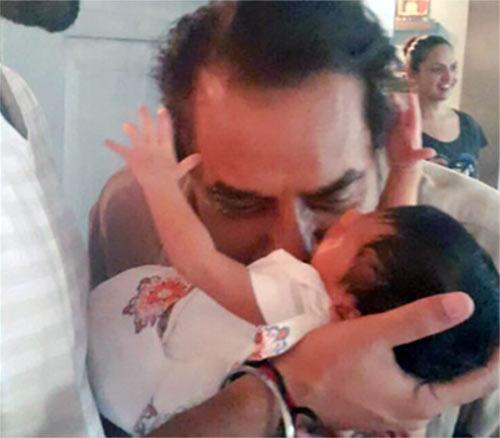 Image: Dharmendra with his grandson Daniel Vohra. Photograph: Esha Deol/Twitter
Dharmendra's youngest daughter Ahana Deol, who married Delhi businessman Vaibhav Vohra last year, gave birth to a baby boy (Darien Vohra) last month.
The actor is absolutely delighted at this addition to the family.
"I am extremely happy. It reminded me of the time (when Sunny and Bobby were small). It's the memories that remind us of the love and affection we have for our loved ones."
Dharmendra, called the He-Man of Indian cinema, has a poor opinion of the action flicks of today.
"I feel action has become artificial today. When an actor is punching or beating up the villain, he goes miles away and falls, which isn't possible," he explains. "You see the same kind of action in all the film, which makes it monotonous. We should get back to real action."
Dharmendra isn't too happy with the way the film industry functions today.
"Actors today are confident and smart. Time was when we used to listen to stories from elders. There was apnapan (camaraderie), which is not there today.
"Now people talk to the point, they talk when they need you. I wish this is not there in the future," he said.
He is happy that directors are making films about real incidents.
"Filmmakers are picking up true incidents from real life and making films, which is good. True to life stories are being written, which is great. These stories touch the heart of the audience."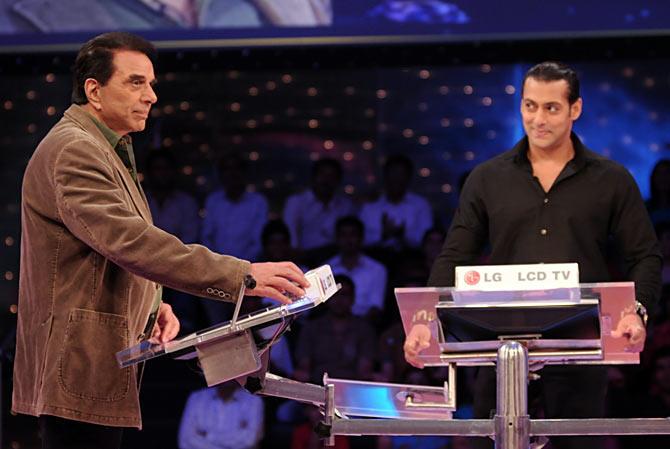 Image: Dharmendra with Salman Khan on Dus Ka Dum
Considering the rich and varied life he has led, why doesn't he write about it?
"I am a very lazy man. I write sometimes and then I feel lazy so I stop," he says smiling.
If a biopic is made on his life, he would like to see Salman Khan playing him on the big screen.
"I think he has a lot of characteristics that are similar to mine. I think he will be able to portray me onscreen perfectly," says the actor, who was once voted the most handsome in Bollywood and earned the nickname Garam Dharam.