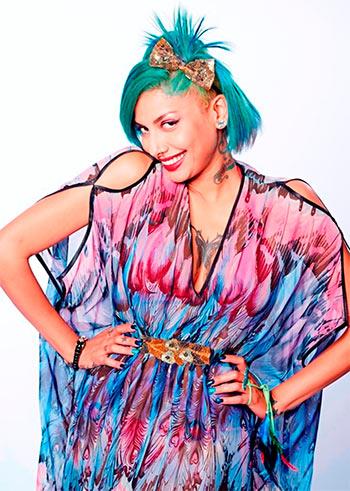 'Kissing doesn't lead to pregnancy, right? It's just one of the dumbest rumours flying around,' Diandra Soares tells Rajul Hegde/ Rediff.com and clears the air.
Model Diandra Soares is the latest contestant to be evicted from reality TV show Bigg Boss.
She was romantically linked with co-contestant Gautam Gulati and their infamous escapade in the washroom was quite controversial. After her emotional outbursts, their relationship fell apart.
When Diandra was taken to a hospital from the Bigg Boss house, there were reports that she was pregnant.
Diandra is exasperated with these rumours.
"Everybody has lost it. I have been dealing with the same from the time I have come out of the house," she says. "Kissing doesn't lead to pregnancy, right? It's just one of the dumbest rumours flying around."
"I never ever once said that I was pregnant. I decided to play a prank on my housemates by saying I am not coming back to the house for health reasons.
"I had gone to a dentist earlier too and this was the second time that I was going out for medical reasons," she says.
So why was she taken to the hospital?
"I was unwell. I was feeling a little low due to hormonal imbalance. Also, added stress living in the Bigg Boss house. I thought I should do some tests. I am fine now," says Diandra.
She also clears the air about the time the couple went inside the bathroom, and locked the door.
"I wanted to tell him something about Sonali (Raut) which I obviously didn't want to say in front of the cameras. So I took him inside the bathroom. I am an adult and know my limits. I am not so foolish as to do something on a show like this," she clarifies.
Things, however, turned sour between the two when Gautam told Diandra that the two were "just friends."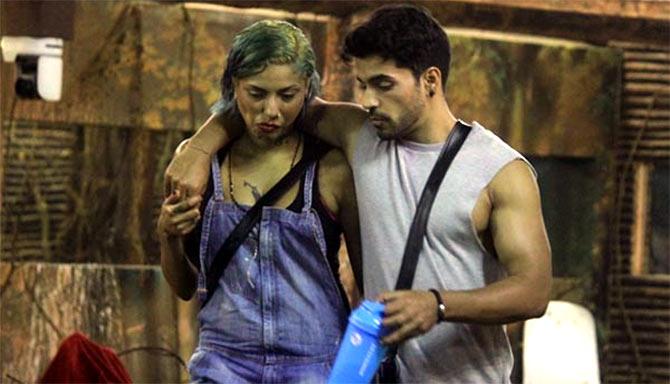 Image: Diandra Soares with Gautam Gulati in Bigg Boss 8
Was their PDA just for the cameras or was it real?
"You cannot act for so long for the cameras, right? It was not fake at all. We were trying to figure it out. I don't think we can be sure of our feelings. It's so messed up.
"Gautam should have talked about not being physical in a better manner, like an adult. We could have parted ways in a more civil way, without making it look abrupt and immature.
She added, "Gautam is answerable to everyone for his childish behaviour when he comes out. People are mature enough to judge what is real and fake."
Will she meet Gautam after he comes out?
"I don't think I can interact with someone who is so spineless," she replies.
She admits she was "the most unguarded person in the house. After a conversation with host Salman Khan (Salman told Diandra that Gautam is not worth much if he fears to show love), I had decided not take any of the nonsense going on in the house. Had I not been evicted, for the next few weeks there would have been notable fireworks."
But she has no regrets.
"I have made lots of friends inside the house, with almost everyone. Puneet is a really nice person but he's too caught up in the game. I guess the respect he commanded before Bigg Boss has deserted him," she says.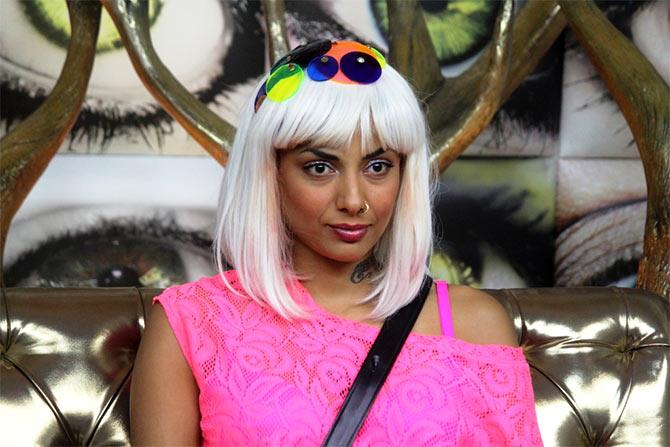 Image: Diandra Soares in Bigg Boss 8
Diandra, who shaved her head on the show, claims she is quirky in real life too.
"Being a model, fashion comes naturally to me. I don't have to try hard to be stylish," she says.
It was an 'emotional' moment for Diandra when she learnt from Salman that her ex-boyfriend, DJ Whosane, with whom she had been in a relationship for 12 years, had recently tied the knot.
Diandra says she is bored of modelling and wants to do something different.
"People in the modelling industry know who I am but the general public don't know me at all. So I thought Bigg Boss is a better platform to show my real self.
"I am bored of modelling for 20 years now. I want to try different things now.
"Thankfully, I have got a couple of film offers. Let's see how it goes," she signs off.