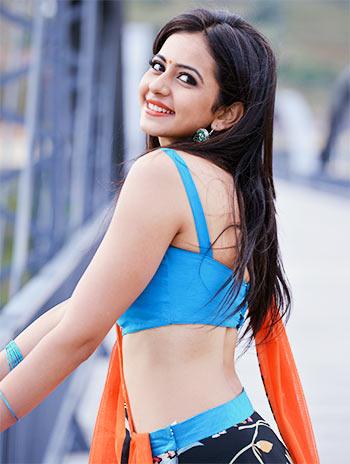 'I am enjoying this phase. I have worked for it. It was not easy.'
'I hope to have a long run here.'
Actress Rakul Preet Singh talks about her success down South.
She made her Bollywood debut in Yaariyan but Rakul Preet Singh is on a roll in Telugu cinema,After the success of Venkatadri Express and Loukyam the young actress is now busy with a string of projects with directors like Srinu Vaitla and Sukumar.
She has already finished shooting for Pandaga Chesko with Gopichand Malineni and Kick 2 with Surendar Reddy.
Just before leaving to shoot for Srinu Vaitla's untitled film, with Ram Charan, Rakul spent a few moments with Radhika Rajamani/Rediff.com, as she talks about her career and her film Pandaga Chesko, which releases this Friday, May 29.
You are having a good run in Telugu films with quite a few projects in hand. How does it feel?
It feels great. I am happy and grateful to the industry and people for accepting me.
I am enjoying this phase. I have worked for it. It was not easy.
I hope to have a long run here.
You are being referred to as the new superstar…
It feels awesome but comes with a lot more responsibility.
I need to put in 200 per cent more effort.
When the bar goes higher, people expect more and one has to live up to those expectations.
Did you think it would be possible when you started?
Everyone wants to do well. So do I. Destiny plays an important role in everyone's life.
Venkatadri Express was a turning point in my life. Loukyam was another feather in my cap. It was all destined.
I'm on the right track and I am happy.
Now that you are much sought after, do you feel the pressure?
When you have expectations, there is pressure to live up to.
I don't take pressure as negativity or stress. I take it as a challenge to do multiple films.
I am lucky it is happening this way. Pressure pushes you to give your best.
You have three more films – Kick 2, Srinu Vaitla's film (with Ram Charan) Sukumar's film (with NTR Jr) and a Srikkanth Addala film, besides Pandaga Chesko…
I haven't signed Srikkanth Addala's film.
How do you manage to juggle Hindi and Telugu films? You shot Ramesh Sippy's Shimla Mirchi alongside Loukyam and Current Theega..
I don't have to manage. The manager does it. I go to the shoot and enjoy the process.
What is your role in Pandaga Chesko?
My character is called Divya. She is an environmentalist. She is emotionally attached to plants, trees and nature.
She can go to any extent to protect the environment. It is a strong character, an important role. It takes the film forward.
Is it a substantial role?
It is an equal role and a layered one.
It's interesting, it's different. I enjoyed doing it.
I like a clean environment too. Of course I don't have personal issues like the character has.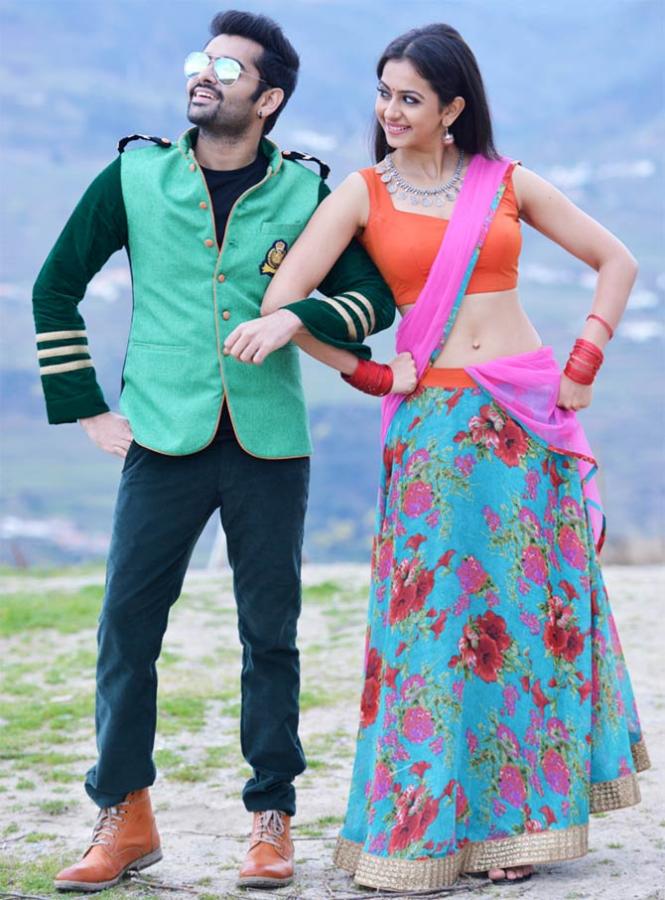 Image: Ram and Rakul Preet Singh in Pandaga Chesko.
You acted with Ram, one of the heroes of your age and an energetic actor. How did you keep pace with him?
He was very good. That always transforms us. Since every action has a reaction, it sets the timing for energy.
Though Ram and I were like Tom and Jerry on the sets, the love story is cute. Ram is spontaneous. He was very involved and joking.
Now that you have done half a dozen films in Telugu, are you more comfortable with the language and the industry?
I can speak decent Telugu and I have more control over the language now.
I enjoyed the industry from day one. In fact, when I go home, Telugu comes more naturally to me than Punjabi.
My people wonder as I pause to get the right words in Punjabi!