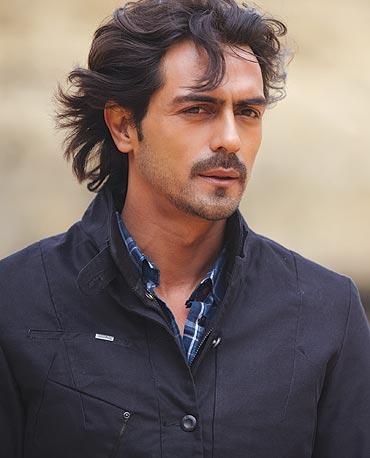 '2014 was a quiet year but I had four releases the year before that. I was really tired as an actor. I just wanted to read and not think about movies. I wanted to spend time with my family.'
Arjun Rampal gets ready for a busy 2015.
Arjun Rampal returns to the big screen after one and a half years, and claims he feels like a newcomer.
But the actor has a string of movies lined up, starting with Roy.
In conversation with Sonil Dedhia/ Rediff.com, Rampal explains why he is very selective about his work, and why his busy schedule doesn't allow him time to spend with his daughters.
Is your new look (see picture) for your upcoming film Daddy based on Arun Gawli's life?
I cannot reveal anything (laughs).
Before I start shooting for Daddy in April, I am shooting for Soni Razdan's Love Affair. I also have another film with T-Series.
We are also working on the script of Rock On 2 and we will start shooting it in August.
Right now, I'm concentrating on Roy.
I have not been on the screen for one-and-a-half years, so I am a bit nervous. I feel like a newcomer (laughs).
Why didn't you have a release in 2014? Are you being selective about your work?
I have always been selective about my films. I am getting to do roles that I want to do.
2014 was a quiet year but I had four releases the year before that. I was really tired as an actor. I just wanted to read and not think about movies. I wanted to spend time with my family.
I knew that my next film was Roy as Vikramjit Singh (the director of the film) had approached me three-and-a-half years ago. He has done a splendid job as a debutant director.
But when he first came to me with the script, it wasn't up to the mark. It needed to be developed further. A lot of time went into preparing the film but it's turned out really well.
How has the film remained fresh three-and-a-half years later?
The idea is still relevant and will always remain fresh.
I don't think a film like Roy has ever been attempted before. It's very brave of Vicky (Vikramjit Singh) to take this as his first film.
It is very difficult to define the genre of the film. It starts with me being a successful director, who has made a franchise of a film tiled Guns. He now wants to make Guns 3 but he doesn't have a story.
He is not able to write and that's when he meets the character, played by Jacqueline Fernandez. Something happens to him and he starts writing again.
That's when Ranbir Kapoor's character, Roy, comes in and creates chaos.
The movie tells you that everyone has problems in life which are created by one's own choices, and only you can get rid of them.
What was it like working with Ranbir Kapoor?
He is a phenomenal actor. I can assure you that nobody has seen Ranbir the way you will see him in Roy.
He has played this character with so much maturity. He has matured from Ranbir the boy to Ranbir the man.
I worked with him in Rajneeti and I feel his approach to acting is just amazing. He is a thorough professional; he tries to approach every film in a different way.
He still has a bad sense of humour though (laughs).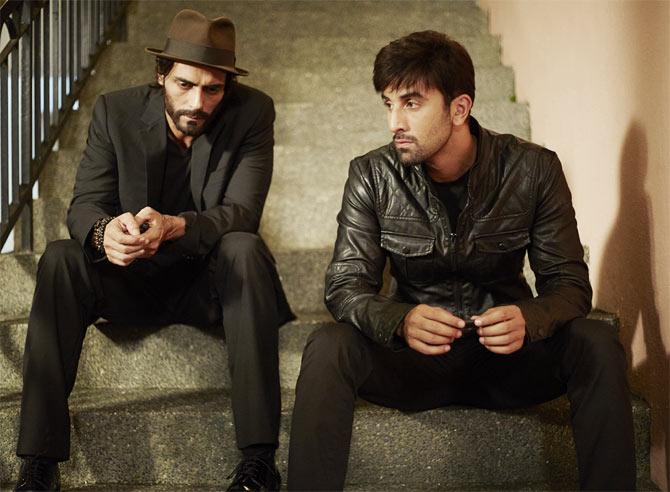 Image: Arjun Rampal and Ranbir Kapoor in Roy
You've worked with Ranbir's father Rishi Kapoor too. How would you compare the two?
Ranbir is living up to his father. Rishiji is a phenomenal actor and I have immense respect for him.
Ranbir has his own style. He doesn't try to imitate his father.
Ranbir is a quiet person on the sets while his father is very jovial and likes to make a jolly environment.
How did you find working with Jacqueline Fernandez?
I was shocked when I was told that Jacqueline was to be in the film. I have seen her dancing, working hard, but I have not seen her range as an actor.
She has surprised all of us. I think everybody will say she is a wonderful actor after watching the film.
I can assure you that once the audience is out of the theatre, they will only talk about Jacqueline.
You are playing a director in the film. Would you like to direct a film in real life?
I don't have any plans to do so now, but I would love to.
It's a very fascinating medium. I need a lot of time to direct a film and as of now, acting is my priority.
Do you manage to spend time with your kids?
I can't believe how fast my kids have grown up, especially my daughter who has turned 13. A few years ago, I was carrying her around!
When I am home, my kids are off to school; we rarely meet on a daily basis due to our schedules. But we are together on holidays.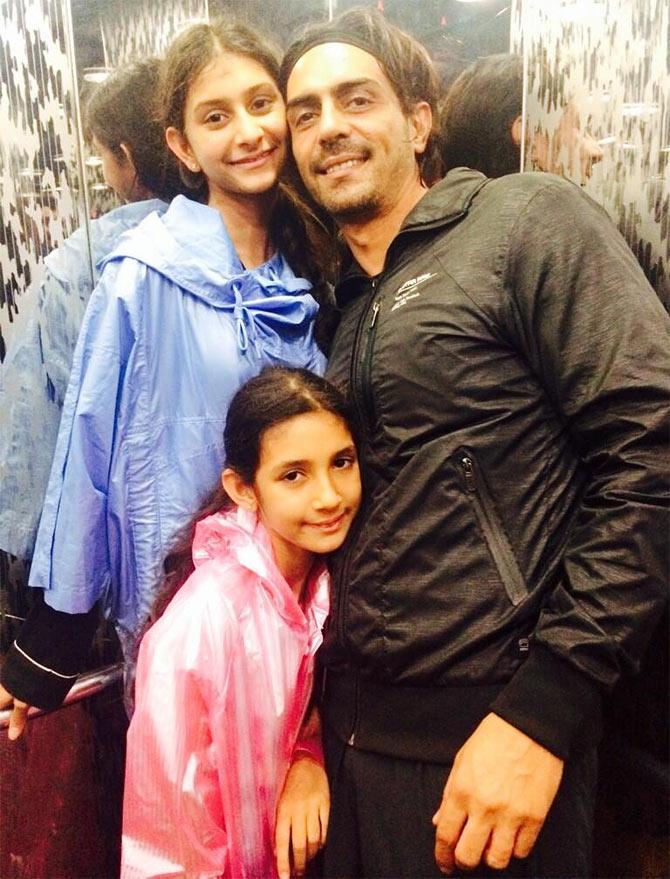 Image: Arjun Rampal with his daughters Myraa and Mahikaa
Do you indulge them a lot?
When they shop on the Internet they come to me as they need my credit card.
This is the moment when they have me around their little finger. It's okay to spoil them sometimes.
There were reports that you will not work with Shah Rukh Khan in the future...
I never said that. If there is a script that is appropriate, I am ready to work with him.