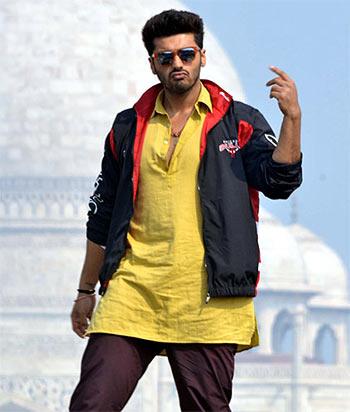 'I could have debuted with my father but that would have been the most cliched way to enter films. I want to be his strength, not his problem.'
Tevar star Arjun Kapoor was determined to prove himself as an actor before he worked in a home production.

Arjun Kapoor may be a part of a prominent filmi family but his first starring role in a home production -- Tevar -- came after he'd already starred in a string of successful films.

Produced Arjun's uncle Sanjay Kapoor and father Boney Kapoor, Tevar also stars Sonakshi Sinha, Kader Khan and Manoj Bajpayee and is set to hit screens on January 9.

In this interview with Sonil Dedhia/Rediff.com, Kapoor discusses his new film, the dangers of doing too many action dramas and his working relationship with his producer father.

Tevar is the first time you are working in a home production.

I enjoyed working on Tevar, and with Sanjay chachu (Kapoor) because I have grown up with him.

We lived in the same house for more than 20 years. He is like a father figure, a brother, an uncle and more so, a friend.

I had my first drink with him, travelled with him... So for me, it was having the right person on the sets.

He understands production because we have grown up in a household that knows cinema as producers. He was also the ultimate bridge between my father and me if we had any difference of opinions on the set.

Most importantly, he is a sensible person and hasn't become a producer just for the sake of it. He has his own approach towards films.

Sanjay Kapoor mentioned that out of the younger crop of actors, only you could have done a film like Tevar.

He has no choice but to say that (winks).

So what sets you apart from your contemporaries?

I like sinking my teeth into the material I get. I am an actor and mouldable enough to do films like 2 States, Gunday and Finding Fanny.

I have never restricted myself to my strengths and abilities as they are unlimited and I am still discovering them. I am 29 and just five films old.

I enjoy doing action a lot more because my films have a sense of violence. That's because I have a broad structure and if I hit someone, it looks believable. Maybe my contemporaries are meeker-looking in comparison.

At the same time, I have also played the boy-next-door equally well in my biggest success (2 States). Similarly, Siddharth (Malhotra), who has a chocolate-boy image, did a film like Ek Villain.

I will always try and do something unexpected.

I didn't know I was capable of doing a character like Pintu in Tevar. I felt it would be similar to what I have done before, but our director (Amit Sharma) had a fresh approach, which was exciting.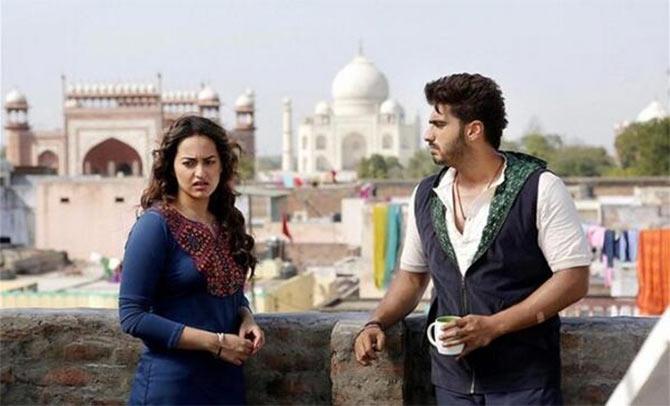 Image: Sonakshi Sinha and Arjun Kapoor in Tevar
You could have easily worked with your father Boney Kapoor in your first film. Were you proving a point by working with others first?
I want to be his strength, not his problem. I could have debuted with him but that would have been the most cliched way of doing it.

You take away from the film and yourself. Even a crackling film would have had that negative effect that a father is launching his son in a film designed to show his skills.

I chose to work harder. I don't want it to be a designed film. We might make a designed film now (referring to Tevar) but you won't even notice because you have seen me as an individual and accepted me.

Now that I'm five films old and have an identity, the credibility of Tevar remains intact.

Does it work to your advantage or disadvantage to work in a home production?

It's actually neither an advantage nor a disadvantage because I still have to work with the same dedication and have to be as professional as I am for any other film.

I was rather anxious because my father was going to be on the sets, observing me rather than watching the final product.

An actor should never be influenced by the surroundings because you have to submit completely, and trust me, it's not a good feeling when you know that your father is going to come and watch you work every day!

I remember the first day I shot for the film, he didn't interfere; he was on the periphery and wasn't overtly involved, so I heaved a sigh of relief. After that, it was like doing any other film.

Please continue.

Tevar wasn't designed to display my strengths or to showcase my skills. I had seen the original film (Okkadu in Telugu). Even before I became an actor I told my father that if the rights are available please buy it because that's the kind of film I'd like to do.

Ironically, I debuted with Ishaqzaade that had elements of me being on the run with a girl but that was because we were in love.

In Tevar, the story is about a boy who helps a girl escape.

If people liked me in Ishaqzaade, I hope they like me in Tevar too.
Your father had tears in his eyes at one of the promotional events. He said you were the driving force and motivated him to make this film. Did you contribute to the film outside of your capacity as an actor?

Any father wants to feel proud of his son. I had worked hard to be an asset to him.

My father is a flamboyant filmmaker. There is a saying in the industry about Boney Kapoor, 'You ask for an Ambassador car and you get a Mercedes.' He is that large-hearted.

It's not easy to find acceptance in our profession. It is very rare to get the kind of love and adulation I have got in just two years of my career. The confidence he from my success encouraged him to make a film with me.

I was involved in cutting the trailer for Tevar as I am fond of that work. I just wanted to be a part of it so I got together with Ravi and Binny Padda and worked on the trailer.

Ishaqzaade, Aurangzeb, Gunday and now Tevar -- they are all action dramas. Won't you get stereotyped as an action hero?

If the audience likes it, I'd love to do more roles like that. Also, I think I'm so new that I can't really be stereotyped yet unless I make at least another three action films.

That said, I wouldn't have passed up a film like Tevar even if I had done a lot of action before.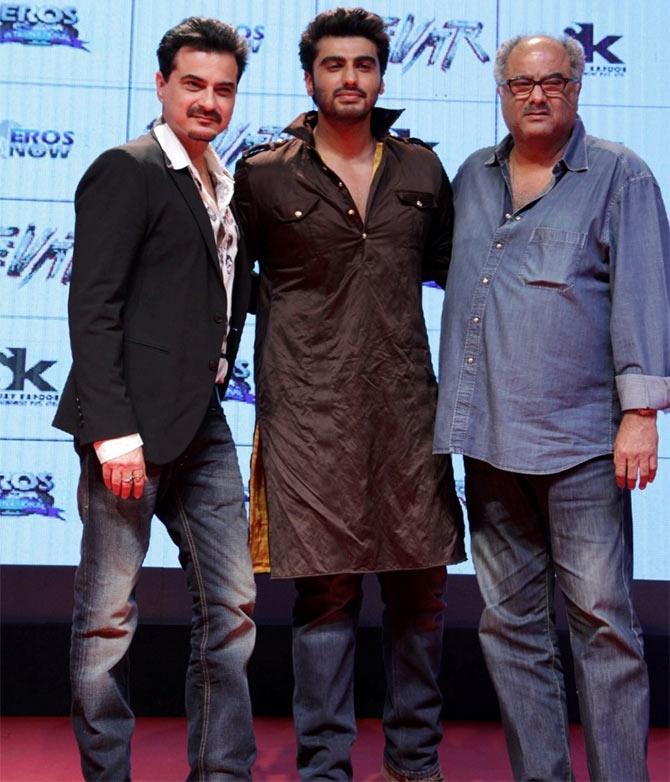 Image: Sanjay, Arjun and Boney Kapoor at the Tevar trailer launch. Photograph: Abhijit Mhamunkar
Sanjay Kapoor said that you wouldn't have done Tevar had you not liked the script of the film.

Yes, I wouldn't have done it because it took me a year and half to say yes to Tevar.

Filmmaking is not a joke. Just because you have a producer and an actor, you just can't get up one day and start making a film. I wanted this film to be done in a certain way. I didn't want it to be a masala entertainer where the film is only about heroism.

It's a commercial entertainer about an ordinary boy in an extraordinary situation.

Amit Sharma is making his directorial debut with the film and I liked the five or six narrations we did between May and October 2013.

We didn't want to be complacent and just improvise with everything on the sets.

Is there a possibility that you could say no to a home production?

I have said no to my father in the past. He came up with scripts I wasn't convinced about. There have also been times when I went to him with a script that he wasn't sure about. That is something between him and me.

I think this working relationship is here to stay. At the end of the day, both of us should be excited to work on a film together.

With Tevar, you will got to see a quintessential old school Hindi film with a slightly new sensibility or new attitude which isn't frivolous. This film has an emotional connect.

We recently saw you in AIB's (All India Bakchod) spoof featuring Alia Bhatt. Recently, Shah Rukh Khan and the Kill Dill team appeared for a spoof interviews for The Viral Fever to promote their respective films. Would you do something like that to promote your own film?

When Shah Rukh Khan does it, he does it really well. His stardom is so big that he can afford to laugh at himself.

As an audience, you laugh with him and not at him. He is doing it because there is nothing that he has not heard before. He can handle it with ease and he's got the gift of the gab.

I would love to do it at a personal level and never to encourage or promote a film. I would not like to demean my film to promote it. If you are talking about a film and if you are getting insulted then your film is also getting insulted.

In a personal capacity, I would love to do something similar to what Alia did. Ranveer (Singh) and I are doing a show alongwith AIB and we know that they are going to bajao our case (laughs).