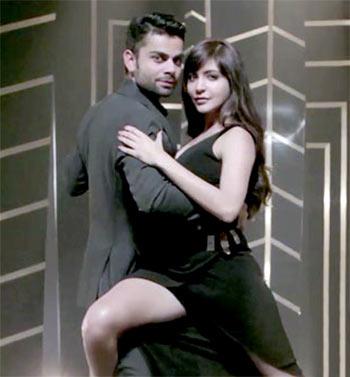 'Between Virat and me, we know what's happening. We know what we're doing. We are two adults who have something going on between us that we can handle.'
Anushka Sharma opens up about her relationship with cricketer Virat Kohli, and her new film PK.
Anushka Sharma seems quite kicked about her new film PK, releasing this week.
But just like her co-star Aamir Khan and director Rajkumar Hirani, the young actress isn't revealing anything about the film.
And she won't reveal anything about her relationship with cricketer Virat Kohli either.
Sonil Dedhia/ Rediff.com takes notes as the actress explains why she likes to guard her personal life, and what working with Aamir Khan was like.
A lot that has been written about your romance with Virat Kohli...
Virat and I are celebrities and it's very exciting for people to see us together. But to Virat and me, it's our personal life.
I try to guard my private life fiercely. It is our relationship and we can't subject it to entertainment news.
You won't like it if your relationship is published in a newspaper.
We haven't hidden anything but we have requested for our privacy. We don't want to talk about it. This is my personal space.
And you don't have a problem being seen with him in public?
Look, Virat and I have never hidden our relationship. I'm seen moving around with him freely.
But why elaborate on it? Tomorrow people will ask me about my Valentine's Day plans.
At this rate, I'll end up making a TV reality show of my personal life.
Between Virat and me, we know what's happening. We know what we're doing. We are two adults who have something going on between us that we can handle.
You have turned producer with NH 10. There is a lot of risk involved in becoming a producer. Why did you take the plunge?
NH 10 is a project I wanted to back. I have faith in the film's director (Navdeep Singh, who helmed Manorama Six Feet Under).
I have watched many movies and wonder why certain films aren't made despite the fact that we have sufficient resources at our disposal. That was the mindset I went with.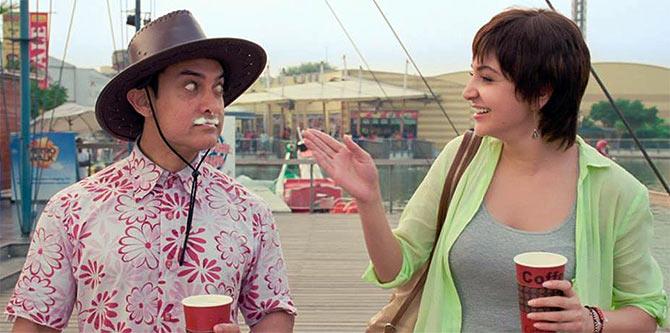 Image: Aamir Khan and Anushkar Sharma in PK.
The story of PK is well-guarded. Will it affect the film's business if a spoiler is released about the film?
We can't do much about that. We are doing this to make you guys feel nice when you watch the film.
I think you all will be happy when you see the film and understand why we didn't speak to you about the film before its release.
Aamir Khan is a perfectionist, you are a spontaneous artiste. How did you cope with that?
I didn't give too many retakes in PK. If Aamir had to do retakes, he would do it for his portions.
I'm an artist and I'm very harsh on myself. Even after giving a perfect shot, I walk up and down with doubts in my head whether it has turned out fine.
You have worked with Shah Rukh and Aamir. How different are they to work with?
Shah Rukh has tremendous energy and is on fire all the time. Aamir is more methodical in his approach.
I used to get intimidated by Aamir. He doesn't make small talk with his co-stars. He doesn't speak unless required.
I saw him playing pranks and becoming jovial but only after we had shot for a good part of the film.
Aamir is a very sharp and intelligent person and that made me a little nervous working with him.
Image: Anushka Sharma and Rajkumar Hirani on the sets of PK.
Unlike your contemporaries, you seem comfortable doing films like Dil Dhadakne Do and Ae Dil Hai Mushkil, which aren't solo heroine projects...
It's the way you look at it. The screen time of my co-star's role doesn't matter to me.
I knew that Priyanka Chopra had a bigger role than me in Dil Dhadakne Do but I didn't sit down to dissect her character.
Zoya Akhtar almost believed that I would say no to the film. After I heard the script, I asked Zoya why she was even wondering about whether I would accept or not.
So I think we must take calls on good films and not length.
By the way, I am the lead character in Karan Johar's Ae Dil Hai Mushkil. It's not a love triangle, but even if it was, I would have done it.