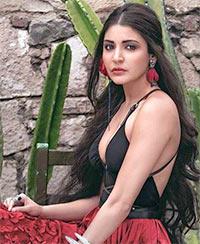 'I was quite uncomfortable training because in wrestling, your head is in someone's armpit or on someone's waist.'
'I wondered how I would be able to do it. I was doing it, but not wholeheartedly.'
'Then I saw myself and realised I was looking bad. I understood that I had to go all out.'
Anushka Sharma talks Sultan.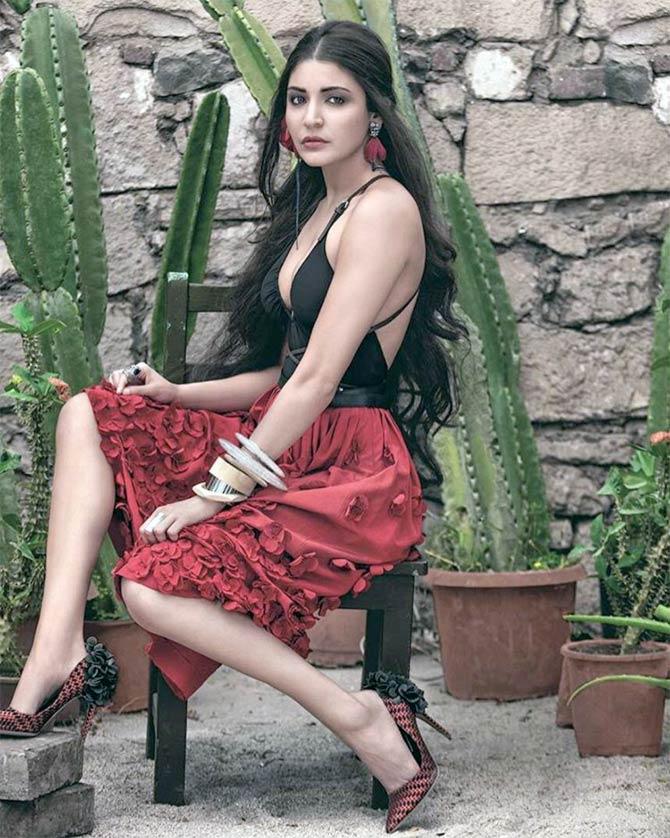 IMAGE: Anushka Sharma. Photograph: Anushka Sharma/Instagram
Anushka Sharma always weighs her words before she says anything. She mulls over every question, and takes her time to reply.
The actress looked lovely in a denim top, ripped jeans and straightened hair, very different from her wrestler look in her forthcoming film, Sultan.
Anushka gives us her take on the sport, Salman, and the Khans, in this interview with the media. Jahnavi Patel/Rediff.com takes notes.
You were reportedly in two minds about Sultan, since you do not look like an athlete.
Yes, I was in two minds after they offered the film.
I was shooting in London for Ae Dil Hai Mushkil in London, and had no idea who was doing Sultan. When I shoot a film, I get cut off. I don't read too many articles so I wasn't aware about what was happening.
Adi (Aditya Chopra) called me in January and said, 'Sultan karni hai kya?' (Do you want to do Sultan?)'
I said, 'Script suna do' (please let me hear the script).'
That same day, Ali (Abbaz Zafar, director) came home at night to give me a narration. I loved the film.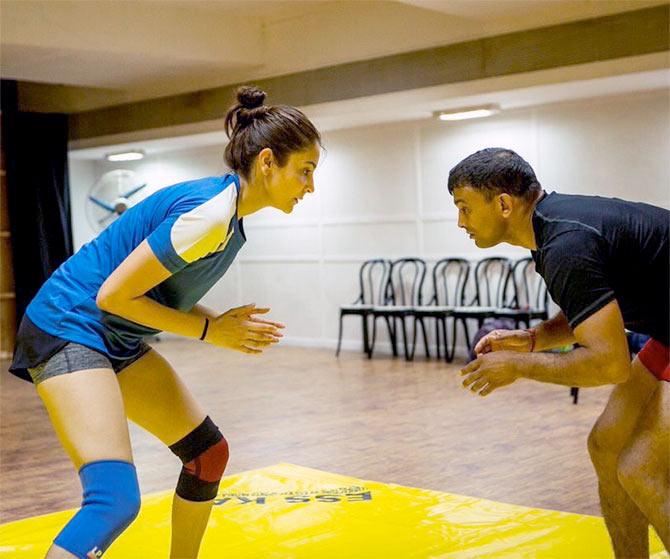 IMAGE: Anushka Sharma trains for Sultan. Photograph: Anushka Sharma/Instagram
How did you prepare for this role?
I wasn't sure I'd be able to convince people that I am a wrestler (which she plays in the film). We have a certain perception of a wrestler. We think they are really big... big frames... and that's what even I thought.
I had not seen much wrestling. I must have seen some wrestling while browsing on television, but I didn't really know anything about it.
I thought I was working with a disadvantage, and that I had to break the perception in people's minds regarding a wrestler.
It's the first time you're showing wrestling in a film. It's a sports drama, so you must show it well. I play a female wrestler, so there's novelty in that.
I found out that there are different weight categories. I saw an international wrestler, who was very tall, like me, and toned. I realised this is the path I have to follow. I just have to look toned and on screen, you look bigger anyway.
When the teaser of Sultan was out and my character was introduced, I felt relieved because people reacted by saying I looked good.
I didn't have any beauty shots, so by 'good' they meant that I looked like a wrestler.
There were three things I had to do. One was the looking part, the second was the doing part: For that, I had to learn wrestling.
Wrestling is a contact sport, so you're very close to somebody. All of us have a certain sense about how close somebody can come to us.
When someone comes close to you, you're like 'kya kar raha hai yaar, khade ho waha par jaake (why are you sticking to me? Move away!).'
On top of that, I am an actor, so in any case, there's a boundary around me.
When I had to wrestle for the first time, I was doing it with a guy. I trained with a guy named Khatri. The person who taught me was Jagdishji.
I was quite uncomfortable training because in wrestling, your head is in someone's armpit or on someone's waist.
I wondered how I would be able to do it, and was a bit hesitant. I was doing it, but not wholeheartedly. Then I saw myself and realised I was looking bad.
I understood that I had to go all out, so I saw a lot of videos of people wrestling, of girls wrestling guys.
After the third wrestling class, I started doing it properly.
The third thing was the Haryanvi dialect, which I needed to get right.
I used to write the dialogue the way they said it, phonetically, next to the dialogue in the script. It was very challenging because I had less than six weeks to prepare.
I used to wake up in the morning, train, shoot the entire day in the sun and then go back to Yash Raj (studio) and practise wrestling. It was a full, packed day. The response has been good, so it seems worth it.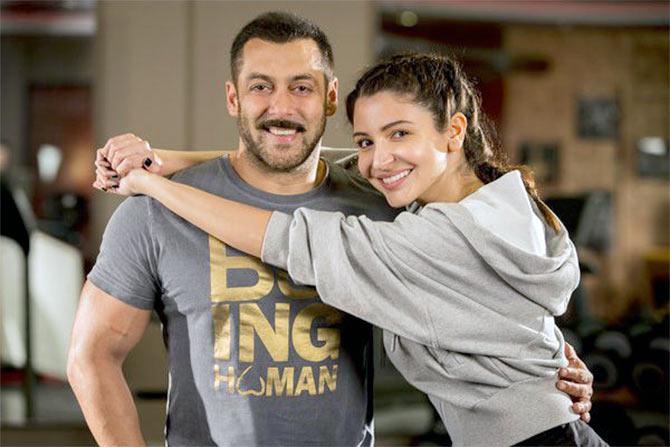 IMAGE: Salman Khan and Anushka Sharma. Photograph: Anushka Sharma/Instagram
What was working with Salman like? Did he help you to get the nuances of a wrestler right?
We trained on our own, never together.
What you see is what you get with Salman, and that's very refreshing. It's also a relief because you know that he is saying exactly what he is thinking.
He is very nice with people, so many people come to meet him on the sets. He sits with them and takes pictures with everybody.
Sometimes you can run out of patience, but he has so much patience for these things. It shows that he is very grateful for whatever he has achieved in life because he reciprocates by giving respect to his fans. Maybe that's why he's such a huge star.
He is unique in his reaction to things. He will suddenly say something and it's not pre-meditated.
When signing the film, did you make sure you had a substantial role, since you are opposite a superstar like Salman?
That has nothing to do with who the star is. That's a very personal thing of how you want your career to be.
I have been in the industry for almost eight years now and have hopefully chosen films, roles, and characters that have been impactful. They have been about independent, strong women. That's a conscious effort.
I do films because I love acting.
I am grateful for the fame and money, but that's not what drives me. What drives me is that I get to play different characters and in return, there's growth in me as a person.
I am very glad I got to play Aarfa (her character in Sultan) because she's an amazing character. She's a strong, self-assured girl from a small town. She's independent, strong-headed, ambitious and focused.
Aarfa is a very challenging role for me and, hopefully, I have done justice to it.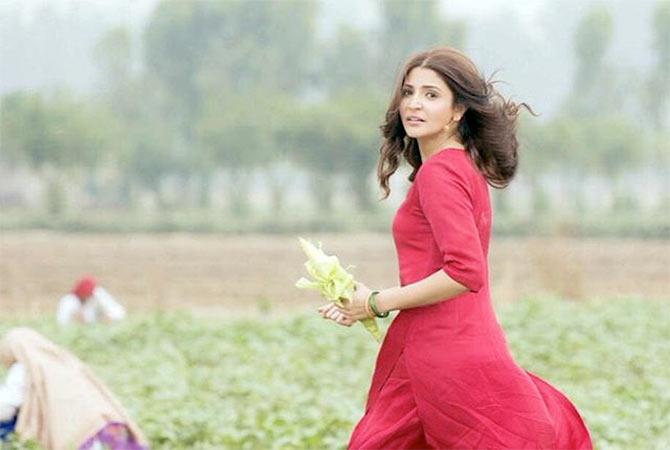 IMAGE: Anushka Sharma in Sultan. Photograph: Anushka Sharma/Instagram
Is there anything about Aarfa that you'd like to implement in your life?
I am a lot like her, as a person.
I don't really tell people what I want to do, I believe in quietly doing it.
Aarfa has a lot of respect for herself, her dreams and aspirations. She grew up with a strong father, a wrestler himself who now trains people.
That's the kind of background I have. My father is a strong man and that's why I am the way I am because he taught me to speak up and say what I want to say and make decisions on my own.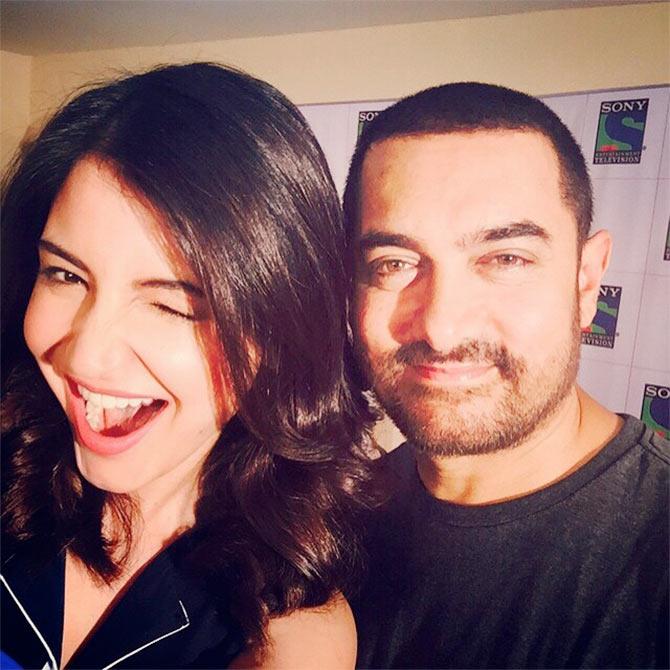 IMAGE: Anushka Sharma and Aamir Khan. Photograph: Anushka Sharma/Instagram
You have worked with the three Khans. How similar are they?
Salman is extremely spontaneous, he just lives the moment.
Aamir is very planned, he likes to plan the way he works, the scenes.
Shah Rukh Khan is a mix of both.
In spite of acting for so many years, the kind of respect they give people who love them is amazing.
Your production NH10 had issues with the Censor Board and recently, Udta Punjab faced a lot of problems. What is your take?
I think there should be certification, not censorship. That's the way this situation can be resolved.
People are intelligent enough; we are called adults for a reason. We know what is right and wrong. We have the power of reasoning. So let's not think that everyone is foolish.
Secondly, if you put restrictions on a creative person, they will never be able to create something great. You have to give them that liberty.
As filmmakers, we put reasonable restrictions on ourselves, but 87 cuts in a film (referring to Udta Punjab)? Then it gets passed with just one cut, so obviously, things have to change.
You were upset with the cuts in NH10. Do you think you could have fought for it?
Ours was not such a bad case as Udta Punjab.
The kind of things we were told were very silly, like reduce the hair pulling by 20 per cent. We couldn't even understand what that was.
How did you find Diljit Dosanjh, who stars in Udta Punjab? You are working with him in your next production, Phillauri.
Diljit doesn't talk much. In the films I have seen, he is so funny and bubbly, but actually he barely speaks.
He is a very honest actor. He says that he isn't an actor, but a singer who can act.
He is a huge star in Punjab and North India. People are crazy about him and he has earned it on his own, so hats off to him.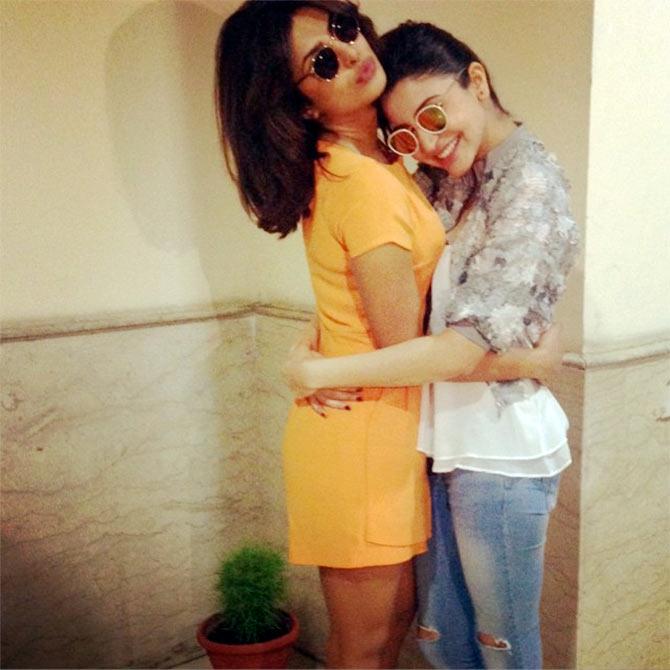 IMAGE: Priyanka Chopra and Anushka Sharma. Photograph: Anushka Sharma/Instagram
Would you like to do a Hollywood film?
It's great to see Deepika (Padukone) and Priyanka (Chopra) doing good work in Hollywood.
Priyanka has achieved so much and now is a known name there. It's amazing.
I have never planned so much in life. I work for the moment. I haven't planned my career in Bollywood.
I take things as they come.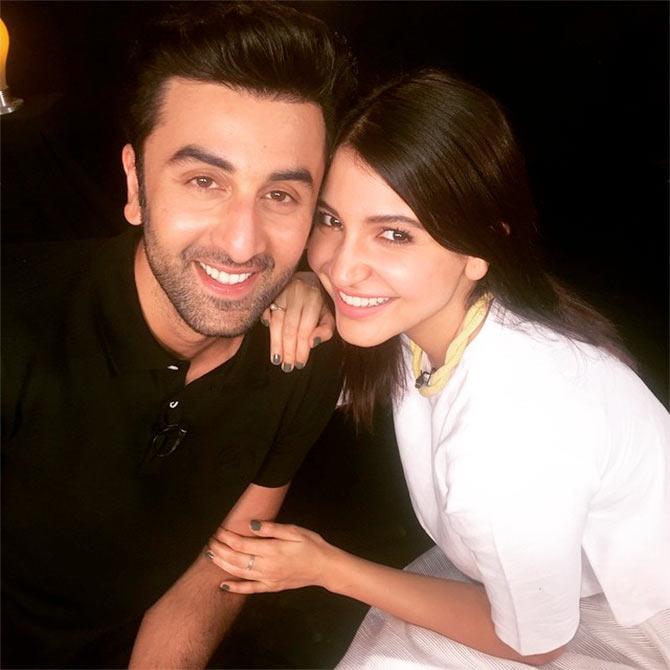 IMAGE: Ranbir Kapoor and Anushka Sharma. Photograph: Anushka Sharma/Instagram
How is your forthcoming film Ae Dil Hai Mushkil shaping up?
The film is shaping up really well.
It was a blast shooting with Karan (Johar, director). He is such a fun person to be with and then to be directed by him and spend time with him was wonderful.
Ranbir (Kapoor) and I share a great rapport.
What the film is trying to say is really interesting.