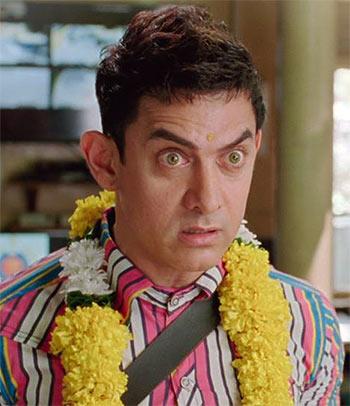 'I don't think I will have a release in 2015.'
Aamir Khan talks business, and PK.
He has broken box office records and has set new benchmarks with his movies. Yet, Aamir Khan considers his part in PK the most challenging role of his 29-year-old career.
With just two weeks to go for its release, Aamir is on a promotion-overdrive.
He chats with the media in Mumbai, and discusses the mystery surrounding the PK trailers, why the 100 crore club is an unfortunate trend, and his son Junaid joining the film industry. Sonil Dedhia/ Rediff.com listens in.
It was a rare sight to see you sharing the stage with Salman and Shah Rukh Khan in a special episode of Aap Ki Adalat.
I don't think there is anything special about the three Khans sharing the same stage.
We have often been together and I hope this is not the last time.
We have been buddies for so many years.
Will we see the three of you in a film together?
Doing a film is a bigger responsibility than just hanging around. If there is something that all three of us like, then we will do it.
Is it true that you are playing an alien in PK?
It is one of the many rumours floating around.
We have not answered that question. We would like you to discover what my character is when the film releases on December 19.
The suspense behind Talaash was revealed on the very first day of its release. Don't you think not revealing much about PK is like taking the same risk?
I don't think so. When I signed Talaash, I knew it would not bring in huge numbers because it is not such a film.
If I had to work in films which will give me numbers only, I would have never picked a film like Talaash. When I read the script, I loved it and wanted to do it.
When we sat down to discuss the potential of Talaash, my judgment was that it would do a net box office of Rs 60-70 crore India-wide, and 40-45 crore overseas. We made the film appropriately within a limited budget. The film went on to make Rs 95 crore.
I have no idea (about the suspense being revealed so soon) but it did 40 per cent more (business) than what I expected it to do.
For me, it was a happy situation to be in. If a similar thing happens with PK, I would still be happy!
The nude poster of PK created a lot of buzz, but some people objected to it.
We have to be honest to our work and hope that when people see the film they will understand why I have gone nude.
I don't think Raju (the film's director Rajkumar Hirani), Abhijat (Joshi, writer), Vinod (Vidhu Vinod Chopra, producer) or I are the kind of people who would add a nude scene in a film to make it sensational. Nor would we come up with the poster just to market our film.
The poster is an important moment in the film and when you see the film, you will connect to it.
I wasn't apprehensive about shooting for the poster. If you had asked me the same question a couple of years ago, I would have said no. I would have felt uncomfortable going nude. But when I read the script of PK, the nude scene seemed very natural to me.
Your character has a poker face expression throughout the film. Why?
I don't really have a poker face; there are several expressions that you will see in the film.
I don't blink in the film and that was something that came up during one of the rehearsal shoots on camera.
Vinod happened to drop in one day. I had just rehearsed one part and he saw it on the monitor. He told me, 'Why don't you try the same thing without blinking your eyes?'
I tried it and everyone loved it.
So by and large, my character doesn't blink in the film. If you see, I am wearing green lenses in the film which made it difficult not to blink. Physically, PK was probably the most difficult roles in my career.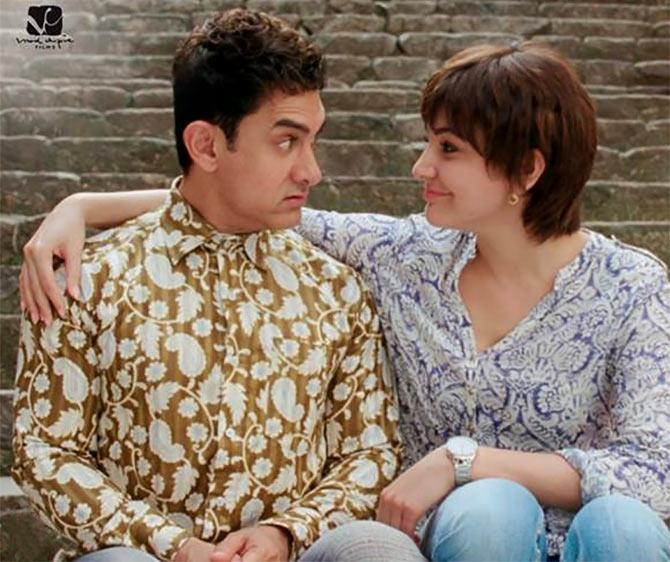 Image: Aamir Khan and Anushka Sharma in PK.
Your character speaks Bhojpuri in the film. Whose suggestion was that? People may not connect to the film because of its language.
(Thinks hard) I thought that the character might some colour and so I suggested it to Raju (Rajkumar Hirani).
If you notice, I speaks my lines in a phonetic way. I had a Bhopuri language expert Shanti Bhushan, who helped me speak my lines.
I remember when we were doing Lagaan, a lot of people told us that the audience wouldn't understand Awadhi. But we kept it at a level that people would understand. Similarly, we have kept that balance in PK by using a simpler version of Bhojpuri.
When I was doing Rangeela, a lot of people said that your tapori language is such that people outside Mumbai won't get it. But it clicked with everyone.
It's not often that you have worked with the same director twice. Rajkumar Hirani seems to be an exception.
The biggest USP of the film is Raju Hirani. He is the number one director of the film industry right now and his track record shows that.
Raju is the star of PK. His ability as a writer-director is the force behind the film.
I can be replaced in the film but you cannot replace Raju. He is one of the major reasons I signed on to do the film.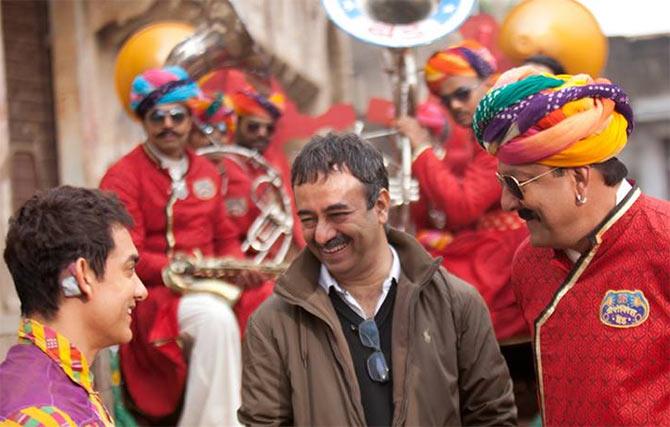 Image: Aamir Khan, Rajkumar Hirani and Sanjay Dutt on the sets of PK.
Ghaijini was the first film to earn Rs 100 crore at the box office. How do you see this trend going forward?
It's a very unfortunate trend. The moment people start thinking about numbers, it influences the kind of films that an actor will sign.
The moment I start choosing films which have a potential to do Rs 100 crore at the box office, my choice becomes limited. I don't select films in order to break records.
If I only look at numbers, I would not have done a film like Lagaan or Rang De Basanti. That was the fifth remake of Bhagat Singh. It makes no sense to tell that same story again. Or I would never have done Taare Zameen Par. It's a film about a dyslexic child. What potential does it have in terms of box office numbers?
My choice of films is dictated by my creative instincts. Numbers is the last thing on my mind when I'm listening to a story.
A lot of actors inflate the box office figures of their films and pass it on in trade circles and as press releases.
It's childish. For some reason, people in the film industry feel that by inflating the figures, they will convince people to watch the film.
You even get to buy editorial space in newspapers, and say how much business a film has made. It's extremely unfortunate.
It's meaningless because when you go home, you know how much business the film has done. Even the industry knows exactly how much each film has done.
You can try and fool people but how many times will you fool them? Ultimately, you are just fooling yourself.
Your elder son Junaaid was an assistant director on PK. What was it like having your son on the set?
It was fun. And just because he was my son he didn't get any special treatment on the set (laughs).
He was one of the junior assistants and stayed with the unit. He ate with them, travelled with them.
Any plans to launch him as a director?
It depends on him. He is still learning the craft.
When he feels he is ready to take the step, and if I feel the step that he is taking is the one I can back, we will surely come together.
What has been your son Azad's reaction to the teasers of PK?
Azad loved whatever he has seen and he dances to all the songs (smiles).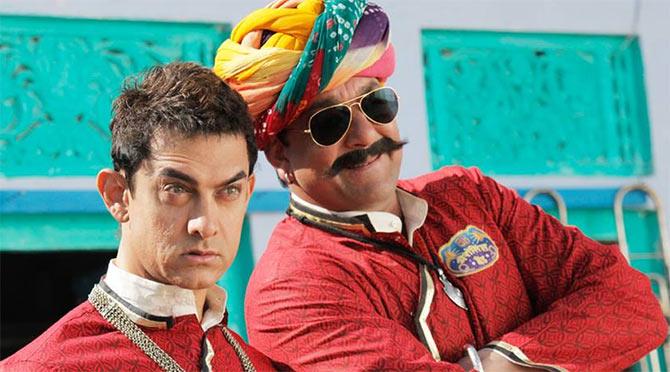 Image: Aamir Khan and Sanjay Dutt in PK.
A member of the Hindu Mahasabha recently said that actresses who do item songs should be called prostitutes. In the last episode of the third season of Satyamave Jayate, you spoke about the objectification of women and said that sometimes films are responsible for it. You criticised the lyrics of songs, but at the same time, PK has songs with lyrics like Tharki Chokro and Nanga Punga.
As an industry, we need to reflect on how we are portraying women. It is the need of the hour.
Calling actors, who are doing item numbers, names, is very unfortunate. A prostitute is a human being; she has her own reasons and problems. We are no one to judge anyone's profession.
Tharki Chokro or Nanga Punga are not songs that come in the bracket of item songs. The lyrics by themselves would project bad things. But when you listen to the songs when watching the film, you will get their real meaning.
Have you signed any film after PK?
No. I am reading scripts but haven't finalised anything yet. I don't think I will have a release in 2015.
Is that because you want to concentrate on Satyamave Jayate?
No. don't think we will come up with a new season of Satyamave Jayate next year.
I have just finished the third season, and my team and I need to take a break. It's emotionally very difficult for us to deal with the material and the research.