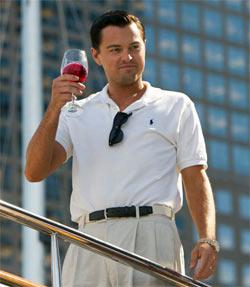 Martin Scorsese's The Wolf Of Wall Street could set a bad precedent, feels Aseem Chhabra.
Last weekend I watched Francis Ford Coppola's 1972 Oscar-winning masterpiece The Godfather at the Museum of Moving Image in Queens, New York.
I have lost count of the number of times I have seen the film. The Godfather is a great piece of filmmaking, an iconic American immigrant saga, packed with powerful performances.
To me, it is a family drama, about a man and his love for his three sons and one daughter. There is a reason why Coppola starts the film with an elaborate wedding sequence shot on Staten Island, New York.
He wants his mobster saga, with some extremely brutal segments -- the early scene of the dead horse's head in a Los Angeles producer's bed is only the beginning -- to be remembered for its moments of loss of family members and of a time long gone.
The romanticised sense of nostalgia is highlighted by the film's haunting score by Nino Rota.
The Godfather's world is alien to most people. We are outsiders looking inside the private world of a secretive Italian American family. The only outsider allowed to enter that world -- Kay Adams (played by Diane Keaton) -- is much like us, peering inside the lives of people that she will never fully comprehend.
This week, a new film will open in India -- a modern day 'mobster' saga that takes us inside the world of 'legal robbers,' the kind that work on Wall Street and make money, speculating with the wealth of their clients.
In Martin Scorsese's The Wolf of Wall Street, a Forbes magazine reporter calls the film's protagonist Jordan Belfort 'a twisted version of Robin Hood, who robs from the rich and gives to himself and his merry band of brokers.'
I cannot help but think how close this new crime story has come to our homes and lives. I do not live on Long Island (that is where Belfort made money, and he did not exactly work on Wall Street in Manhattan), but I recognise Belfort and his brokers.
With an MBA degree in my pocket and the many Wall Street bankers I have met over the years -- desis and others -- I find Scorsese's entertaining and very well made film a scary movie.
I will go as far to say that in celebrating the life of Jordan Belfort, a not-at-all-likable man, played in a very likable fashion by a very likable Hollywood star Leonardo DiCaprio, left, above, Scorsese has made an irresponsible film.
And given its big box office potential, Scorsese's film could set a dangerous precedent in people wanting to emulate Belfort's life.
After all his world of drugs, sex and money looks very attractive and frankly, quite achievable.
I was already in New York, living in Manhattan when I saw Scorsese's updated gangster saga, The Goodfellas, a fictionalised tale set in the 1960s to 1980s.
Its middle class Italian Americans had moved closer to home in Queens. And while I have never met or heard of anyone who knew a gangster, The Goodfellas protagonist Henry Hill says in the opening moments of the film: 'As far back as I can remember, I always wanted to be a gangster. To me, being a gangster was better than being President of the United States.'
Scorsese's ultra violent tale is juxtaposed with some warm and hilarious family moments -- the funniest of all is when Catherine Scorsese (the director's mother) cooks breakfast for Tommy DeVito (Joe Pesci), her son in the film, and his buddies, after their blood soaked night out.
This is the Mafia as we only knew it through cinema -- real perhaps, but at times exaggerated with the violence, the performances and the film's loud soundtrack.
In the 1990s, Quentin Tarantino gave us his own version of criminals in the almost caricatured, yet engaging characters in Reservoir Dogs (1992) and then Pulp Fiction (1994). Tarantino won fans across the world and had a lasting impression on young filmmakers.
I still see works by Tarantino's 'children' in the current Indian indie film movement, revisiting the same themes, although with far less success.
The closest I came to recognising the mob and this time they seemed pretty real and believable to me was in the HBO series The Sopranos.
Tony Soprano, as gleefully played by the late James Gandolfini, lives in a mansion in New Jersey, and while he is brutal, cheats on his wife and hangs out with strippers, he also sends his daughter to Columbia University.
Plus, Tony is in therapy -- a remarkable idea by the show's creator David Chase, in giving us a mobster for the new century.
Other than Scorsese's Henry Hill, I have never heard or read about people wanting to join the Mafia. People mouth dialogues from these films, know The Soprano episodes by each season, and are attracted to the violence and the machismo of the characters.
In fact many of us are drawn to crime stories and the lives of criminals, but we do not emulate them.
When I saw Scorsese's Wolf at a screening at the Museum of Modern Art in New York last week, I was troubled by the film's excesses, three-hour length and its loud tones.
I enjoyed the film, but was exhausted as well. As we now know, Scorsese and Paramount Pictures have a huge challenge in front of them -- make Oscar voters get over the film's abundant scenes with drugs, nudity and sex.
The real life Jordan Belfort is a horrible person. He makes it clear in his memoir that inspired Scorsese's film. He is nasty to his wives, treats women in general very badly and hardly cares for his child.
But in the world Scorsese creates and as played by DiCaprio, Belfort is never portrayed as a villain. We are charmed by DiCaprio's Belfort despite his real crimes.
It is exactly what happened after Oliver Stone released Wall Street in 1987. Michael Douglas made Gordon Gekko (at least partly inspired by Michael Milken) so utterly charismatic that generations of young filmgoers were inspired by his mantra 'Greed is good.' Stone sent the Gekko character to jail, but he remained a hero to so many people.
In comparison, nobody cared for the moral centre of the film -- Carl Fox (Martin Sheen) who tells his son Bud (Charlie Sheen): 'Stop going for the easy buck and start producing something with your life. Create, instead of living off the buying and selling of others.'
Last week, the producers of Wolf held a private screening for real life Wall Street bankers. As reported on Slate, the audience loved the film, cheering and laughing, but mostly at all the wrong reasons. Clearly, Belfort's crimes and excesses were immaterial to them.
This is so because as New York magazine's David Edelstein writes, Scorsese hardly shows us the consequences of Belfort's actions.
The message (if there is any), Edelstein adds, is that 'You are supposed to envy them (the Belforts of the world) anyway, because the alternative is working at McDonald's and riding the subway alongside wage slaves.'
'What are a few years in a minimum-security prison -- practically a country club -- when you can have the best of everything?' Edelstein notes.
There may have been major regulatory changes since the time of Belfort and Milken, but Wall Street's attitude of anything is possible in the world of money still exists.
I do not believe that all viewers of Wolf will have similar reactions to the film as the Wall Street bankers. But given Scorsese's stature as a filmmaker -- and surely he is one of the best in the world -- not everyone will see beyond the directorial brilliance of Wolf.
In Wolf, DiCaprio delivers a career-best performance, but he and Scorsese celebrate a criminal who despite spending 22 months in jail, has made many more millions of dollars from selling his ugly story -- first to Random House and then to Scorsese.
It is clear that in narrating Belfort's story and making an irresponsible film, Scorsese, the master, has done a disservice to cinema and his fans.