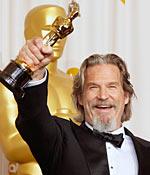 All us critics love making digs at the Oscars. They're the most watched awards show on the planet, and while they usually end up ruffling our feathers by handing out trophies for several dozen reasons other than the specific performance mentioned on the trophy, we still watch them. And whinge. It's tradition.
This time, all that might change. The 82nd Annual Academy Awards were, without question, the most badly written and weakly produced show in the last two decades, and quite likely one of the most drab shows of all time.
The SAG awards, the Golden Globes, the BAFTAs were all more fun, and it's no exaggeration that the Filmfare Awards this year -- yes, that over-rehearsed, over-long show that rewarded, exclusively and moronically, the wrong winners in each category -- that was rerunning on TV twelve hours before the Oscarcast, was more watchable. Stupid, but watchable.
Because these were the nothing Oscars. And I've not even started complaining about the winners, that's a whole different bottle of whine.
The ceremony kicked off with television icon Neil Patrick Harris doing a song and dance number, a bland and funless song that didn't hold a candle to either Harris' own great opener at the Emmy Awards (this one), or last year's Hugh Jackman extravaganza (click here). Sigh. No originality, no smarts, and very badly shot.
Then came Steve Martin and Alec Baldwin, the hosting pair of fuddy-duddies who clearly can't be funny on a live stage anymore, smugly pausing at the ends of their lame punchlines to lap up whatever polite applause came their way.
Martin hasn't been funny in years, so this wasn't that much of a surprise, but Baldwin -- who is the only reason Tina Fey's 30 Rock is still a top-rung show -- was just as bad, the two nudging and poking each other and making obvious jokes about this year's big targets, James Cameron and their It's Complicated so-star, Meryl Streep. Yawn.
The show has traditionally featured five musical performances, one from each of the best song nominees, these routines turning up coherent, reasonable breaks to the award-and-thanks procession that is the show, but this year this idea was nixed.
Instead, we got what were ten movie trailers, one for each of the best film nominees. And one rather messy dance medley set to each of the Best Original Score nominees. Sigh. If only they let T-Bone play.
Also, the In Memoriam section forgot conveniently to mention the passing of Farah Fawcett, Bea Arthur and Maurice Jarre, while an inexplicably major chunk of stagetime was given to the late John Hughes. I'm a massive fan and John was an important American filmmaker, but to single out time specially for a tribute -- when this isn't done for any others -- seemed jarring.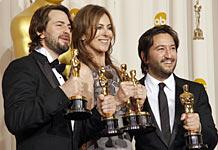 Still, at least Matthew Broderick made us smile as he spoke of Ferris Bueller. Macaulay Culkin, who starred in Hughes' Home Alone, has started looking alarmingly like an uninteresting version Steve Buscemi. The perils of splashing aftershave on your 8-year-old face, I guess.
That and wearing coked up strippers for a hat as a teenager, but lets not get into digs at a soft target: leave that to the Oscar presenters, with usually cool folk like Tina Fey and Robert Downey Jr coming across as dullards. The latter, live and unarmed with a decent script, should really start getting Jon Favreau to snip his stage appearances into shape.
Ben Stiller's Na'vi routine was the funniest moment all night, and it wasn't even particularly clever. But god bless ya, Bluelander.
The awards were an utter sham. A patently unwatchable film called The Blind Side was among the Best Picture nominees, and its title could be applied to the Academy members this year as they left out such obvious glories as The White Ribbon for Best Cinematography, Inglourious Basterds for Best Original Screenplay, In The Loop for Best Adapted Screenplay and gave everything to 'that great war film made by a woman', which, while solid, wasn't as Relevant as Up In The Air, as Spectacular as Avatar, or as Good as Inglourious Basterds.
The Hurt Locker's biggest merit for the Academy was not the fact that it was gripping and smart and gritty -- lets forgive it the last twenty minutes -- but that it was Safe. And that a chick made it. How conveniently wonderful for the headlines. (Here's more on that. Sigh. Tarantino really should have burnt down the Kodak..."with gasoline!")
Sure, there was some good, almost inevitably: Christoph Waltz calling the fact that he got his Best Supporting Actor award from the ravishing Penelope Cruz an 'uber-bingo,' Quentin Tarantino and Pedro Almodovar sharing a stage together, Michelle Pfeiffer lovingly recounting her time making The Fabulous Baker Boys with Jeff Bridges, and Bridges' own heartfelt, seriously groovy winning speech, man.
Yet the handsomest, coolest, single most charming man in the room sat under a scowl and made like us as the Oscars went on: George Clooney was bored stiff, and didn't bother pretending otherwise. Now that's a star.
Photographs: Lucy Nicholson/Reuters