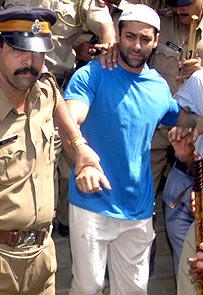 Salman Khan's latest, Jai Ho, didn't set the cash registers ringing, and one reason could be that his diehard Muslim fans were put off by his support for Narendra Modi, says Syed Firdaus Ashraf.
A Muslim friend of mine posted his dashing-looking photograph, sporting dark glasses etc, on a popular social networking site.
Below that another Muslim friend commented: Mashallah bhai, Jai Ho. Looking like Salman Khan.

The first friend replied: Don't compare Salman to me, mujhe ussey nafrat hai (I hate him).

To which his friend replied: Samjha (understood).
What is left unsaid here is that these two, like many Muslim youth, are huge Salman Khan fans.
What is also left unsaid is that the superstar -- who Shah Rukh Khan listed among the biggest entertainers in India, in a film awards show recently -- is not to be loved anymore because he supported Gujarat chief minister and the Bharatiya Janata Party's prime ministerial candidate Narendra Modi.
Not only did Salman Khan call on Modi in Gandhinagar on the eve of the release of his Jai Ho, but also dined with him, apart from flying kites, during Makar Sankranti. He also described Modi as a 'good man', and followed it up with an interview where he said that since the judiciary had given Modi a clean chit why should he apologise for the Gujarat riots?

For the Urdu press, which rarely reports on Bollywood news on the front page, Salman's endorsement of Narendra Modi was big news. And bad news, too.

Majlis-e-Ittehadul Muslimeen leader Asaduddin Owaisi was quick to state that Muslims should boycott Jai Ho for Salman Khan's support of Modi.

No wonder, when it was clear Jai Ho's opening weekend collections did not reflect the usual fan frenzy of a Salman Khan film, Urdu newspapers went to town that Salman had paid the price for supporting Modi.
The collections say it all. More than a week after its release Jai Ho has huffed and puffed its way past Rs 100 crore collections, while Dabangg 2 (December 2012) did a business of Rs 158.5 crores; Ek Tha Tiger (August 2012) earned Rs 198 crores. Even the middling Ready (June 2011) did Rs 125 crores.
So, are all Salman fans Muslims? No, but it is safe to say that among the Khan triumvirate, the Muslim community has always felt closer to Salman Khan than to the other two.

Visit any barber shop in a Muslim neighbourhood, chances are you will find Salman Khan's posters inside. Aamir Khan may rule the box office like none other but you won't find his photographs, even though you might find Shah Rukh's once in a while. But Salman will reign over the dingy space in the splendour of his hairstyles and clothes.
This adoration for a man considered for long the brat of Bollywood survived his many brushes with the law.
Muslims constitute a significant section of the film-going public – not the multiplex variety but the single screen ones. One indicator of how their presence can make or mar a film's prospects – no Bollywood biggie is released during Ramzan, the Muslim month of abstinence. Add to this that Salman has virtually claimed the Ramzan Eid weekend for his films – Wanted, Dabangg, Ready, Bodyguard, Ek Tha Tiger, which were all blockbusters.
But clearly, for the Muslim community Salman had crossed the line with his support for Modi. For the average Muslim – not those who queue up to pay obeisance to the Gujarat chief minister in full glare of television cameras – Modi represents the very anti-thesis of a secular democracy. They have started believing that their identity in India will face a crisis if Modi comes to power, what with opinion polls day after day projecting him as the next prime minister -- a prospect that most Muslims find abhorrent.

And Salman, their Salman, had to add to their woes by giving a clean chit to Modi of all people.

Salman Khan was not wrong when he said the courts had given Modi a clean chit. He is not the first one to say this -- none other than Sharad Pawar is the latest to say so. But for the Muslim community, which bore the brunt of the bloodletting in Gujarat in February-March 2002, it is not about the court's finding but what they know to be a tragedy for them. Did Salman Khan not know that hundreds of innocent Muslims lost their lives in the violence during Modi's rule? Didn't Salman ever hear Modi's anti-Miyan speeches during election time taking potshots at the community? Or Modi's puppy-under-the-car-wheels analogy in an interview recently?
Another Muslim friend asked in disgust, "Is Salman Khan really a Muslim?"

The answer emerged in the discussion that ensued: "Yes, but only when he is in trouble."

In 2002 when Salman Khan was arrested for a hit and run case in Mumbai, he appeared in a local court sporting a skull cap for no other reason but to display his Muslim identity (check the photo above).

Suddenly there was shock among his Muslim fans, that their Bhai (brother, as his fans worshipfully call him) is being victimised because he is one of them.

After all, the charge he was facing, causing death due to accident, was not serious and was bailable, and there was no reason to play the religious card.

Nevertheless, Salman did just that, emerging as a Muslim victim. Remember, this incident happened barely six months after the Gujarat riots.

Already facing prosecution in a Rajasthan court for an earlier crime of hunting the protected black bucks, everyone thought Salman Khan's career was over, he was now finished, after the latest court case.

In August 2003, his film Tere Naam released and his fans made it a huge hit and Salman Khan was back in Bollywood. Tere Naam became one of the biggest Bollywood hits that year.

But his troubles were not yet over. Two years later, in 2005, Salman became the target of the BJP after an alleged old recording of his emerged that had him boasting about his underworld connections.

His film Maine Pyaar Kyun Kiya was to hit the theatres and when the BJP took to the streets to prevent its release it was felt that Bhai was being targeted by the Hindu right-wingers because of his religion.

Naturally it hurt his Muslim fans enormously when Salman Khan openly supported Modi, whose party was ranked against him in 2005.

Not only that, Salman also went and danced at the Saifai festival in Uttar Pradesh at a time when the Muslim victims of Muzaffarnagar riots were rotting in the relief camps, with the Samajwadi Party administration immune to their agony and suffering.

He was seen celebrating with likes of Chief Minister Akhilesh Yadav, whose government is perceived by the community to have let them down by failing to prevent the Muzaffarnagar riots.

The Muslim masses have now started asking questions of themselves.
While they stood by Salman Khan when he was down in the dumps, now that he has bounced back to the very top doesn't he think twice about hurting them intentionally in order to get tax-free certificates from state governments for his film?
Why does Salman Khan need to do these stunts when the fact is that he has never needed politicians to support his films?

Why did he have to go licking the boots of Modi and Akhilesh for his Jai Ho, they want to know.

After all, Bhais don't do such things, but if they do then they can no longer be their Bhai.
Image: Actor Salman Khan is escorted by the police to a court in Mumbai, in this photograph dated October 14, 2002, after his car ran over four bakery workers sleeping on a pavement in September, killing one and injuring four.
Photograph: Roy Madhur/Reuters.