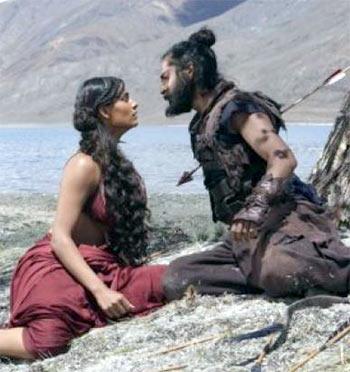 The beauty Mirzya is that it has no story. There is only poetry.
Through the film one can feel the pulse of Gulzar's brilliant poetry coursing through it, says Syed Firdaus Ashraf.
Why is it that only poets can make poetry, and not lesser mortals like me?
This question haunts me because I have always struggled to write poetry.
There are two reasons for my struggle. First, I fail because I do not have a good vocabulary. Second, I lack a vivid imagination.
A creative imagination sets apart the world of poets from the rest of us.
In the 18th century, when the young Mir Taqi Mir fell in love with a much married woman, he believed it was true love.
He did not realise that the begum was flirtatious by nature and was merely using Mir to satisfy her sexual desires, which were not being fulfilled by her old husband, a Nawab.
Later, when the begum replaced Mir with another young man, her image and Mir's memories of the time spent with her stayed with him all his life.
Such was the strength of his passion that he went mad and had to be treated for it. But in this madness born out of love, he wrote such lyrical Urdu poetry that even the great Ghalib acknowledged it thus:
Rekhta ke tum hi nahi ustad ho Ghalib
Kehte hain agle zamane mein koi Mir bhi tha
(You are not only the master of Rekhta (an old name for Urdu)
In the past, there used to be one Mir as well).
Mir died in 1810 at the age of 87, but the poetry that he wrote all his life was dedicated to the begum, whom as a teenager he truly loved. That love haunted him till the very end.
In the same way, the question that haunted director Rakeysh Omprakash Mehra as a young man was why did Sahiba break the arrows and let Mirzya get killed?
Did Sahiba use Mirzya as a ploy for her selfish gains, just like the begum had used Mir?
Sahiba loved Mirzya, no doubt. She even runs away from her brothers and her tribe to spend her life with him. But when the time comes to show her loyalty, she sides with her tribe and gets Mirzya killed.
Mehra did not get the answer when he watched a play set on this love story in the 1980s. He searched for an answer for 35 years.
When he asked Gulzar about it, the poet replied that they must search for the answer together.
That's how the film Mirzya was born.
Mirzya is not just poetic, it has been picturised so well that you could have never seen such scenes in Hindi cinema.
Mirzya reminds you of Mir's life and the pain one feels in love.
As Gulzar writes in Mirzya:
Hota Hai aksar Ishq mein hota hai
Chot kahin lagti hai
Jaa-kar zakham kahin par hota hai.
(Often it happens in love, the Beloved gets hurt and the lover gets the wounds).
Three centuries ago, Mir wrote more or less the same thing:
Ishq se rang zard hota hai
Ishq se dil mein dard hota hai
(In love, your body turns into pus; In love, you only get pain).
Now you may ask, what is so great about the love story in Mirzya?
The beauty of the film is that it has no story. There is only poetry.
Through the film one can feel the pulse of Gulzar's brilliant poetry coursing through it.
The songs by Daler Mehndi and others come up regularly to tell you where the story is heading. It's a completely different way of story-telling from what we usually see in Bollywood.
Rakeysh Omprakash Mehra has captured the lyrical script on celluloid and turned it into a cinematic treat.
He set up two worlds in Mirzya: One in current times and the other in an earlier era. Both intertwine at regular intervals and keep you hooked as the audience.
The past version of Mirzya is shot so beautiful by Polish cinematographer Pawel Dyllus that you do not need any words to make you understand the story. The story is said in silence, narrated visually.
The second version is set in Rajasthan and this time Sahiba (Saiyami Kher) is stuck between two lovers, Adil (Harshvardhan Kapoor) and Karan (Anuj Choudhry).
Even here, Gulzar captures in beautiful words how Sahiba, in modern times, is trapped between the two like a river (the Ek Nadhi Thi song is a must-watch).
Hats off to Harshvardhan Kapoor, who went with Mehra's vision in his debut film. He could have opted for a safe film for his first release, but chose to be different from the pack.
The only thing in the film that did not work for me was Sayami Kher, who could not emote well at all.
Now you may wonder what Mir Taqi has got to do with Mirzya?
In his time, Mir Taqi had a competitor, Mir Sauda, who sometimes got praised more than him. People would say Mir Taqi's poetry had Aah (pain) while Mir Sauda's poetry had Wah (praise).
Gulzar went for the 'Aah' factor while writing Mirzya,, not the 'Wah' factor.
Unfortunately, the 'Aah' factor does not work at the box office.