'The film industry will remain soft targets and continue to be picked upon with no respite, with no choice but to give in due to personal safety and financial compulsions,' says director Suparn Verma.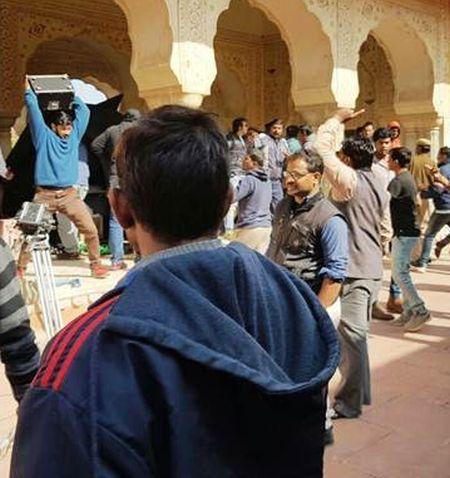 Director Sanjay Leela Bhansali was shooting his latest magnum opus Padmavati at a fort in Jaipur when a group called the Rajput Karni Sena barged in on the set and assaulted him, accusing Bhansali of distorting facts.
According to this bunch, Ranveer Singh, who plays Allauddin Khilji, has romantic scenes with Deepika Padukone, who plays Rani Padmavati.
No one from the Rajput Karni Sena has read the closely guarded script, so the group's hypothesis is basically based on the fact that since the film has the two leads then obviously there must be a romantic dream sequence.
If this group had spent time digging some facts they would have realised that Bhansali directed an opera called Padmavati in Paris in 2008.
The synopsis of the opera in two parts has been online for some years now.
This information below is courtesy Wikipedia.
Act 1
The Mongol sultan Alaouddin is besieging the city of Chittor. He comes to its ruler, Ratan-Sen, asking for peace negotiations.
Ratan-Sen shows him around the city. Alaouddin also asks to be granted a glimpse of Ratan-Sen's wife, Padmavati, who is legendary for her beauty.
Ratan-Sen reluctantly agrees.
Alaouddin refuses to make peace unless Padmavati is handed over to him.
Act 2
The Mongols attack the city and Padmavati and the wounded Ratan-Sen take refuge in the temple of Shiva.
Ratan-Sen tells his wife that the people will be massacred unless she gives herself to Alaouddin.
Ratan-Sen is stoned to death, and Padmavati joins him on his funeral pyre rather than giving herself to Alaouddin.
Padmavati is an opera created by French composer Albert Roussel, based on Theodore-Marie Pavie's La légende de Padmanî, reine de Tchitor, which retells the legend written by Malik Muhammad Jayasi's poem Padmavat in 1540, describing the historic siege of Chittor that occurred more than two centuries earlier in 1303.
In an interview in 2008, Bhansali told Anupama Chopra, 'Padmavati's story is not sad because I find that there is a whole paradox of finding her as a warrior in her last moments of destroying herself, because her husband lost the war and she did not give herself to Allaudin Khilji, she said "No, I will not die, the enemy doesn't get us. Our pride, our dignity remains".'
Yet, the Rajput Karni Sena managed to find something objectionable without a shred of proof and acted violently on the set and assaulted the National Award-winning director.
The media circus began immediately; the film industry condemned the act, asking for the government's help.
The irony remains that Rajasthan's Bharatiya Janata Party government, led by Chief Minister Vasundhara Raje, has gone dead silent about the issue.
Not a word.
Her Twitter account tweeted about a multiple vehicle collision in Baran, wish a Union minister on his birthday, congratulate badminton player Sameer Verma on winning a match, but not one word of condemnation or support to Bhansali or his unit.
The men who attacked Bhansali have been released on bail, they have refused to apologise. They have gone on record to say their supposed 700,000 soldiers will come out to protest.
Therein lies the sad reality. Vasundhara Raje, trying to show a populist face with an assembly election coming up in 2018, isn't going to do anything to lose votes.
This group had harassed Ashutosh Gowariker and Ektaa Kapoor respectively over their film and serial, Jodhaa Akbar. The group protested until an understanding was reached.
Bhansali gave in on Monday and released a letter stating there is no dream sequence in his film, they would not shoot in Jaipur. Cast and crew have shifted base to Mumbai.
Emboldened, the group has now demanded that Bhansali change the film's title.
This follows another set of ill-informed commentators asking why Bhansali gave in.
Why did he not fight it out when he had the film industry's support?
Why did he not file an FIR against those who attacked him and vandalised his set?
To put it in perspective, Padmavati has a budget of Rs 150 crores (Rs 1.5 billion).
The financial climate being what it is, it took Bhansali time to put together this budget with Viacom 18 and Eros and then Viacom 18 and Reliance Jio coming together.
The release date has been locked for Diwali, November 17. This date is priceless for a film this expensive.
The lead actors, Ranveer Singh, Deepika Padukone, Shahid Kapoor's dates have been blocked in bulk, as Bhansali shoots his film over a period of months.
The actors have a look to maintain, so cannot do multiple films. These dates are locked in stone.
One change and several other films get affected.
There can be no delay as the money is from huge corporates answerable to their boards and shareholders.
Even if Bhansali wanted to fight, he cannot, as he is answerable for the budget and insurance and has to deliver his film on the promised date or pay damages.
A few months ago, Karan Johar was held hostage. His crime? He had a Pakistani actor in his film.
There were no protests all the years when Fawad Khan acted in Hindi films. Not because there was no less violence at the border or the acts of terrorism were fewer. But because the so-called nationalists woke up suddenly to protest.
In this case, Raj Thackeray's Maharashtra Navnirman Sena which threatened violence.
Shockingly and ironically, Maharashtra's BJP CM Devendra Fadnavis mediated a meeting in which Karan Johar was made to donate Rs 5 crores to the Army Welfare Fund as penance for employing Fawad Khan in his film.
The Indian Army immediately issued a statement saying it did not want any such money.
The subsequent destination of Karan Johar's hefty donation has not been followed up by the media.
With Udta Punjab, the censors decided to stall its release.
The Akali Dal didn't want the film released neither did its political partner (neither shocking nor ironic anymore), the BJP.
Censor Board Chairman Pahlaj Nihalani, a self declared 'Modi bhakt, made life hell for the film's producers who went to the high court.
Since the film was produced by two independent production houses, producers Phantom and Balaji took a call to fight it out. Had it been a corporate that decision would not be in the producers' hands.
Luckily for the producers, the high court verdict came in time and Udta Punjab was released on the scheduled date after a few censor board imposed cuts.
Interestingly, the uncensored version of Udta Punjab was leaked online a few days before its release. A complaint was filed, but no one knows how it leaked. Your guess is as good as mine.
At one time, the film industry was vocal about political issues, but it has been silenced slowly and steadily over the years.
Aamir Khan first faced protests in Gujarat when Fanaa was released -- he had supported all those people displaced by the Sardar Sarovar project.
Ramdev wanted PK banned, but the then censor chief Leela Samson refused to back down and the film went on to do record breaking business.
Aamir Khan was again targeted for saying there is intolerance in the country.
Shah Rukh Khan first faced protests when he spoke out against the exclusion of Pakistani cricketers in the IPL.
The Shiv Sena targeted his film, My Name Is Khan, and the state government had to summon 5 paramilitary battalions to protect 63 cinema halls.
Dear Zindagi featured Pakistani actor Ali Zaffar, but the role was not publicised. Raees has a Pakistani heroine, but the producers kept her off promotions to avoid controversy. Despite that, social media trolls campaigned against Raees.
The film industry will remain soft targets and continue to be picked upon with no respite, with no choice but to give in due to personal safety and financial compulsions.
IMAGE: The Rajput Karni Sena vandalises the sets of Sanjay Leela Bhansali's Padmavati in Jaipur, January 27, 2017.