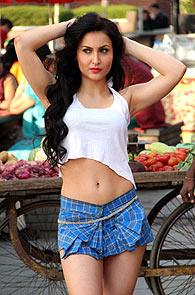 'It would be wrong to blame only Bollywood or the fairness cream industry, or the masses that cater to both, because clearly, all of us encourage this lust for whiteness that films and companies only cash in on' says Paloma Sharma

Mickey Virus came to the theatres on October 25 and with it came the college-boy craze for one of Bigg Boss Season Seven's foreign residents – Elli Avram.

Born Elisabet Avramidou Granlund to a Greek father and a Swedish mother, Avram is only one of the many non-desi women who have found stardom in Bollywood (whilst still being relatively unknown in their respective countries of origin). This is not because of their amazing acting skills, but because of something most Indian actresses will never really achieve – white skin.

Whilst Avram (thankfully) plays a foreign woman in the film, it is not so for the numerous other white actresses of Bollywood. Half-Indian, half-British (although Ayesha Shroff would like to disagree) and Bollywood's darling these days, Katrina Kaif, is perhaps the most famous of these.

Not only has Kaif played women of Indian origin right from Boom to Namaste London and, lately, in Jab Tak Hai Jaan, but she has found herself a place in India's $638 million fairness cream market.

Kaif was signed as the face of Olay's Natural White cream from a new line of cosmetics titled 'White Radiance'.

Ironically, Kaif was quoted in a report saying, 'Be it a skin, hair or a jewellery product, I am very selective about the brands I endorse. I undertake extensive research on the company and try to ensure that the brand delivers on its promises made to the user of the product.'

Right.

But Kaif isn't the only one.

Hazel Keech (born Rose Dawn) who is half British, a fourth Mauritian, a fourth Indian and grew up in London, has been in films like Bodyguard, Billa and Maximum, though she's never had a lead role in Bollywood yet.

Fellow-British national, Amy Jackson, however, has been a hell of a lot luckier.

Jackson has no Indian ancestry at all. Winner of the Miss Teen World Pageant, she got her break in Bollywood when director Gautham Menon remade his Tamil film in Hindi and cast her opposite Prateik Babbar in Ekk Tha Deewana.

Incidentally, Jackson played a Malyali Nasrani Christian (and one wonders if the bad tan job was intentional). Jackson has stated in an interview, "I love India, it's my new home."

Ms Jackson isn't the only one making India her new home. Brazilian models Giselli Monteiro and Izabelle Leite, who could be easily mistaken for each other (or maybe that's just my all-white-people-look-the-same-to-me syndrome) have played Indian women in Bollywood films.

Monteiro was spotted by director Imtiaz Ali and went on to play Harleen Kaur, a Punjabi girl, opposite Saif Ali Khan in Love Aaj Kal while Leite starred in the coming-of-age thriller-drama Sixteen.

While nationalist parties are outraged over white actresses and junior artists being cast in films over local ones, Jag Mundra (who incidentally made the critically acclaimed Provoked! Yikes!) was quoted saying, "The reason
producers pick white girls is because a lot of them have better figures and are willing to expose them...If you need a bikini shot, not many Indian girls are willing to turn up in a string bikini. But most white girls will not have an issue with that. Titillation has been an important part of Bollywood."
With the preference for white actresses increasing, the ever-growing fairness cream market, and our own actresses bleaching their skin beyond recognition, it is rather amusing how quick we Indians are to jump up and scream, "Racist" when Ashton Kutcher does a brownface.
While India celebrated when Nina Davuluri, a first-generation Indian-American born to Telugu parents, won the Miss America crown, we forgot how Lakshmi Menon was turned away from the Indian fashion industry for being too dark.
We forgot that Aishwarya Rai Bachchan, who famously went on Tyra Banks's show and called fairness creams racist, has endorsed L'Oreal's skin whitening product called White Perfect – that's right, White Perfect – along with Lux White Glow.
We felt sympathy for Priyanka Chopra when she claimed she faced racist comments from schoolmates in America, but when she was seen in Pond's White Beauty and Garnier's Light Ultra, we brushed it off as "she's just doing her work" or "everybody does things for money".
As a brown Indian woman I cannot but ask these actresses if they have no pride in who they are and why they are so ashamed of their skin. Why they, who have travelled the world, who obviously know about the struggles of coloured people, choose to endorse products that tell people, especially women, that in order to be beautiful, confident and happening, one absolutely must be white?
At the same time I wonder if the foreign born-and-brought-up actresses (often with no knowledge of Hindi) who are routinely seen playing Indian girls, realise the implications of it.
I secretly believe that they must, given that they had spent their formative years in a society where racism has been a serious point of debate for some time now.
When white women play white women, it means nothing to me but when a white woman, who looks vaguely Indian, decides to tan herself to an appropriate level and tries to portray a brown woman, a woman like me, I think she forgets that my skin is not an accessory she can play with from time to time and take it off when she gets bored of it.
We brown women don't have that option, we are not as privileged. We don't get to shed off our brownness.
With our skin comes a memory of oppression, exploitation and practical slavery under colonial rule and the silent understanding that there are some positions in life that we will never be considered for. With our skin comes the realisation, ever since we were born, that we will never truly be beautiful.
It would be wrong to blame only Bollywood or the fairness cream industry, or the masses that cater to both, because clearly, all of us encourage this lust for whiteness that films and companies only cash in on.
But, as a matter of ethics and basic humanity, I appeal to people who know better to consider the impact that they have on the lesser mortals of the world, because when you're brown in India, it's not easy to "love the skin you're in". Unless you're at a Russel Peters show, of course.