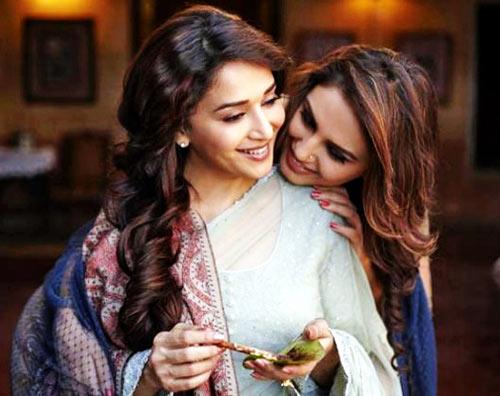 'Dedh Ishqiya does not yell out loud that it has an LGBT plot... The film does not show over-the-top caricatures of gay characters that we saw in films like Dostana and Bol Bachchan,' says Aseem Chhabra.

Towards the end of Abhishek Chaubey's Dedh Ishqiya, the film's two male protagonists -- Khalujan (Naseeruddin Shah) and Babban (Arshad Warsi) -- are shown tied up.

They have become victims of their own con game. It is cold and Khalu suggests to Babban that it would be good if they had a lihaf (quilt).

In another part of the room (and here's a spoiler alert for those who have not seen the film yet) the film's two female characters -- Begum Para (the ravishing Madhuri Dixit) and Muniya (Huma Qureshi) -- are frolicking in bed.

Their excited actions are creating suggestive shadows on the wall.

As the blog Moifightclub first pointed out, this sequence happens to be Chaubey and his co-writers's tribute to another piece of creative work -- the 1942 short story Lihaf (The Quilt) by the acclaimed Muslim writer Ismat Chughtai, who is also credited with having written the story for M S Sathyu's 1973 film Garam Hawa and dialogues for Shyam Benegal's Junoon.

In Chughtai's story, a young girl is sent by her mother to spend her vacations with an aunt (there are references to the girl being a tomboy who loves to hang out with her brothers and their friends).

The aunt, Begum Jan, has a sad life -- she is completely neglected by her husband, the Nawab Sahib, who spends much of his time in the company of 'young, fair, slim-waisted boys.'

And so the Begum develops a relationship with her maid Rabbo.

Their sexual encounters under the quilt in the dark send confusing messages to the young girl (also sleeping in the same room), who takes the shadow rising under the quilt as that of an elephant or a thief.

All of it may sound quite amusing (I re-read the story after watching Dedh Ishqiya), but it is also a sad tale of a lonely woman and how she finally finds a way to take care of her physical needs.

In Dedh Ishqiya, Begum Para has a similar back story -- a negligent husband who preferred the company of his male friends (we even see the Begum's wedding pictures with her sitting in the corner alone, while her husband is surrounded by his male friends) over his young, beautiful wife.

Towards the end of the film, the Begum eventually tells Khalu that her maid Muniya is also her humsafar (soulmate). And then the two women walk away hand-in-hand.

Author and LGBT rights activist Saleem Kidwai wrote in his book Same-Sex Love in India (co-edited with Ruth Vanita) that while The Quilt is a landmark story, it also presents a negative view of homosexual relations -- a woman is driven to a lesbian relationship because her husband is gay and hence does not care for her.

Chughtai was criticised for the explicitness in her story by her peers, was taken to court, and even her husband and family asked her to apologise.
According to Kidwai, only writer Saadat Hasan Manto supported her (he referred to Chughtai's stories as 'smooth' and 'sensitive'). Eventually a court in Lahore exonerated her.

There is a lot of sadness in Dixit's Begum Para's eyes and in one scene, where she has a hysterical fit, she tries to damage her wedding photographs. But time has given Para control over her destiny.

And in Chaubey's hilarious tale of two conmen and the women who outsmart them, there is little time for the narrative to linger on Begum Para's tragic past.

And that is good because Begum Para cares for Khalu even after being told that he isn't a real nawab.

But when we see Shah's Khalu falling prey to the ultimate con game played by the two women, we enjoy that moment and marvel at the writers of Dedh Ishqiya, who also trick the viewer.

Dedh Ishqiya's lesbian sub-plot is not sad like Deepa Mehta's Fire that tells the story of two abused and neglected housewives. And so, perhaps Dedh Ishqiya is one of the first films in the history of modern Indian cinema that gives a positive image to a story with themes of homosexuality.

I salute Dixit and Qureshi for playing roles that are not in line with what mainstream Bollywood expects of its female stars.

While I am at it, I might as well salute Vidya Balan for playing the lead in the first Ishqiya, an equally remarkable film where the woman chooses her own suitor. In fact, Dedh Ishqiya carries that feminist tradition forward when Begum Para, a widow, hosts a Swayamvar-like mushaira to choose a husband.

Dedh Ishqiya does not yell out loud that it has an LGBT plot (for that would also give away the ending of the film).

The film does not show over-the-top caricatures of gay characters that we saw in films like Dostana and Bol Bachchan.

In conservative India where few positive LGBT images exist in the media and literature, those films do a lot of disservice to LGBT causes.

I hope that activists in India, who have been protesting against the Supreme Court's decision to reinstate Section 377 on the Indian Penal Code, will appreciate Dedh Ishqiya's nuanced representation of a lesbian-themed story.

And more importantly, I hope admirers of Dedh Ishqiya will read Chughtai's story as well as her other works.

In the photograph: Madhuri Dixit and Huma Qureshi in Dedh Ishqiya