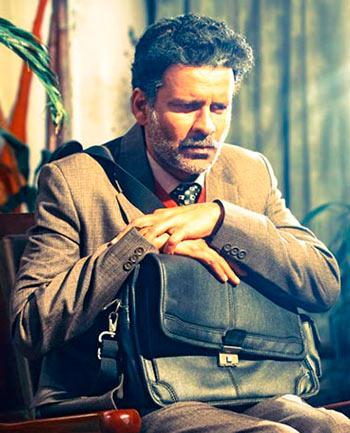 Aligarh is a milestone in the history of Indian cinema that should start the much needed conversation about how India treats gays and lesbians, feels Aseem Chhabra.
Towards the middle of director Hansal Mehta's stunning Aligarh, Manoj Bajpayee, who plays the lead role of Professor Shrinivas Ramchandra Siras, is seated in his living room, a glass of whiskey in his hand.
His music system is on and Lata Mangeshkar starts to sing Aap Ki Nazron Ne Samjha, the beautiful lyrical song from Anpadh.
Bajpayee's Siras is a reserved, humble, man. But the song and the music move him. It is as if Lata and her voice have become one with this gentle being's soul.
For the next three-and-a-half minutes as the song plays out loud, Siras goes into a trance. His hands, his feet, the way he tilts his head with the rhythm all indicate that he has reached his personal nirvana.
It is a remarkable scene -- cinematically beautiful and haunting since Siras is a troubled man.
Bajpayee's character is based on the real life Siras, a professor at Aligarh Muslim University, outed by a group of overzealous conservative colleagues who are envious of him.
Siras is a gay man, although the three-letter word holds no meaning for him.
What Mehta and his scriptwriter Apurva Asrani (the first script by the award-winning film editor) want us to know is that Siras' sexuality is his personal affair. What happens to him in the film (and what was done to the good professor by the homophobic AMU administration) is completely wrong, a violation of his privacy, an invasion of his personal space and the denial of his fundamental rights.
Aligarh, a heartbreaking film, opened this year's Mumbai Film Festival.
The film will stay with the audience for a long time. It is the first, deeply honest and a very real portrayal of a gay man on the Hindi film screen -- at least since Onir's ground breaking film that explored the life of a gay sportsman and his struggle with AIDS -- My Brother... Nikhil.
In Aligarh, the gay man is not a joke -- as was the case with Tarun Mansukhani's Dostana and Rohit Shetty's offensive Bol Bachchan.
Mehta and Asrani are saying there is nothing funny about a man being gay or a woman being lesbian. All those who fall under the LGBT umbrella are regular, normal people and we need to understand their feelings, their emotions and treat them just as straight people are treated in films and in life.
We can laugh with them -- and Aligarh has touches of humour -- but we should not laugh at them. They are not comedians. They are human beings.
Manoj Bajpayee once again shows us that he is one of the greatest actors of Indian cinema. He transforms himself and is it hard to believe that we recently saw the same actor as a brutal gangster in the coal-mining crime saga Gangs of Wasseypur.
His co-star Rajkummar Rao -- a regular face in Hansal Mehta films (Rao also appeared in Shahid and Citylights) -- is equally compelling as Deepu Sebastian, a journalist who first explored Siras' story from the professor's point-of-view.
Aligarh emphasises that gays and lesbians should be protected by the law, their rights recognised by the courts.
India needs to wake up to this reality -- that is the message of the film.
Aligarh is a very important film, a milestone in the history of Indian cinema that should start the much needed conversation about how India treats a visible and yet often ignored minority group. It is especially significant in the context of the gay rights activists and their struggles to remove Article 377 from the Indian Penal Code.