Kindness and compassion is all you need to survive and build your life.
And that is what makes 2018's Kerala story so relevant, notes Divya Nair.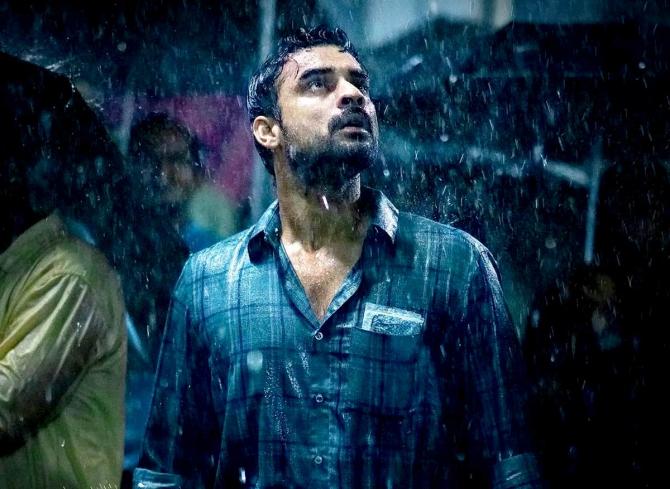 Until a few years ago, Kerala prided itself as 'God's own country', a safe haven for tourists.
But in the recent years, the state has been made infamous thanks to a host of unfavourable socio-political events that served as fodder for national debates on television.
While some of us questioned its patriarchy and its true political intentions, a large section didn't bother to fact-check before alleging it as a threat to the future of the nation.
The year 2018, however, must remain unforgettable for Malayalees across the world because when Kerala witnessed one of the worst floods of the century, killing hundreds and displacing the lives of lakhs of citizens, young and old, the entire nation united as one, praying and helping its people build their lives and homes from scratch.
The recent film 2018: Everyone Is A Hero, written and directed by Jude Anthany Joseph, takes us on a riveting ride to the fateful night of August 2018, when nature and men battled the odds in a rare race for survival.
In fact, within a week of its release, despite its low-key promotions and limited budget, this film is winning hearts and bringing people of all ages back to the theatres, inspiring producers to release the film in other regional languages.
What makes 2018 a recipe for success?
How did the story of one state, one event become a moment of national pride?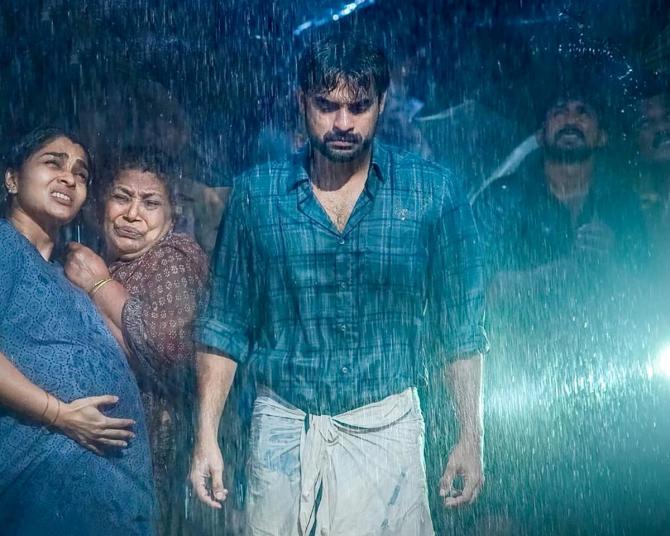 In two hours and 30 minutes, we are introduced to a dozen characters.
Anoop (Tovino Thomas) is a young man who flees the army and prefers to settle in his hometown because he's too afraid to fight and die young for his country.
There is Nixon (Asif Ali), the younger son of a fisherman who aspires to be a supermodel.
Shaji (Kunchako Boban) is a busy government employee who struggles to find time for his family.
Ramesh (Vineet Sreenivasan) is an NRI who is facing a divorce.
A reporter, a lorry driver, a blind man... each of their lives collide on this fateful night and what enfolds is a story of unflinching hope, relentless courage and selfless love and humanity.
A calamity turns ordinary men into extraordinary heroes, or in the words of a hospitalised mother 'godsent angels'.
The entitled father who refused to let his daughter marry the son of a fisherman inevitably folds his hands in gratitude when the latter's ilk, the night's heroes, row him and his family to safety.
2018 is an ambitious attempt to retell the story of many such stories, of the people who made it, those who didn't and those caught in between.
As the tall walls of ego and false pride crumble and put people of all kinds on an even ground, it also challenges and tests your priorities, questioning the very purpose of life as we know it.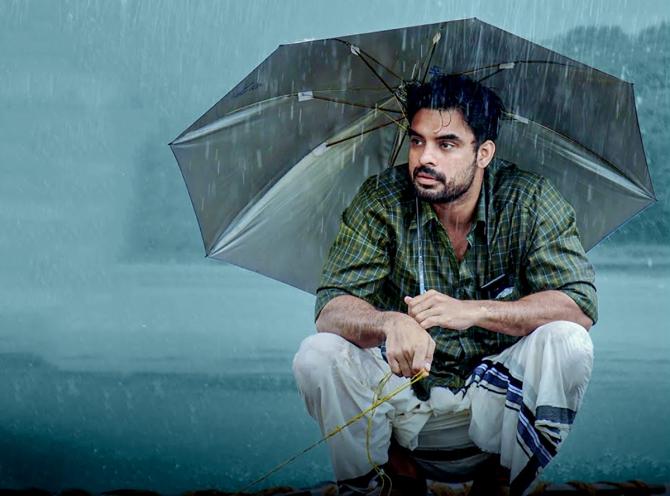 The makers have successfully managed to not only recreate a near-perfect imitation of the calamity but also add empathy and depth to its characters.
So when you see Shaji watching his newly-minted house collapse in seconds on a news channel, you empathise with him when he gets caught between his family and professional duties, his helplessness and sorrow.
When the blind Bhasiettan (Indrans) is abandoned by his selfish neighbour, you also witness his unsuspecting faith in people.
But the most gripping story is of Varghese (Sudheesh), Jiji (Gilu Joseph) and their specially-abled son. As you watch the couple aimlessly fail in their attempts to scramble for survival, you secretly pray for a happy ending.
These nail-biting sequences of unforeseen possibilities evoking shock and joy, despair and hope is what makes 2018 an entertaining, enriching survival drama.
If, like me, you are among those lakhs of people who have had to swim hours in neck-deep waters to reach home during an unexpected flood, be warned that it would also trigger a load of unpleasant memories, sights and smells.
Of course, there could be endless debates as to what really caused the floods and what could have been a better alternative -- if it was just a natural calamity, a wake-up call to remodel our choices or a man-made disaster fuelled by poor bureaucratic decisions.
While 2018 relives a calamity that took away so much more than just human lives and livelihoods, it leaves us with many montages of hope, love and courage, which is also what the tragedy taught India and the world.
Within a few days of the disaster, as images of homeless people in relief camps, once strangers to each other, were seen celebrating Onam, it gave us an alternate reality of the spirit of life -- that if you choose hope, anything is possible.
While some of us spend all our waking hours and resources gathering and owning things, an event like this reminds you that the best things in life aren't things.
That kindness and compassion is all you need to survive and build your life. And that is what makes 2018's Kerala story so relevant.