How do the shows we watch and the songs we listen to, affect us?
The question bothers Geetanjali Krishna after a domestic worker gushes about her six-month-old daughter's love for a nagin-themed TV show and Mika's Gandi Baat.
Illustration: Dominic Xavier/Rediff.com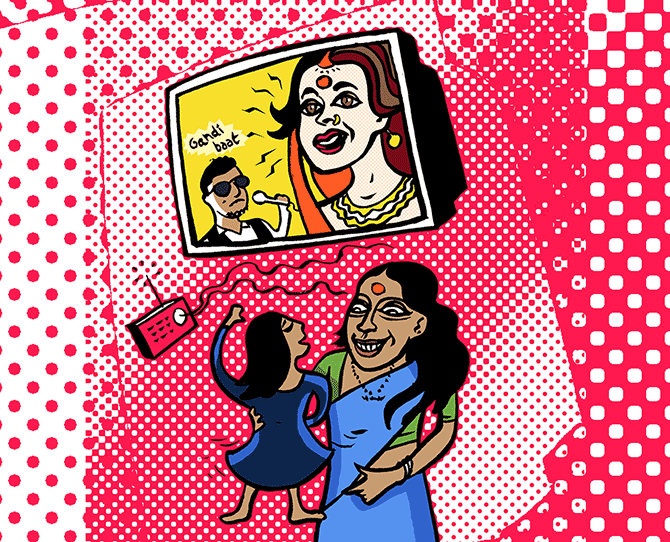 As a student of sociology and human behaviour, I have often wondered about the effect that popular culture has on our psyches.
Why is it that I watch American crime dramas and British period sagas compulsively, while my neighbour can't do without her daily fix of family dramas?
And how do the shows we watch and the songs we listen to, affect us?
These questions occurred to me yet again recently when I ran into Chitra, a domestic worker who recently had her first child. When I asked after the baby, Chitra was every bit the gushing mother.
"She's such a good baby," she exclaimed. "She loves people, laughs a lot and what's more, she loves to watch TV with all the neighbourhood aunties, leaving me free to work."
It turned out that the baby had become a fan of a Hindi TV show about a woman, who was in fact a cobra with magical powers, as Chitra used to watch it while breastfeeding her. Rather conveniently for Chitra, all the neighbourhood aunties also turned out to be fans of the same show. It was no trouble for them to watch her child, who in turn, was happy as long as the TV was on.
There were, I said worriedly, really good educational shows on TV. Maybe they could try and introduce the baby to them?
"My husband and I have no desire to experiment with her schedule when it's all working out so well," she retorted. "Moreover, the educational shows are too boring -- there's no way the neighbourhood aunties will want to watch them."
While I could see how convenient the situation was for Chitra and her husband, I wondered at the impact a second-rate, supernatural show would have on the six-month-old's tender mind. Maybe Chitra could ask some of the neighbourhood kids to come and play with her, so that the baby could get a breather from the TV.
It turned out that the baby was the toast of the neighbourhood children as she loved the Indian pop singer Mika.
"The kids put on his songs on their phones just to watch her dance," she laughed.
Chitra's husband had introduced the baby to Mika and his insalubrious brand of, for want of a better word, music. Listening to the radio was his biggest solace in his boring job as a watchman, she said.
"Now the baby has inherited his love for music. She can recognise Mika's songs just from the opening notes."
Chitra said that if the radio played other songs, the baby would cry hysterically until they changed the music back to her favourite. "That's why the kids love to play with her," she said.
Apparently, they couldn't get over the sight of the baby nodding and rocking rhythmically in her seat whenever the Indian pop star's music was played around her.
Perhaps, I commented mildly, they found it comical to see an innocent baby jiving to his unforgettable classic, "Gandi Baat (Dirty Talk)".
"Oh that's her favourite," the fond mother exclaimed. "How did you guess?"
It had to be, I mused, wondering what the baby made of lyrics that celebrated a stalker's desire to say dirty things to his "beloved".
For that matter, what did she make of her favourite TV show's regressive ideas about the world at large?
Chitra felt I was reading too much into her baby's choices in pop (and indeed, mom) culture, given that she couldn't even speak yet. But I wondered about the fate of Chitra's baby, growing up as she was, in a world where such regressive shows and obscene lyrics passed for entertainment.
"Don't worry," said Chitra. "They're just songs… Nobody listens to the words anyway."