A Nedumudi Venu character was happiest when moving his head to a piece of music with his eyes closed; or, when inventing off of a note that a co-actor had left unfinished; or, when reciting a poem by Kavalam Narayana Panicker where a hymn about nature descends into a musing about cheating, depression and death, remembers Sreehari Nair.
He became an old man at a very young age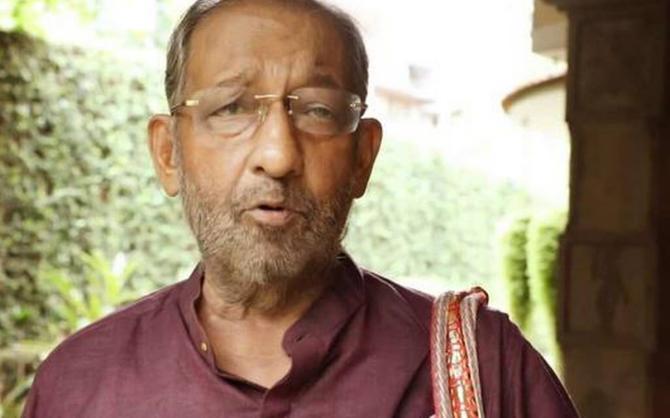 Nedumudi Venu died on October 11, 2021, at the age of 73.
Most Malayalis would have you believe he was a lot older than that.
Most Malayalis have no conception of what Nedumudi Venu looked like as a young man.
I, myself, had my first glimpse of the actor in his youth, very recently, when I saw a picture of him with his college friend, Fazil (I think Nedumudi looks like my cousin Jyothykrishnan in this picture and Jyothy even as a baby, had the face of a divine old man).
In his early days as a film actor, Nedumudi's old man face presented a challenge for writers and directors.
They couldn't let such a talented artist go to waste, just because he had a rapidly maturing mug.
So writers and directors started to think up interesting variations within typical settings, as well as atypical love stories, just so that they could accommodate the old-young Nedumudi.
In Chamaram, he sat on a college bench playing a character readying himself for priesthood and for the life of a dedicated bachelor.
At 34, in Marmaram, he played a portly school headmaster, swaying to the charms of a newly recruited music teacher.
Then, the men with the megaphone (we didn't have our version of Sai Paranjpye) came up with a better plan.
Directors who became good friends of Nedumudi, and who were aware of how his vitality was at odds with his pensioner's face, started casting him regularly in the role of a senior citizen with a taste for mischief. He played roguish retirees, at the age of 36, in Priyadarshan's Poochakkoru Mookuthi and Odaruthammava Aalariyam.
When the word got around that they had an actor in the prime of his health who could easily pull off a grandsire, he was summoned to appear in Bharathan's 1987 melodrama, Oru Minnaminunginte Nurunguvettam, hunched over, at 39.
He might have winced if you called him a Character Actor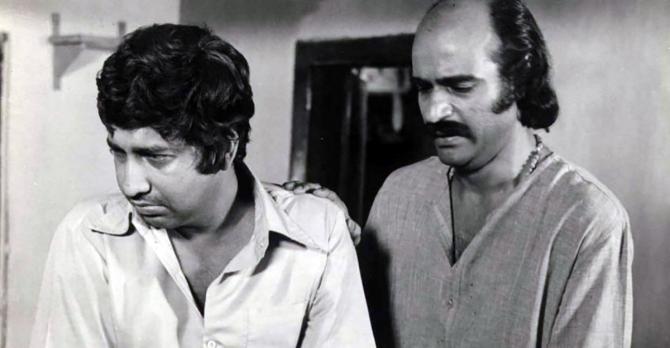 Nedumudi Venu blossomed in the 1980s among a set of Malayalam film actors, who were too proud to cede their individuality to the image held by the more conventional heroes and heroines.
These actors (other prominent names include Thilakan, KPAC Lalitha, Bharat Gopi, Oduvil Unnikrishnan, Karamana Janardanan, Sankaradi, Sukumari, Jagathi Sreekumar, Murali, Meena, Philomina, Innocent, Krishnankutty Nair and Mamukkoya) were the life force of the films they acted in.
There's no way to explain this phenomenon, now, except that it was a pre-OTT, pre-digital era in which these 'supporting' troupers were habitual beneficiaries of well-defined arcs and were all box office draws in their own right.
Later, toward the early part of the 1990s, stars and their dates became the major concern of filmmakers and producers and with it the emergence of that muddled term 'character actor', whose primary dharma was to shed every ounce of character and prop up the vanity of the leading man.
He was more feminine than the actors he was grouped with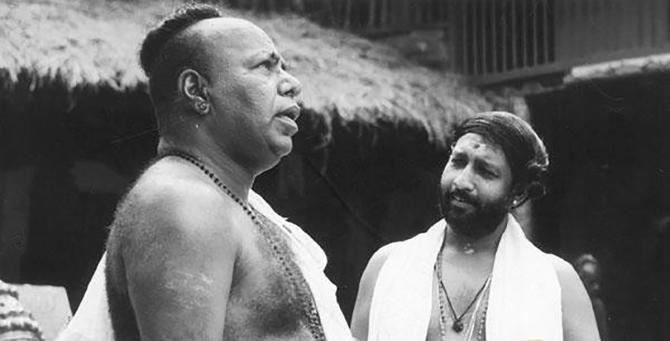 There are numerous examples of limp critical evaluations. A very good example is the tendency to put all your 'thespians' in one basket.
How's this?
'Nedumudi Venu was a thespian like Thilakan': A critical evaluation as harmless and as limp as they come.
When I was growing up, however, there was a distinction drawn between the two greats and it existed on another plane of oversimplification.
The popular opinion, then, had Thilakan as the go-to for strongman roles and Nedumudi as better at comedy.
Wrong, again.
Thilakan was awfully good at comedy, at times beyond compare, and Nedumudi had his own way of letting the repellent in (more about this later).
The real difference between Nedumudi and Thilakan (or Nedumudi and Bharat Gopi, for that matter) was that Nedumudi was more feminine. And this subtle fact helped provide the thrust for many an unforgettable narrative.
His character in Padamudra is one of the most distinguished cuckolds of our cinema.
He may be a source of gossip for his community but the actor playing him is careful about never turning the cuckold into a joke. And without that pitch-perfect portrayal of his helplessness, without his coarse shows of dignity, you wouldn't know how an entire household pays for Maathu Pandaaram (A Mohanlal rippling with grace) and his inability to keep his seeds in check.
Thilakan in Perumthachan has too upright a spine to crumble openly and it's through Nedumudi's Unni Thamburan, and his downcast frown, that we grasp how reality is changing at once for the emperor and the master craftsman.
In Yavanika, as well as in Palangal, when he dukes it out with Bharat Gopi, Gopi lets it rip, like only he could have, and Nedumudi responds with birdish peckings.
But in those peckings, you discover his will to survive, and oh-so-effortlessly they bring into focus the brute who wouldn't let up.
He had, it seems, quite a female fan base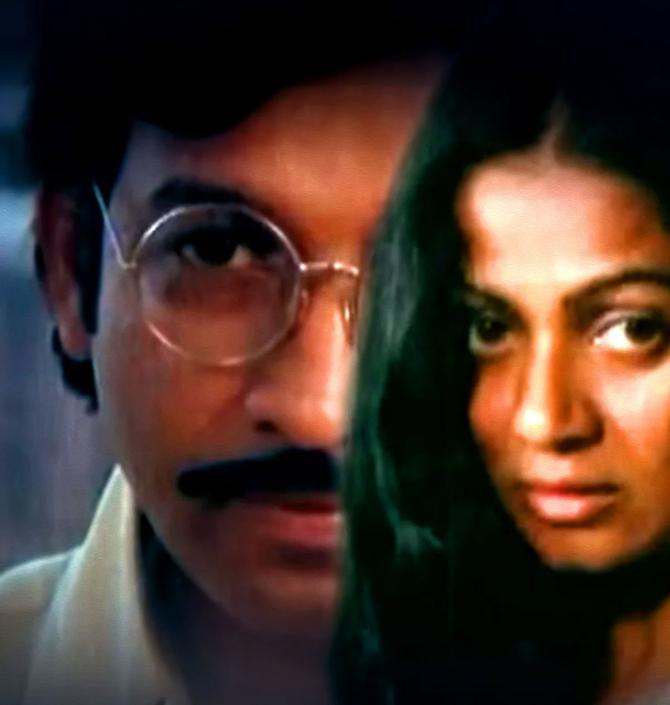 A friend, who is eidetic enough to remember the period, tells me that back in the 1980s, women felt a sense of security and happiness when Nedumudi was around.
This friend specifically talks about that general sentiment of 'He's our man' echoing among his giggling Kunjammas and Appachis every time Nedumudi came on screen.
But Nedumudi's this female fan base, I suppose, was earned by a persistent effort to give the romantic hero a shade of the snowflake, and the actor's courage to lay himself threadbare.
Oh, how in Mohan's Rachana, his Unni allows Srividya to literally play with him in a restaurant and pass comments about his pencil moustache.
In Ponnum Poovum, he offers Menaka the comfort of a girl friend, more or less, when he prances around with pants fitted above his navel.
In Palangal, he stares at Zarina Wahab with soot on his nose and tilting his head just a touch so that his glasses go askew in admiration of her beauty.
One wonders what would have happened to Malayalam Cinema's overall definition of the romantic hero had Nedumudi Venu become its face.
Mohanlal's most memorable double concertos were composed with him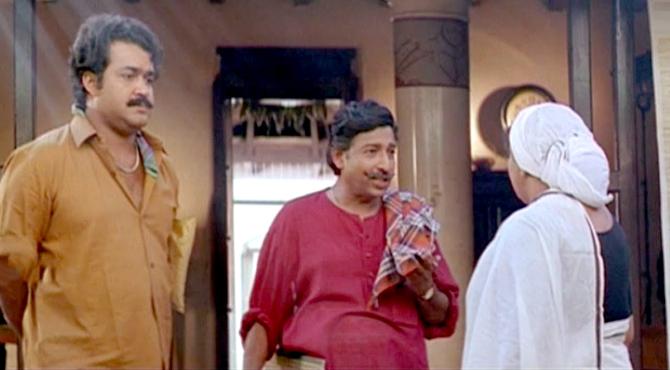 Mohanlal's finest co-star is a hotly disputed subject.
I have heard the names of Jagathi Sreekumar, Sreenivasan, Thilakan, Shobhana, even Kaviyoor Ponamma fall from other lips. But I'll stick my neck out and say that the communion was best achieved on-screen with Nedumudi Venu.
A certain amount of 'friction' is the most critical element in actorly chemistry. With respect to Nedumudi and Lal, however, they were almost each other's finishing school. Each could take a dump on the other, could do it with equal felicity and swiftness, then wash the other off, and keep going -- now that's Chemistry!
Friends, brothers, problem drinkers, elaborate schemers, men of poetry, mentors and protégés, kings and usurpers, manic depressives, they were once the pinnacle of what one actor playing without safety nets could achieve with another ambitious actor.
Watch how, in Chitram, each is a shadow on the other's happiness, and how out of this ever-present antagonism their camaraderie develops.
Keep an eye on their competitive ribbing in Thenmavin Kombathu. Running through Sreekrishnan and Manikyan is an instinct for the 48 different ways in which your partner can fail and, therefore, needs to be warned in advance.
Ex-military Kumaran Nair keeps tugging and tugging at Mukundan K Kartha's shirtsleeve till the latter, finally, wriggles out of the old man's sad existence, expressed in his pride for his always-absent son.
But it wasn't just tough-minded love (Bharatham is marinated in it) that underlined their chemistry.
Who can forget Nicholas and Freddy?
There's no way to get around that loutish father-and-son pair, whose conversations were defined by instances such as the father asking Freddy, 'Son, where do you get these brilliant ideas from?' and Freddy, who is tag-teaming with his father to kidnap someone, replies, 'Daddy, this is why I keep asking you to watch an English movie once in a while.'
But my favourite among the pictures they did together was Dasharatham.
In an amazingly performed bar scene, Millionaire Rajiv Menon (Mohanlal; when 'Billionaires' weren't in) over a round of drinks asks his friend, Kariyachan (Nedumudi), if Kariyachan could give up one of his children.
The halt in the conversation is followed by a moment of confusion, laughter, melodious rebuke and it ends with one of the most glorious scene-exits in Indian Cinema.
Later, when Rajiv Menon discovers that he's about to become a father (banking on surrogacy), there's a moment of skillful visual diversion as he places his head over a bare tummy and tells the owner of the tummy what he would name his son.
'Manoj; we'll call him Manu,' says Menon, then he blows into the tummy, and up comes Nedumudi all shaking with chuckles just as the opening notes of Mandara Cheppundo wafts in the air.
He wanted to be a man of the arts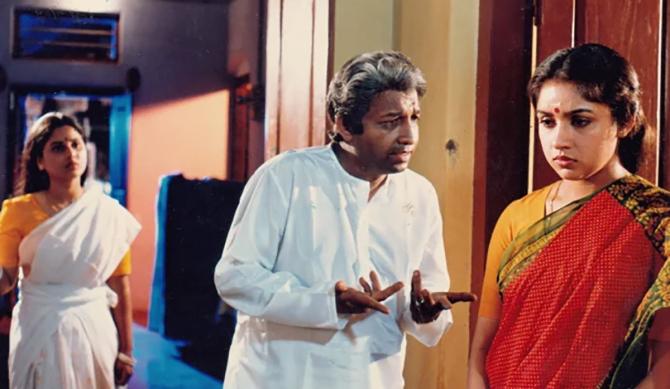 As opposed to Thilakan, who was an unalloyed actor, Nedumudi was content in being a general man of the arts. One could perceive that even when his screen appearances began to dwindle, he was part of a circle comprising musicians, poets and dancers.
This aspect of the man floats into his performances as well.
A Nedumudi Venu character was happiest when moving his head to a piece of music with his eyes closed; or, when inventing off of a note that a co-actor had left unfinished; or, when reciting a poem by Kavalam Narayana Panicker where a hymn about nature descends into a musing about cheating, depression and death.
But the association with Kavalam and his theatre group did more for Nedumudi than what a by-the-numbers biography might suggest. The association shaped his sense of rhythm, his ability to be absolutely free in front of the camera, to be unashamed of his body.
When, in Devasuram, he's performing mock-Kathakali all drunk and destitute, and his mundu drops away, it just gets to you. Why? Because you feel the painful irony of a man being disrobed while engaging in that which he loves most.
He could play 'the repellent' better than anybody in Indian Cinema
Nedumudi Venu didn't play villains; he went a notch higher. He achieved the Philip Roth ideal of 'letting the repellent in'.
You, somehow, identified with the louses he played; he was you, but with that one weakness in you enlarged and made glaring.
That is how you reconciled with the tailor in Oridathoru Phayalvaan (There lived once a wrestler) who in his very basic desire to score a profit sets off the wrestler's downward spiral into obscurity.
In Yavanika, you know he can't hurt a soul.
But then, playing a hurtful character, an actor has some wiggle room.
Imagine, however, the elbow space you get with a character who is just this side of the pain-in-the-ass man always sidling up to the ladies in his drama troupe.
'I understand women. They like me,' declares Balagopalan.
As he ripened from Balagopalan into Keli's Romance Kumaran, the ability to portray innate repulsiveness had hardened.
In Keli, he plays someone who suggests oranges for fair skin, who schemes, badmouths, and guesses the star sign of his female customers by feeling their quivering nerves.
When the task was not to play the straight villain but to convey a certain dimension of the icky, when the task was to be tactlessly time-consuming, there was, perhaps, nobody better than Nedumudi Venu.
By the time he appeared in Veendum Chila Veetukarangal, you felt he could just slide in and out of the dark universe at will.
Washerman Aravindan dresses himself in the clothes of his customers, breaks into riffs, garbles his words, plays the 'tradition' card, and puts on whatever mask is at hand all so that he can fulfill his larger project of mooching off unsuspecting souls who make the mistake of mingling with him.
Kuttanad never left his system

As I see it, the biggest contribution to Malayalam cinema, of actors like Nedumudi Venu and Balachandra Menon, was how they changed, almost overnight, the way characters spoke their lines on screen.
This change can be previewed as early as Vida Parayum Munpe, in which you find your ear relaxing every time the scene shifts from Prem Nazir's stentorian, hot-off-the-page renderings to Nedumudi's anything goes style of dialogue delivery.
But he went further than that.
In an age when actors started to freely bring in something of their own roots to the characters they played, when Innocent started bringing in Irinjalakuda and Oduvil a whiff of Wadakkancherry, Nedumudi brought in Kuttanad's less overt specifics: the quick tongue biting so characteristic of teachers in Takazhi; the bench tapping of the toddy shops; and, the existential uncertainties of a region where water often rushes into the verandahs so that the inhabitants of Kuttanad have to invariably move into a rented home to get through the rains.
When, in Akkare Ninnoru Maran, K P Thankappan Nair conveys a sudden pride for his nephew, Achuthan, when he pipes in the line, 'He's my blood... my blood,' what become evident in the start-and-stop pattern of speech are the jumpy cadences scooped up from the Vanchipattu tradition of Kuttanad.
He became associated with a certain type of character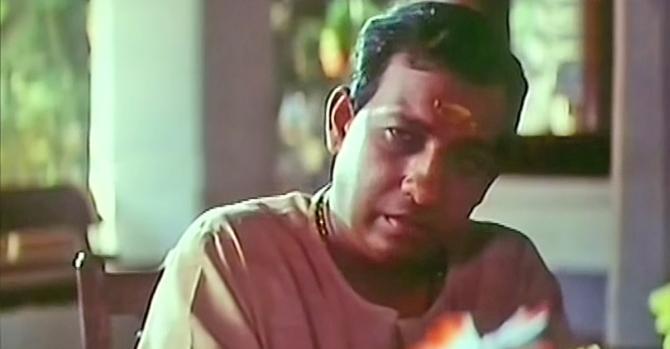 It happens to every actor who receives universal love: A general softening of public image so that the work ends up losing its bite.
In Nedumudi's case, this happened around the time of Bharatham, where he had outdone just about everyone else, and his death had come to pervade the whole movie and given it its Negative Capability.
After Bharatham, however, the slotting of Nedumudi Venu into fixed character-types became the norm.
In the last two decades, his resume overflowed with worrying fathers and well-meaning school teachers. (The occasional break in the model came courtesy of Sathyan Anthikkad conceiving something a little impish).
The worst thing you can do to an artist you love is empty him of his human intensity and turn him into a well-carved noble figure. And it's because their obituaries, too, stress on this aspect of nobleness and not what made them so stimulating that great artists are doomed to die over and over again.
Two of his final performances deserve your attention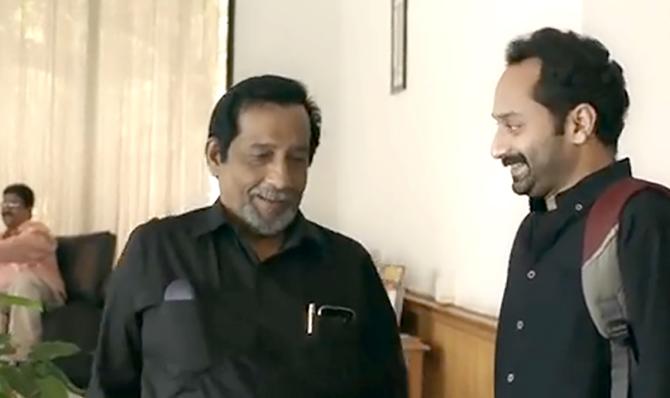 It is, maybe, because his outsized standing came to precede him that the talented writers and directors who emerged in Kerala in the final years of Nedumudi Venu's life were so reluctant to cast the actor in their films.
In the last three years of his life, however, the wily fox did pitch in two unforgettable performances that ought to be studied seriously regardless of their screen-time.
In Carbon, he has not more than three scenes but his routines with Fahadh (as Sibi) in that movie are monuments of behavioral acting. By the end of every scene he seems to be turning to Sibi and asking, 'So, you still think you are the biggest fraud in the room?'
His final years were marked with a catch speckling his voice, but in Carbon,and in Aashiq Abu's section of Aaanum Pennum, this catch seemed not an appeal for sympathy but an instrument at the service of portraying small corruptions and the charms of a bawdy life.
In Aanum Pennum, his section of the story has Roshan Mathew and Darshana Rajendran as a couple who retreat to the peacefulness of the outdoors for some nature-themed lovemaking.
They strip themselves naked behind a patch of dense green and the story ends as a reimagining of the scene of Eden with a shit-scared Adam and a boisterous Eve on the screen.
Nedumudi appears as the local who first steals their valuables, and then, has a better plan: he steals their clothes as well.
When his wife asks him, 'But why did you steal their clothes?' our man takes a sniff of the filched garments and says, "'Oh, just one of the joys of the world.'
Note from your columnist: This piece has been culled out of conversations with friends. It is, therefore, very possible that many points discussed in the piece might seem to you to be too subjective and infused with the spirit of barroom knockouts than the spirit of scholastic discussions. It is because of this very reason, because the desire to be seen as a genius is far greater than the desire to be seen as an indiscriminate chatterer, that the aforementioned friends have implored that they be left unnamed.