Mulk tells Indian Muslims they have to ensure that their children don't get involved in jihad, and at the same time tells Hindus not to doubt the patriotism of Indian Muslims, notes Syed Firdaus Ashraf.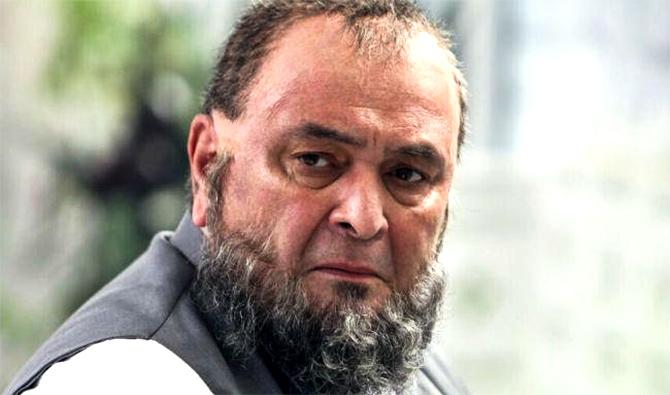 Two incidents from my reporting past reminded me of how life could be similar to Mulk, Anubhav Sinha's latest film.
The first was on July 12, 2006, a day after the Mumbai train blasts in which more than 200 people died and I was tasked with taking reactions from the survivors.
The second was NOT meeting Hamidbhai at Gandhiji's Sabarmati Ashram in Ahmedabad.
*****
"Woh logon ne bomb blast kiya (they were responsible for the blast)," one survivor of the Mumbai train blasts told me.
"Kaun logon ne? (Who did it?)," I asked.
"Woh logon ne (those people)," he said again, this time firmly.
I wondered how, when the Mumbai police was clueless about the terrorists who set off the blasts, this man already knew the people responsible for the horrific crimes.
So I asked him again, "Woh log kaun? (Who are these people?)"
"Woh jinka mazhab sikhata hai, namaaz padho bomb lagao (those people whose religion tells them to offer namaaz and bomb people)."
He repeated the line again for effect, "Namaaz padho bomb lagao."
That encounter flashed before me as I watched Mulk.
Anubhav Sinha's film shows starkly how the Indian State treats its largest religious minority, and how they in turn view India.
In the film, Shahid (Pratiek Babbar) gets involved in terrorism, which his family is unware of.
After 16 people are killed in a blast, Shahid dies in a police encounter and the burden falls on his family to prove that they are not terrorists, that they were not co-conspirators in the crime.
And it is here that Rishi Kapoor steps in as Shahid's uncle Murad Ali Mohammed and delivers one of the best performances of his career.
He proves that neither he nor his family had any idea that Shahid was a terrorist.
Ashutosh Rana as the public prosecutor, belts out lines like, 'Mughal chale gaye, jihadi chod gaye (the Mughals have gone, leaving behind jihadis).'
Rana's character systematically frames Murad Ali and his family as the 'other', which is well countered by Taapsee Pannu as Aarti Mohammed who debates on 'woh aur hum' (Hindu-Muslim).
The man who survived the Mumbai train blasts in July 2006 was in effect telling me about the same woh.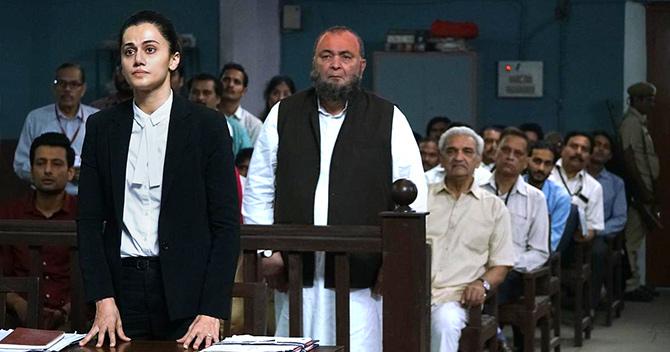 The beauty of Mulk is that it puts Indian Muslims in the dock, telling them that they have to do more to see that their children are on the right track, that they do not get involved in jihad, and at the same time sends a subtle message to Hindus not to doubt the patriotism of Indian Muslims.
As Rishi Kapoor puts it brilliantly: 'How does an Indian Muslim prove that he loves his country?'
And when his son Aftab (Indraneil Sengupta) tells him he should move out of India, Murad Ali bursts out in indignation, 'Kyon jaaon? Kahaan jaoon? (Why should I go? Where do I go?).'
When Rishi Kapoor uttered those lines, I thought of Hamidbhai and his life, and wondered what he would have felt had he heard those searing lines of dialogue.
Which brings me to one of the biggest regrets of my life, not meeting Hamidbhai on a visit to the Sabarmati Ashram in the little time I had left before catching a flight back to Mumbai.
Saheb Abdul Kadir Bawazir (popularly known as Imam Saheb) was a close associate of Mohandas Karamchand Gandhi in South Africa.
Imam Saheb gave up his luxurious life and moved to India to be with the Mahatma during the freedom struggle.
Gandhiji apparently called him 'Sahodar' (born of the same womb).
His grandson was Hamid Qureshi, whose house in Ahmedabad was not spared in 1969 during the anti-Muslim riots of 1969.
Hamidbhai was a non-practising Muslim and had a Hindu wife, but his Muslim name was enough for the rioters to burn his house down.
In Mulk, after his home is attacked by Hindus, Murad Ali raises the pertinent question: 'Who will decide what is terrorism?'
Watching that scene I felt Hamidbhai too must have asked the same question when his house was destroyed.
Not one to lose hope, Hamidbhai stayed true to his Gandhian ideals and spent the rest of his life at the Sabarmati Ashram, where he passed away in 2016 at the age of 89.
He was cremated according to Hindu rites as per his will.
In Mulk's final scene, Rishi Kapoor says, 'Pyaar dhoondoge, toh pyaar milega (If you search for love, you will get love).'
Hamidbhai did exactly that. He adhered to his Gandhian ideals throughout his life without any hatred for the rioters who destroyed his home.