'To say Aretha ticked all the boxes when it came to voice technique is like calling Cristiano Ronaldo an efficient footballer,' says Kanika Datta.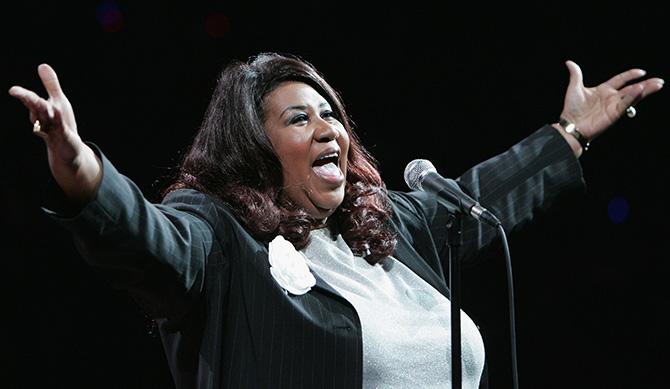 Every time I heard Britney Spears sing, I used to think of Sister Celine, the singing teacher at school. Not that there is the slightest resemblance between the two.
But I often thought that if she had ever watched one of the svelte Ms Spears' performances, Sister Celine, dumpy and with an incipient moustache, would have fainted away with shock.
Suggestive lyrics and outré dancing would have been but part of her pain: The poor quality of the music superstar's voice would have been no less distressing.
'Sing from the roof of your mouth, dears,' she would exhort us, and, by way of example, effortlessly produce the pure, high notes that were audible right at the back of the big school hall.
It is clear that Ms Spears did not follow this or any other meaningful voice technique, a weakness that pitch correction software masks as much as the extravagant visual productions that accompanies her songs.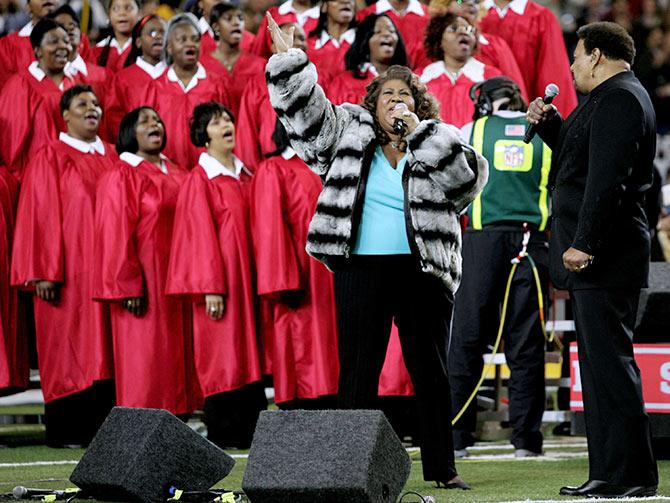 It is unlikely that Sister Celine would have heard of Aretha Franklin who died on August 16 at age 76.
The closest this puritan, curmudgeonly nun with the voice of an angel came to following "popular music" was Doris Day's Que Sera Sera from The Man Who Knew Too Much and Debbie Reynolds in The Singing Nun.
As a member of one of the most conservative Catholic orders of Europe, it is unlikely, too, that Sister Celine would have approved of Aretha's religious affiliation to the Baptist church or her free-wheeling lifestyle (she had her first child at age 13, and many followed, mostly out of wedlock), even though she started out as a gospel singer.
But what if Sister Celine had heard Aretha sing?
I'd like to think she would have strongly approved.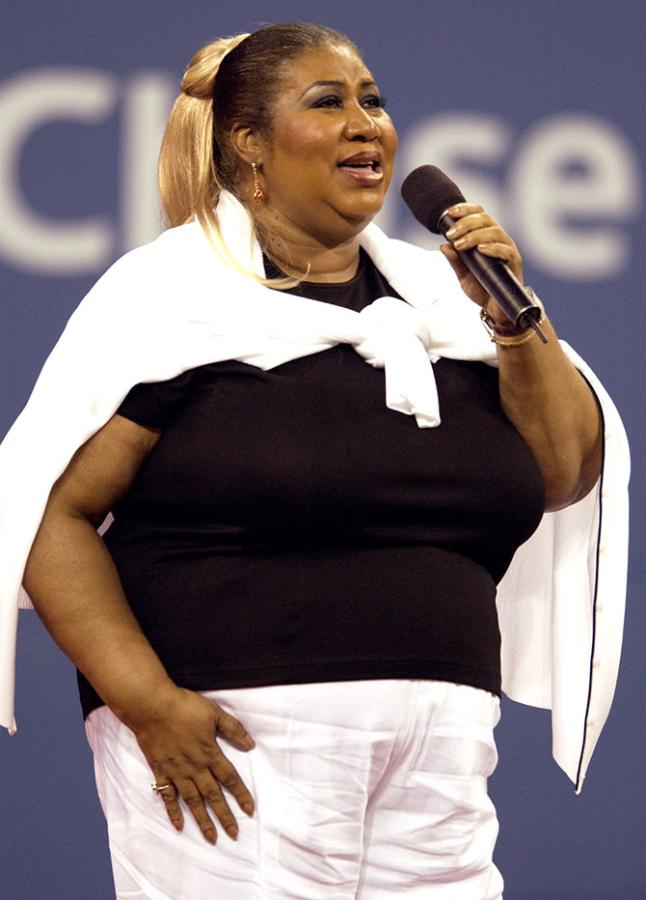 To say Aretha ticked all the boxes when it came to voice technique -- the use of the ab muscles, the delivery through 'the roof of the mouth', the flexibility that comes with regularly singing scales -- is like calling Cristiano Ronaldo an efficient footballer.
Regretfully, I discovered Aretha only in the late seventies, long after she had made Respect the anthem of both the civil rights and feminist movements in America and had taken the world by storm with her rendition of A Natural Woman.
She was already the acknowledged Queen of Soul, the genre of African-African music that links the sounds of Motown with gospel overtones.
Since soul is neither pop, rock or jazz, Aretha didn't figure on All India Radio's Musical Bandbox or Lunch Time Variety, the two principal sources of my knowledge of Western contemporary music, or in Willis Conover's Jazz Hour on the Voice of America.
It was only thanks to Harmony House, a treasure trove of all Western music on Chowringhee Road in what was then Calcutta, that I first heard Aretha on a vinyl album called This is Soul, and was transfixed by the range and virtuosity of her voice (Otis Redding was the other great discovery).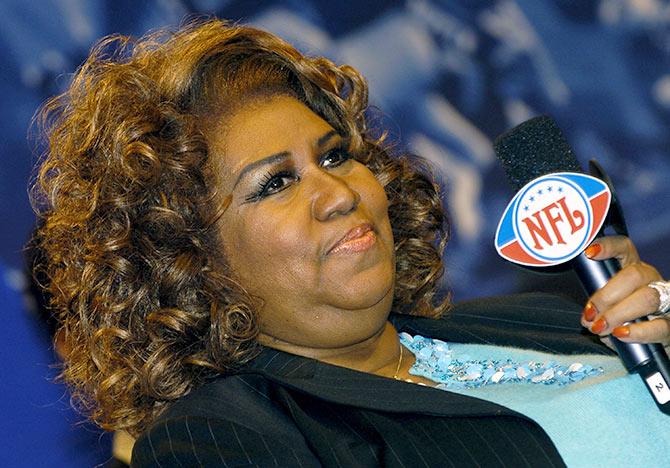 By the eighties, Calcutta was in terminal decline as a cosmopolitan cultural centre, and the chance of hearing more of Aretha were slim.
Machine pop and rock and rap dominated the Western music scene, some of it good, and for jazz you went to screenings organised by the American Centre (bless their generous hearts).
Then came economic liberalisation, and with it the access to foreign music CDs.
Among my earliest buys was Aretha's Greatest Hits, with her stunning opening rendition of Think. The album turned out to be a great buy because it covered the full range of Aretha's career.
The gospel tones on which she honed her style in her father's church had evolved -- she yoked her distinctive sound to disco, straight pop and even rock, and somehow made it work.
Listen to I Knew You Were Waiting (For Me), her 1986 duet with Wham's George Michael, to understand the versatility of her talent.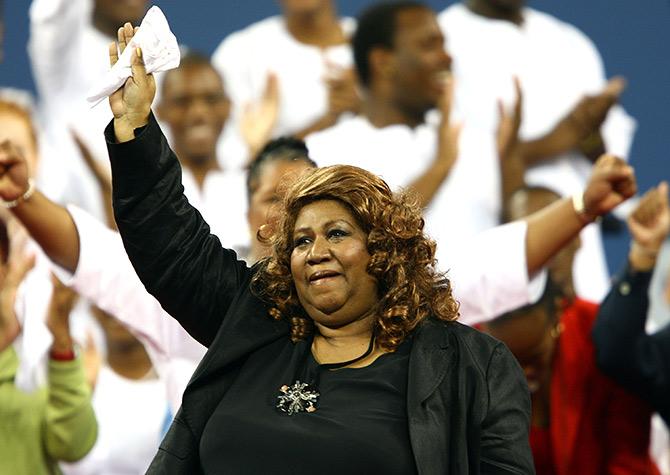 I now learn that Aretha was a careful and exacting music arranger as well. Those abilities on the album are on full display in Bridge over Troubled Waters, the harmony with her background singers transforming the Simon and Garfunkel hit ballad into a goosebump-inducing hymn.
At Barack Obama's inauguration, the first time I had heard her 'live', her powerful performance of Mr Country, Tis of Thee, sung in sub-zero temperatures, more than made up for the bizarre headgear she had chosen for the ceremony.
Most of all, Aretha, who performed her last concert in November last year, didn't really bother about the things that worry performers nowadays. She followed her political convictions with unswerving certainty.
She also battled a weight problem all her life, but her expanding waistline did not detract from her fan following or her talent.
Towards her later years, she came on stage, massive and magnificent, and showed everyone what real singing was all about.
No dancing, calisthenics, special effects or pitch correctors for her.
In April, a clip doing the rounds on YouTube had Britney Spears singing Think. True, it's a rough cut and without backing music or vocals, but it gives you a good idea of her 'natural' voice.
Let's just say it's good neither Sister Celine nor Aretha got to hear it.