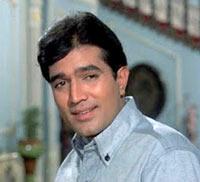 It was impossible not to love Rajesh Khanna in the seventies, when the star was in his prime. A Ganesh Nadar recalls what it was like to watch an RK movie in the theatre then.
I grew up in the 1970s when watching movies was the only entertainment. Doordarshan was only three hours of black and white sorrow. Luckily, stalls tickets were Rs 5 and balcony Rs 10. Air-conditioning was just coming in and chips were available for 25 paise.
Rajesh Khanna was my first superstar. I was 12 in 1970 and we just adored him. When we went back to boarding school we used to compare how many movies we had seen. Some of us saw 45 films in 30 days. I used to live in Grant Road, in south Mumbai, which had the most theatres those days.
Rajesh Khanna was a phenomenon. Whether it was his way of saying 'Babu Moshai' in
Anand
or shaking his head in his own special way in a duet, he had us eating out of his hand. We used to wait for hours outside his home, 'Aashirwad' but never ever saw him.
Anand
,
Aradhana
,
Safar
,
Andaz
-- he died in so many movies, and we used to cry each time though we knew it was make believe. Today, he is really dead and the tears are not coming.
Instead of tears, memories are flocking in my head. Memories of Rajesh Khanna singing 'Mere sapnon ki rani kab ayegi tu from a jeep as he follows Sharmila who is in a train… Sujit Kumar drove that jeep.
Then I remember Roop Tera Mastana and Sharmila in a wet sari.
I loved him in Aap Ki Kasam. In Jai jai shivshankar, Mumtaz and he really swayed as if they were drunk with bhang.
Then he went on to accuse Mumtaz of infidelity and went around singing Jindagi ke safar mein guzar jaate jo makaam, wo phir nahi aate. I still remember him getting up covered in snow with a beard to make him look sad.
When Hathi Mere Saathi released, I was very happy that one of the elephants was called Ganesh. In Dushman he kills someone and has to work in his place. Meena Kumari was the woman he had widowed and I still remember him singing, Sabne maaf kiya hai mujko par mein huin jiska dosh.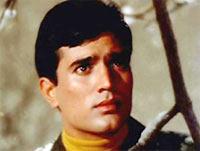 Rajesh Khanna was a phenomenon for his songs and his mannerisms. The quirky dimpled smile, the wavy hair, the backward steps in dancing and shaking his head even more than Dev Anand...
He was hardly an action hero but he did give us Apna Desh where R D Burman sang, Duniya mein logo ko dhoka kabhi jo jaata hai.
When he acted with Amitabh Bachchan in Anand, he walked away with the accolades but that was not the case later when they acted together in Namak Haram, where Amitabh matched him in every scene. Later, Amitabh dethroned him in his own inimitable way.
While Rajesh Khanna was the King of Hearts, Amitabh was the King of Action. Rajesh Khanna was remembered for his songs, Amitabh for his dialogues. The romantic young man gave way to the angry young man.
I saw it all sitting in the stalls. Deewar was the first movie where they did not sell the songs of the movie but the dialogues.
Then Rajesh Khanna drifted away into the wilderness.
His mannerisms, which were such a hit in the first place, now became a joke. People found them repetitive. We thankless fans just shifted our affection from him to Amitabh Bachchan.
When he married Dimple, boys were heartbroken because of Dimple and girls were heartbroken because of him. Two daughters later they separated but no one sympathised.
That both of them never married again is a matter of pride in these days of three marriages.
We read that he gave his producers and directors a bad time. He must have always done that, but earlier he also gave hits and so they tolerated him, now they did not.
He was a one-time Member of Parliament but he never did anything worthwhile there. Last saw him in that ad for fans where he said, "No one can separate me from my fans."
True, Kaka, no one can separate you from your fans and as long as your songs keep playing, we will always be your fans.
"Ek din sapnon ka rahi, chala jaye sapnon ke aage kahaan..."