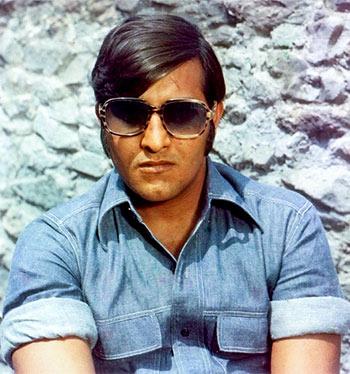 Aseem Chhabra sensed an internal turmoil in Vinod Khanna which sometimes showed the moody person on screen.
When I think of Vinod Khanna, I am reminded of his quiet brooding persona, the unemployed young man in Gulzar's Mere Apne (1971) -- left -- lip-synching to Kishore Kumar's song Koi Hota Jisko Apna.
He was tall and handsome, carrying the weight of heartbreak on his shoulders, his face.
He did not have a lot to do in that song, other than to project that tragedy, the loss that had led him to this point.
It was a reflective moment and films of that time period gave space to actors to play their emotions in a quiet manner, much like Rajesh Khanna lip-synching to Kahin Door Jab Din Dhal Jaye in Anand (released the same year as Mere Apne).
I always thought of Vinod Khanna as that sad man, even when he was performing in comic situations in Manmohan Desai's mega hit Amar Akbar Anthony.
Look at the Hum Ko Tumse Ho Gaya Hai Pyar song. Both Rishi Kapoor (Akbar) and Amitabh Bachchan (Anthony) are animated and jumping around expressing love to their girlfriends -- Neetu Singh and Parveen Babi.
But Vinod's Amar -- a cop -- is in a kurta pajama lying on a hammock reading a book while the woman he loves -- a subdued Shabana Azmi -- picks up clothes that were out in the sun. His Amar is not an exaggerated romantic character.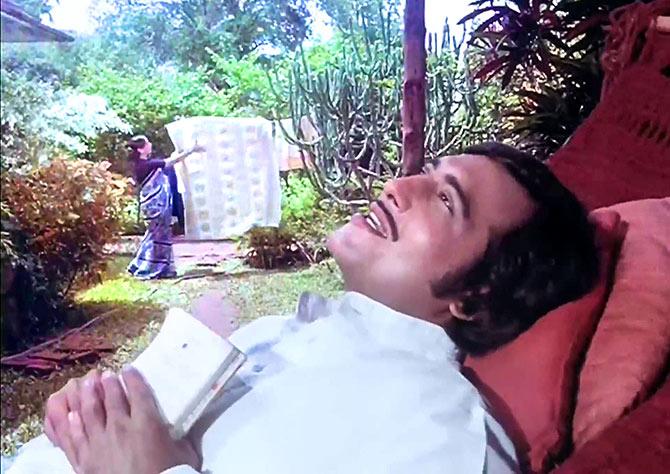 IMAGE: Vinod Khanna in the Hum Ko Tumse Ho Gaya Hai Pyar song in Amar Akbar Anthony, with Shabana Azmi in the backrground.
Vinod Khanna's death -- something that seemed imminent after a picture of his emaciated self was leaked to the media -- has chipped away a part of my teenage years. I am deeply saddened by the loss of an actor who enriched my life for many years.
It happens each time a star who I grew up with dies. And no matter how many films I watch with Ranbir Kapoor or Ranveer Singh, the stars of an earlier era have an edge that these young actors cannot replicate.
I never met Vinod Khanna, but I sense there was an internal turmoil in him, which sometimes showed the moody person on screen. I believe many filmmakers saw that in him and hence created characters -- at times supporting roles -- that balanced his louder, showy co-stars.
Even though he did played angry characters -- for instance, the dacoit Jabbar Singh in Mera Gaon Mera Desh -- he was more often the man who would lose the leading lady, in films like Chandni, where after many twists and turns that only Yash Chopra could conceive of, Rishi Kapoor is able to reunite with his love interest (played by Sridevi).
In Muqaddar Ka Sikander, Vinod Khanna's Vishal marries the love of his life, Kaamna (Raakhee), but his sweet win seems hollow in the face of Sikander's (Amitabh Bachchan) tragic death.
Or in Qurbani, where after all the action and implausible twists (the film feels rather dated now), Vinod's Amar makes the ultimate qurbani and dies, thereby making it easier for Sheela (Zeenat Aman) and Rajesh (Feroz Khan) to be together.
Vinod Khanna seemed happy to play the parallel hero, somewhat of a supporting actor to the other stars of that time.
People would talk about Vinod Khanna's rivalry with Amitabh Bachchan. The two acted in 10 films together and there was a chance of Vinod Khanna becoming a bigger star. They were both tall, rugged and handsome and could play angry brooding characters.
Vinod could have made it bigger.
But somehow that inner turmoil led him to make a strange choice. He started spending weekends at Osho Rajneesh's ashram in Pune.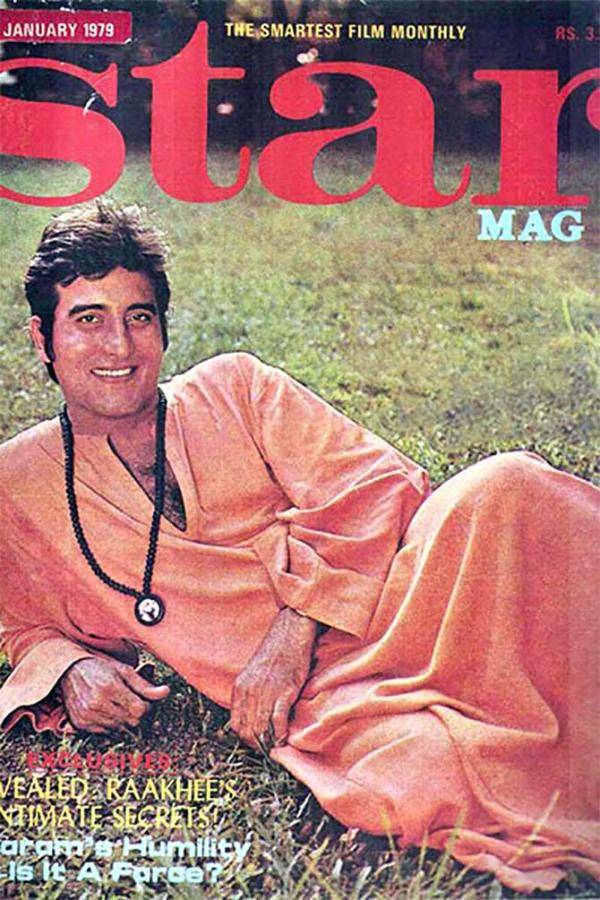 IMAGE: Vinod Khanna in the Star magazine.
Later, in 1981, when Rajneesh moved with his followers to Oregon, Vinod Khanna gave up everything -- including his first marriage -- and moved with the guru and his followers to the US.
In Oregon, Vinod became one of the regular followers of Rajneesh, chopping vegetables, cooking, cleaning dishes and doing other chores. He was not the star that India and Bollywood knew.
There were many images published of Vinod Khanna in simple saffron outfits: The Rajneesh uniform. One black and white image especially haunts me is of Vinod kneeling, his arms spread out, eyes shut and head tilted back. Rajneesh, who is seated on a chair, is blessing Vinod Khanna by touching his forehead.
There were a lot of controversies about Rajneesh, including his luxurious tastes in cars, but clearly Vinod Khanna was seeking something that he could not get from the Hindi film industry, fame and the star status.
By the time Vinod Khanna came back to Bollywood, the industry had changed.
He did some important work in films like Chandni and Lekin, where he reunited with Gulzar, but he was never able to regain the star status he was once heading towards.
He appeared in indie films like 99 and Leela, and that is where I liked him.
Those films gave the actor a chance to show a shade of what he was in the 1970s in remarkable films like Gulzar's Achanak and Mere Apne, Reshma Aur Shera and Purab Aur Pachhim (playing the drums in the song Purva Suhani Aayee Re) when he was young finding his space in the Hindi film industry.
He was then a fresh raw actor with a touch of sadness.
I liked that Vinod Khanna a lot.