'In the early years of this century, barely 10 years after liberalisation, drinking Coke was still cool,' notes Uttaran Das Gupta.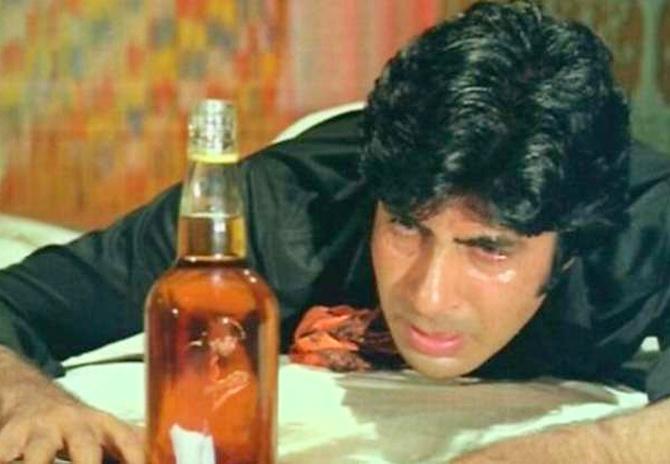 Contemplating a future in crime -- to be more specific, smuggling -- Vijay, an Angry Young Man character played by Amitabh Bachchan in Deewar (1975), sips slowly from a green bottle of whiskey.
To anyone acquainted with popular Hindi cinema of the 1960s and 1970s, the bottle is too familiar: VAT 69.
The brand was almost synonymous with Bollywood baddies. Bachchan's character in Don, an underworld boss, finds comfort in the amber liquid.
It is almost as if the villainy of the characters in these two films -- as well as those played by Pran, Prem Chopra or Ajit -- flowed from these bottles like Popeye's strength is sourced from spinach.
In Dil Diya Dard Liya (1966), Pran chugs an entire bottle of it; in Azad (1969) and Zanjeer (1973), Ajit -- famous for his sidekicks and molls -- can be seen sinisterly sipping the whiskey.
In Do Anjaane (1976), Prem Chopra -- playing the seducer Ranjit Mallik -- offered his easily inebriated friend Amit Roy (Bachchan) Black Label for a change but was soon back to VAT 69 in other films.
'We never got to drink the actual whiskey,' Chopra told the Hindustan Times in an interview in 2009. 'It was Coca-Cola which we actually got to drink.'
The thing is, he added, VAT 69 was the only branded whiskey people knew about.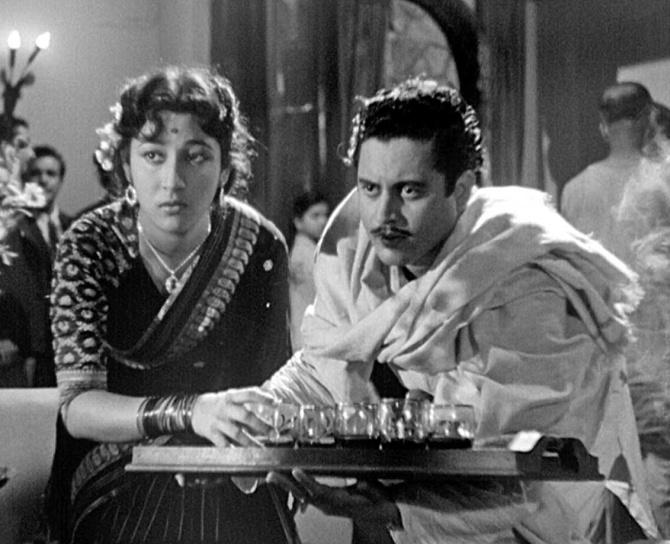 But this was not a drink for the morally upright -- or uptight, if you will -- hero of Bollywood.
Take, for instance, Guru Dutt's character in Pyaasa (1957); the bhadralok poet, also called Vijay, would not be caught dead drinking -- or drinking himself to death -- VAT 69.
'It was a drink that the smuggler gave the hero who was on the brink and battling his conscience,' director Mahesh Bhatt told The Times of India.
Its disappearance from the silver screen coincided with liberalisation, as imported whiskey became more easily available in the country and one did not need to be a smuggler to be able to get a bottle of single malt, or for that matter, afford one.
This current contemplation on brands and their onscreen associations was sparked by a recent news report on how Apple does not allow bad characters in films to use its iPhone.
Rian Johnson, the writer and director of the whodunit Knives Out (2019), recently revealed this in an interview to Vanity Fair.
In the film, starring Daniel 'James Bond' Craig, characters who are suspects are seen carrying the phone.
'Apple, they let you use iPhones in movies, but, and this is very pivotal, if you're ever watching a mystery movie, bad guys cannot have iPhones on camera,' Johnson said.
'Every single film-maker who has a bad guy in their movie that's supposed to be a secret wants to murder me right now.'
Of course, next time you are watching a mystery, you might want to eliminate suspects by checking out who is carrying the iconic device.
Brand associations of this nature can have an everlasting effect. For instance, the Aston Martin, which every James Bond -- from Sean Connery to Craig -- has driven.
The car made its debut as 007's favoured mode of road transport in Goldfinger (1964) and will be seen in the 25th Bond film, No Time to Die.
The source of this are the novels written by Ian Fleming, where he let the super spy drive this particular brand.
My favourite Bond car has to be the invisible one -- described as 'the ultimate in British engineering' -- that Pierce Brosnan drove around in Die Another Day (2002).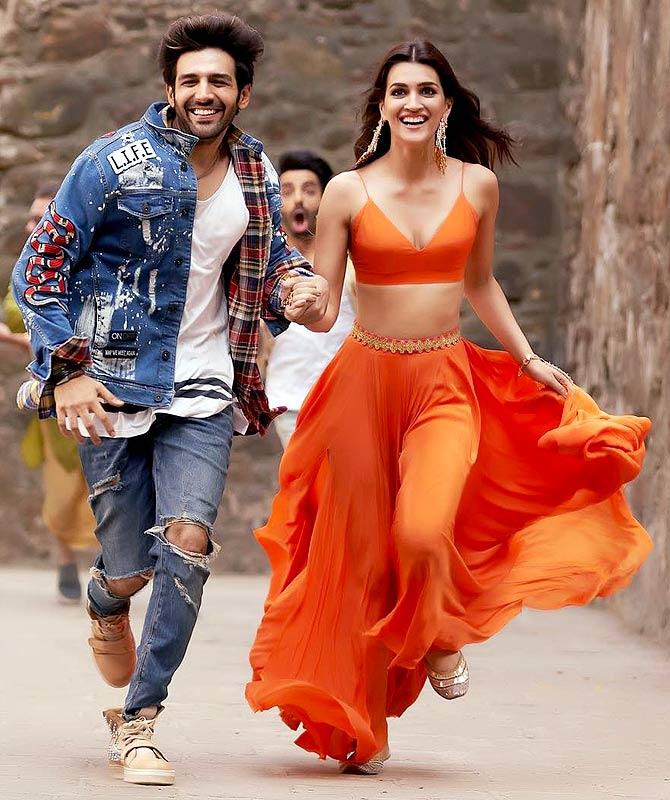 As VAT 69 ceased to be the preferred drink of Bollywood villains thanks to Liberalisation, Coca-Cola made a re-entry into the country and into the hearts of Bollywood aficionados.
A brief detour: In his last film, Agantuk (1991), Satyajit Ray, who had begun his professional career as an ad man, acknowledged the growing popularity of soft drinks with a brief exchange of dialogues on Thums Up.
Manomohan Mitra (Utpal Dutt), the stranger of the title, is offered a glass of the drink on arrival at the home of his niece Anila (Mamata Shankar).
'A replacement for Coke, is it?' he asks, adding to his grandnephew: 'I hope you don't spell thumb like this.'
Film director Subhash Ghai seems to have a close relationship with Coca-Cola: The popular drink served purposes of the plot in his films Taal (1999) and Yaadein (2001).
In the early years of this century, barely 10 years after liberalisation, drinking Coke was still cool; now, more health-conscious consumers are reluctant to have a carbonated soft drink.
Its popularity in Hindi cinema, however, remains undiminished: The 2019 Kartik Aaryan and Kriti Sanon starrer Luka Chuppi even had a popular Coca-Cola song.