Ariyippu drives home the point that nothing can force you to leave the path of righteousness, discovers Utkarsh Mishra.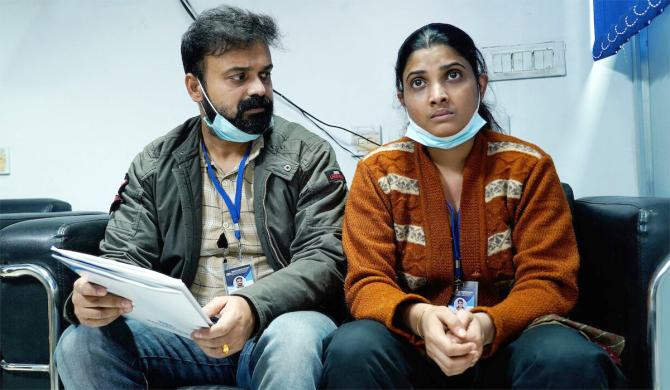 'Sometimes, to do what's right, we must be steady and give up the things we desire the most, even our dreams.'
'Whatever comes our way, whatever battle we have raging inside us, we always have a choice. It's the choices that make us who we are, and we can always choose to do what's right.'
These two quotes of Peter Parker from the Spider Man movies form the essence of Mahesh Narayanan's Ariyippu, or Declaration, that released a fortnight ago on Netflix.
The movie is a poignant portrayal of several dark realities of life -- from the day-to-day struggle for survival to relationship issues between husband and wife.
But ultimately, it's all about the choices that the various characters of the story make, each having their own rationale.
Set in the post-lockdown period, the story revolves around a Malayali couple working at a glove-making factory in Noida, Uttar Pradesh. There are trying to go overseas for better jobs, and hence, moved from Kerala to NCR as 'being in Delhi might make the process easier'.
At the outset, their biggest problem seems to be the pandemic-induced lockdown.
Soon, however, they are caught in a storm that is much bigger than this struggle to earn a living during such challenging times.
A 'skill video' that they shot illegally inside their factory in order to present them to prospective employers abroad, lands them in a trouble they could never have anticipated. They try to seek help from law enforcement. But being mere factory labourers in a city that doesn't speak their language, they are soon reminded of the magnitude of their helplessness.
They can still go down fighting, but they will go down for sure if they choose to fight.
Both of them have reasons to disbelieve each other, but only one of them chooses to do so -- not surprisingly, the man.
Up to a point, it seems justified.
But as the story progresses, he realises his folly.
Even after delivering such a blow to their relationship, he still gets a chance in the end to stand by his partner and undo the wrongs. But he refuses because the price to pay was forgoing an offer to work abroad.
The woman, on the contrary, realises that the price to pay for accepting the offer would be much bigger -- a moral compromise. So she makes her own choice, regardless of the consequences.
Although, she too makes compromises, she refuses to be benefited by them.
Rather, they result from her unwillingness to jeopardise the prospects of her husband.
The movie not only drives us through the economic and psychological struggles of the lower-income groups, it drives home the point that nothing can force you to leave the path of righteousness. It is always your choice to stop travelling on it, no matter how much you blame others or the circumstances.
It also shows remarkably that choosing to be righteous often gives only one thing in return -- the inner satisfaction of being right.
While the morally compromised can get a better life, they never get the peace of mind they thought they would.
Another major lesson that the movie tries to impart is that you don't need to know other people well to feel compassionate about them.
You can also feel compassionate for complete strangers.
But you can also let go of your compassion for your dearest ones on the pretext of being practical or pragmatic.
Once again, it is for you to choose.