Zwigato urges viewers to think critically about the kind of unethical behaviour that food delivery workers have to put up with on a daily basis because of insensitive customers, observes Chintan Girish Modi.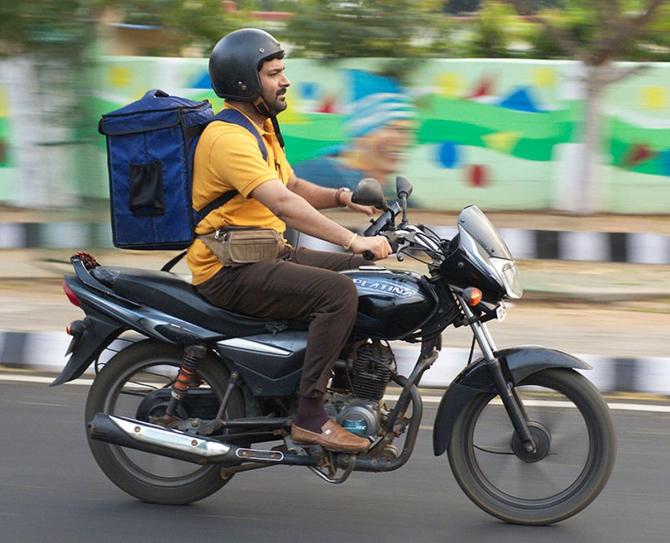 If you live in urban India, it might be hard to imagine a day without food delivery workers making life a little easier for people who are too tired to cook, or pressed for time, or simply without a clue about how to prepare a meal.
No wonder, then, that thoughtful and entertaining stories centred around the lives of food delivery workers are now being told through cinema.
Kapil Sharma, who first shot to fame as a comedian on television, plays a food delivery worker named Manas in the Hindi film Zwigato.
It got a theatrical release in India last month after screenings at the Toronto International Film Festival and the Busan International Film Festival in 2022.
Nandita Das has directed it and co-written the screenplay with Sameer Patil.
Manas works for Zwigato, a food delivery app that obviously takes its name from Zomato and Swiggy -- two of the biggest and most visible brands that have captured the food delivery business in India.
He has stumbled into this line of work after being laid off from his job as a manager during the pandemic.
He struggles to learn the ropes, especially the technological know-how needed to navigate a world of ratings and incentives tied to the app.
His daughter is embarrassed that her peers at school know what he does for a living.
They tease her about it ever since Manas landed up at their school principal's house to deliver food.
Manas is taken aback by the fact that his daughter does not think of his work as respectable, especially because he is doing it out of compulsion to make ends meet during a difficult time.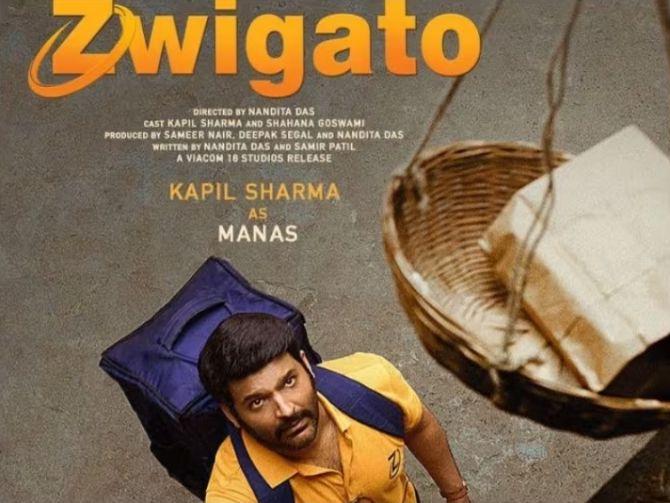 While watching this recently, I remembered a scene from the Tamil film Thiruchitrambalam (2022) written and directed by Mithran R Jawahar.
Dhanush plays a food delivery worker named Pazham who receives orders via an app called Doink.
Like Manas, Pazham is made to feel that his work is not important enough to garner respect.
He is mocked by friends of his childhood crush Anusha, played by Raashii Khanna, who he wants to date as an adult.
Her friends believe that Raashii and Pazham can never be equals because of class differences.
Thiruchitrambalam is a romantic comedy, wherein Pazham has two other love interests apart from Anusha -- Shobana (played by Nithya Menen) and Ranjani (played by Priya Bhavani Shankar).
Zwigato, on the other hand, is a piece of social commentary.
The relationship between Manas and his wife Pratima (played by Shahana Goswami), who works as a masseuse and a cleaner at a mall, is not the focus of the film.
It is explored subtly, in the larger context of their household that includes a son, a daughter, and Manas's mother.
Zwigato urges viewers to think critically about the kind of unethical behaviour that food delivery workers have to put up with on a daily basis because of insensitive customers.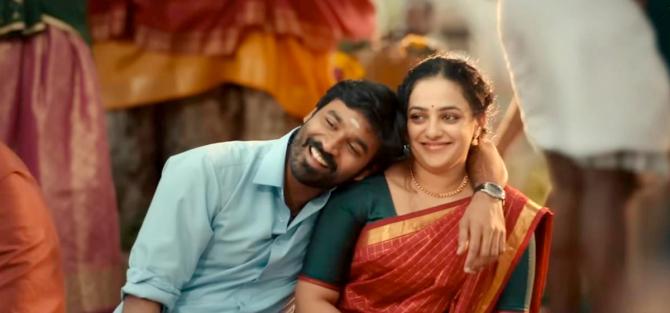 In one of the most powerful scenes in the film, Manas arrives with 20 boxes of food at an apartment.
Initially, he is told that he has made a mistake by bringing 18 boxes more than the two that were ordered and he must take the extra ones away.
Only when he insists that there has been no error from his end that the person who placed the order acknowledges her oversight and agrees to pay for the delivery.
Her boyfriend uses the Zwigato app to lodge a false complaint against Manas, claiming that Manas was drunk when he came to deliver the food.
As a result, Manas is not allowed to accept any new requests for food deliveries.
Later in the film, Manas has a heated exchange with a Zwigato official (played by Sayani Gupta) who is supposed to address the grievances of food delivery workers.
Instead of helping him out, she blames him for not using the app to complain about the customer.
Their interaction sheds light on the exploitative working conditions in an industry where there is no security, and workers do not have a fair chance to share their side of the story in case of conflict.
Since they are in competition with other workers, there is no unionising and collective bargaining either.
They are forced to work under the terms that are offered.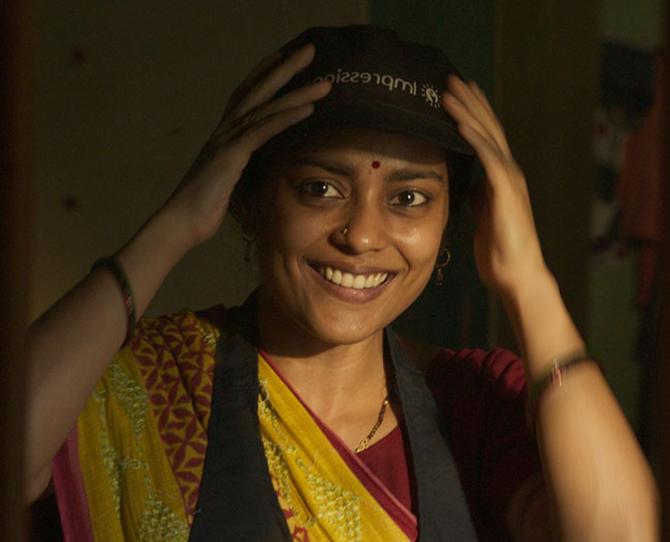 While Zwigato offers significant insights into the hardships faced by workers who are out on the streets day and night to ensure that people can eat whatever they want from the convenience of their homes or offices, the film also ends up conveying that they have an almost joyless existence.
It is only in the last scene of the movie that they get to breathe easy.
Thiruchitrambalam shows work as only an aspect of the worker's life.
He is a cog in the capitalist machinery, but also a dreamer and a man in love.
It emphasises that people of limited means hate to be fetishised for their suffering; they want to be seen as human just like everyone else.