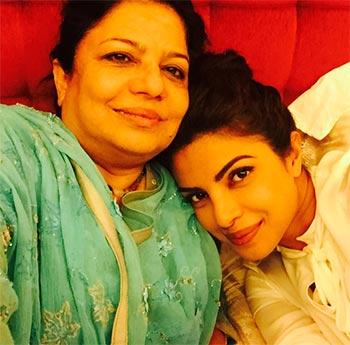 Something happened when stars joined Twitter -- the distance, the wall that existed between celebrities and fans broke down, says Aseem Chhabra.
Five years ago in January 2010, I was new on Twitter and it seemed like a fascinating world.
Priyanka Chopra, the first Bollywood celebrity to join Twitter, was in the US shooting her film Anjaana Anjaani and she posted a couple of tweets about the sunsets in New York City. She had about 150,000 followers at that time.;
Karan Johar also joined Twitter, and he encouraged Shah Rukh Khan, among his other friends, to join the social media site.
Khan had 86,000 followers in the first three weeks he was on Twitter. Now he has 10.8 million followers, about 2 million less than Amitabh Bachchan.
Something else happened when these stars joined Twitter -- the distance, the wall that existed between celebrities and fans broke down.
When I was a teenager, I wrote fan mails to Shashi Kapoor and Sharmila Tagore. Everyone in our school had managed to get their mailing addresses.
A few months later, I received two cheesy postcards from the stars with their touched-up photographs and their printed 'handwritten' messages.
Image: Priyanka Chopra shares a photograph of herself with mum Madhu on Twitter.
Then India discovered celebrity gossip magazines. There was a time when I would devour every page of Stardust, and get all the gossip.
But still there was a wall.
No one knew how much truth was printed on those magazine pages.
Twitter broke down the barrier and suddenly anyone could follow Chopra and Khan. Fans started sending them messages, begging for personal tweets.
And what did we learn about the stars in those early days? We learned some fairly mundane things about the stars. I remember a tweet by Abhishek Bachchan that he was shooting across the street from Preity Zinta's apartment. I do not know if they met that evening.
Shah Rukh had asked Johar to send Barkha Dutt a t-shirt of My Name Is Khan.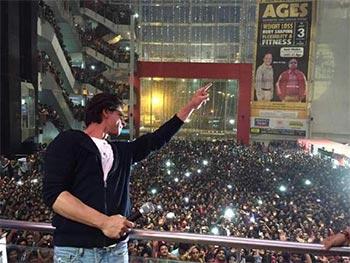 Shah Rukh revealed in an early tweet that he had a snoring problem and he planned to tape record himself to understand his breathing issues while he slept.
Gosh, I thought, the man who played Raj, Rahul, Devdas on the screen, snored in real life? This was too much information!
Johar revealed details about his life too. Stressed out with the post-production of My Names Is Khan, the director declared at one point that he needed a therapist. So, SRK wrote to his followers to leave nice messages for Johar since the director was down and needed some cheering.
Sleep was the single most important issue the stars talked about in those days. They would wish their fans good night, and often complain that they did not get enough sleep.
Ritesh Deshmukh slept only four hours before he ran a part of the Mumbai Marathon.
Farhan Akhtar was so full after a biryani lunch on his father Javed Akhtar's birthday that he was ready to take a nap.
A year later, Abhishek used Twitter for an important announcement -- that his newborn child was a baby girl.
Image: Shah Rukh Khan shares a picture of himself celebrating his birthday with his fans on Twitter.
A lot has changed since those early days on Twitter. Many Indians have joined Twitter and are following the stars. The stars have also become savvier. There is less personal stuff, although Khan still talks about his kids.
When Khan and Johar took a hiatus from Twitter, their fans seemed concerned. They were back after a few months, but tweeting much less.
Some like Madhuri Dixit and Akhay Kumar clearly have people on their teams posting on their Twitter accounts. Their tweets appear rather impersonal and boring, like public relations announcements.
Amitabh Bachchan tweets himself.
Govinda recently re-tweeted (or more like he had one of his staff members re-tweet) every birthday wish he received on Twitter.
The stars often use Twitter to wish each other good luck when new films are opening. They also use their accounts to promote their own films in a big way.
Recent tweets by Aamir Khan were all about PK, including a daily countdown he ran. But in between the PK promotion, Aamir revealed a little something about himself -- that he can also be starstruck when he meets a Hollywood star, like Arnold Schwarzenegger.
Perhaps those tweets and his picture with Schwarzenegger gave Aamir a human face, making him more like the rest of us.
But Twitter also has a drawback.
As the Bollywood stars have become more accessible on Twitter, their images have been greatly diminished. They seem rather regular often behaving in less than star-like manner. Their aura now is less apparent.
The fan in me sometimes longs for the pre-Internet days, when all I had were celebrity magazines to rely on for my Hindi film gossip fix.