'While censorship of any sort is anathema to the creative spirit, political correctness has become more and more the norm rather than the exception,' notes Uttaran Das Gupta.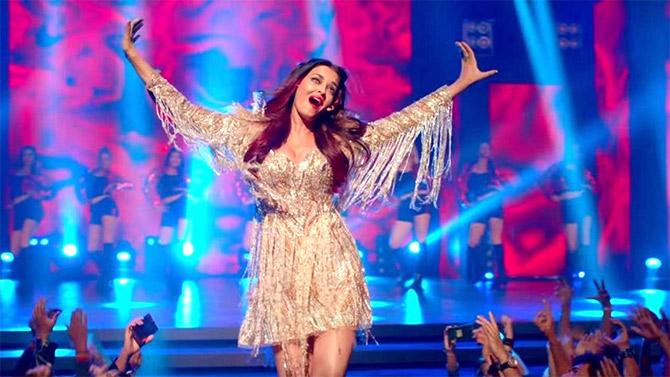 The makers of the Anil Kapoor-Aishwarya Rai starrer Fanney Khan may assert that they could not premeditate how the song Mere Achchhe Din Kab Aayenge? (When will my good days come?) would provoke political controversy till the cows come home, but one must take it with a pinch of salt.
The phrase 'achchhe din' was effectively used by Prime Minister Narendra Damodardas Modi and his team in the run-up to the 2014 Lok Sabha election, and has since provided ammunition to his detractors who have lost no chance to remind him and his government that they have not quite been able to deliver the promised welfare.
The makers of the film can hardly claim they were unaware of it. According to some news reports, they decided to release another song, Mere Achchhe Din Hain Aaye Re (My good days have come) after phone calls from 'high places' informed them that the powers that be were miffed at how the first song was being used by the government's critics.
There is no confirmation on this, but Fanney Khan and its controversial ditty are not the first ones to provoke offence, which is undoubtedly our national pastime and spreading quicker among us than ebola, in recent times.
Back in 2007, Madhuri Dixit's comeback venture, Aaja Nachley had to drop the word 'mochi' (cobbler) from its title track after cobblers objected that it was offensive to them.
Two years later the words 'Teli ka tel' (oil from an oil seller) had to be changed to 'Delli ka tel' (oil from Delhi) in Vishal Bharadwaj's Kaminey after another community, this time that of oil sellers, took umbrage at how they were being represented.
The title of the 2009 Shah Rukh Khan-Irrfan Khan film Billu Barber was also changed to Billu.
Another few years later, Dhobi Ghat, a collaboration between Aamir Khan and his wife Kiran Rao, came under fire because the Hindustan Kanojia Organisation of Dhobis, which represents washermen, filed a public interest litigation in the Delhi high court, claiming that the name of the film violated the provision of the Scheduled Castes and Scheduled Tribes Act, which forbid people from referring to others by their caste.
The PIL also sought a ban on film titles that made references to caste, but it was dismissed.
There is perhaps some merit in taking offence in some of these cases, especially those with references to caste.
While censorship of any sort is anathema to the creative spirit, political correctness has become more and more the norm rather than the exception.
In the past couple of decades, as identity politics have gained prominence in the country, more and more people have become sensitive to their caste names, which have been used as tools of oppression throughout history.
Yet, while objections to perceived caste slurs is unexceptionable, one does at times get the feeling that the exercise of taking offence becomes too convenient if they coincide with the release of a film with big stars.
The bigger the stars, the bigger the offence.
However, there can be little, if any, justification for a government to try and influence (or censor) artists for critiquing it and its policies, as it has purportedly done in the case of Fanney Khan.
The Bharatiya Janata Party-led National Democratic Alliance government has often been accused of intolerance, often rightly so, but its predecessors were no better.
One is reminded of the delightfully comic political satire, Kissa Kursi Ka, directed by Amrit Nahata, MP, and released at the height of the Emergency.
The film, starring Shabana Azmi and Utpal Dutt, lampooned Sanjay Gandhi's plans for setting up an auto-manufacturing unit, which would later become Maruti Udyog.
Tripping on unbridled power granted to him by the political machinations of this mother, then prime minister Indira Gandhi, Sanjay had already started calling the shots even in notoriously apolitical Bollywood.
Kishore Kumar was banned from All India Radio programmes from 1976 and Gulzar's Aandhi was banned right before the Emergency.
But, the censorship unleashed on Kissa Kursi Ka was of a different magnitude: Sanjay Gandhi and then information and broadcasting minister Vidya Charan Shukla oversaw the burning of the film's prints.
The move would backfire as the Shah Commission set up by the Janata Party government in 1977 found Sanjay and Shukla guilty of the crime.
There is perhaps a lesson for rulers in this tale: Governments come and go, and when in power, they use all forces at their command -- the carrot, the stick -- to suppress dissent and censor criticism.
Works of art, especially the good ones, however, often find ways of surviving inclement regimes.
So perhaps it is prudent for the powers that be to reform themselves. This might ensure their longevity rather than the tools of censorship.