John Wick's Amar Akbar Anthony connection, filmi fundas from Gabbar Singh and the best Bollywood songs of 2017 so far...
Everything you need to know about Sukanya Verma's Super Filmi Week.
Monday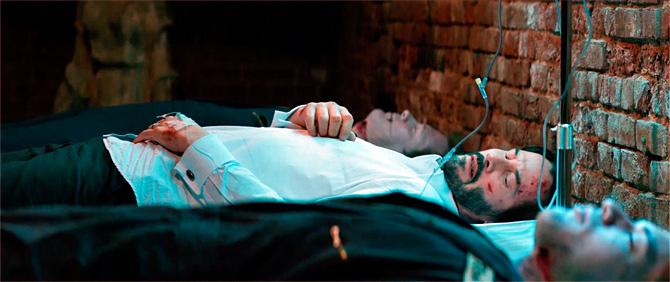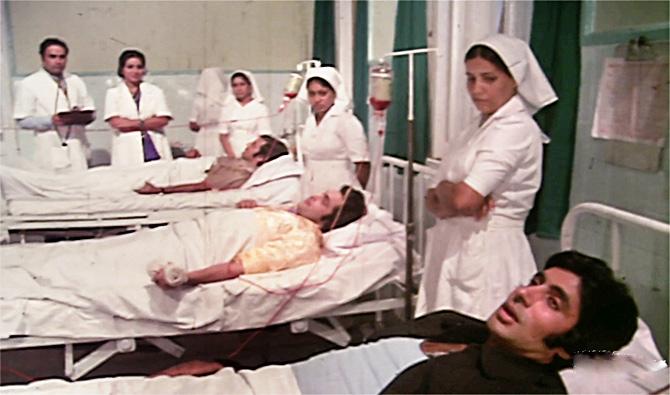 You know you've grown up on a healthy diet of Hindi films when a scene in John Wick: Chapter 2 makes you think of the iconic blood transfusion moment in Amar Akbar Anthony.
In the Keanu Reeves sequel, our badly injured action hero is lying on a cot between two dead guys with a drip and everything. Not exactly the same thing but you get the drift-- Bollywood and bizarreness go hand in hand.
I am pleasantly surprised when the first person to comment on my Facebook post sharing the imagery's likeness in a private group is someone closely connected to Manmohan Desai's 1977 classic.
The legendary actor Pran's son, filmmaker Sunil Sikand worked as an assistant director on Amar Akbar Anthony.
Amar Akbar Anthony's merriment wasn't limited to screen. Its on-the-sets atmosphere, he tells me, was even more fun.
Amitabh Bachchan's hilarious antics as Anthony Gonsalves, especially the talking to a mirror in drunken state scene, had everyone in splits.
And the coolest bit of trivia I learned during our brief chitchat is that MD and his team hosted a lunch for the distinguished Italian director Michelangelo Antonioni -- I am guessing he was in India to shoot his short film on the Kumbh Mela (talk about lost and found)-- on the sets of its climax sequence -- the groovy title song that says cheers to secularism like few have or ever will.
Tuesday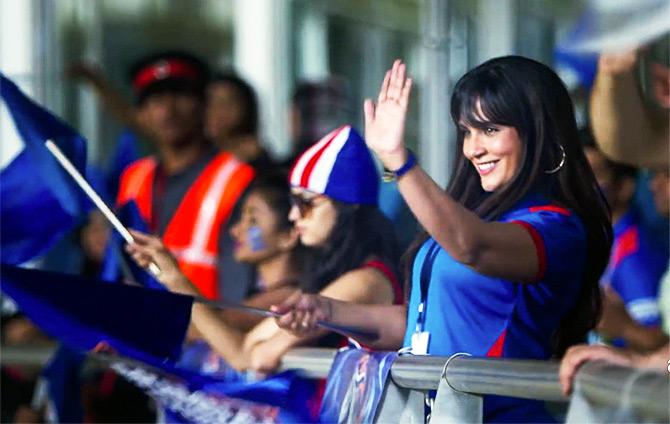 Started watching Amazon Prime's original series, Inside Edge -- a saucy, sensationalistic take on the high stakes action of a T20 cricket team.
Four episodes down, six more to go and I find it to be watchable for the same cheese value that's become a Madhur Bhandarkar patent.
The show, no matter how much it screams fiction, gets its cheap thrills and plot points by modelling itself around familiar faces and hearsay.
Except its intensity is directly proportional to the extent of their depravity.
I am completely put off by the way women are written into this show -- every single one is a shoddy stereotype.
Inside Edge, directed by film critic turned filmmaker Karan Anshuman, looks glossy and moves at a swift pace, never allowing the viewer to dwell too long at its campy insights or laugh too hard at its sloppiness.
Will report with finality after I finish the rest.
Wednesday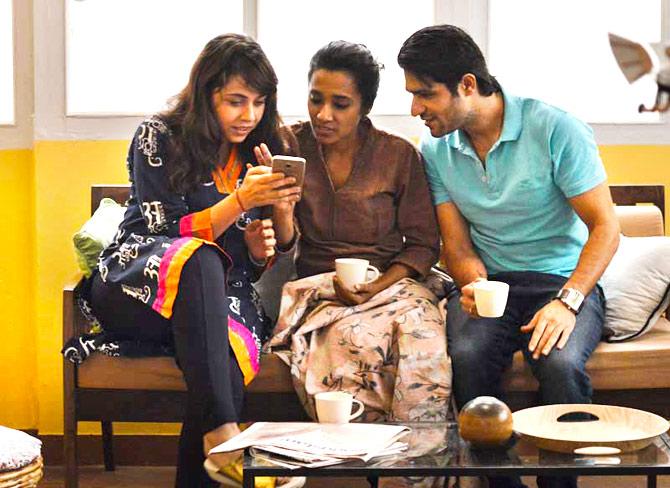 The digital streaming space is an ideal platform to both create and access unique content.
Director Bikash Mishra, whose Chauranga was adjudged Best Film at the 16th Mumbai Film Festival in the India Gold category, uses it to highlight the opinionated extremes spurred by social media in Guy in the Sky.
Available on Hotstar, the film takes its inspiration from Kannada playwright C S Kambar's 1983 play Harakeya Kuri and relies on the combined heft of Tannishtha Chatterjee, Maanvi Gagroo and Sunny Hinduja to keep the viewer hooked through its little more than an hour running time.
Just as an urban married couple cope with the realisation that they are not quite on the same page as far as their political ideologies are concerned, a rude intrusion will test their allegiance for better or worse.
Mishra's pertinent humour and nifty direction satirises the dangerous consequences of bigoted views impartially, effectively.
Thursday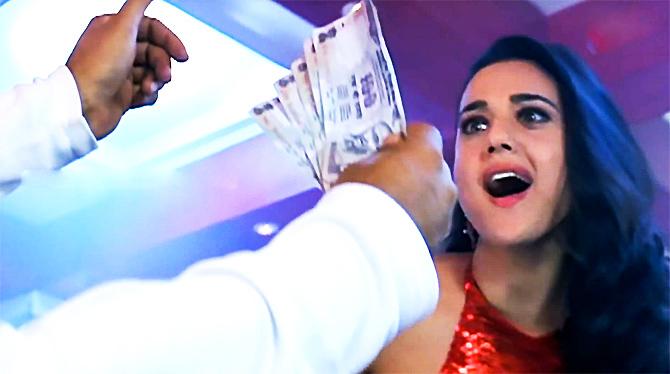 While searching for a spare notepad to make notes at the Shab screening later today, I stumble on an old diary from 2008.
It contains a daily summary of everything I saw and did during my extensive trip to the UK that year. One of the pages mentions an amusing instance while dining at a restaurant in Edinburgh.
With haggis jumping out of every today's special and tired of binging on cheese, potato and pasta, my family and I decided to give into our roti craving and headed to an Indian restaurant close to our hotel.
Not sure what it was called though -- Taj Mahal, maybe Raj Mahal?
It was an elegantly done eatery with a really sad taste in music -- super lame dhinchaak Bollywood ditties.
The enthusiastic chap waiting on us happened to be a Bangladeshi and expressed his deep regard for all things Indian (and Hindi films) on identifying us as one.
Not once did I imagine he'd ask me to translate the song playing in the background.
Of all the songs in the world, it had to be pop star Anaida provocatively crooning to Chori Chori Chupke Chupke's Diwani Diwani (external link).
For the uninformed, it's a trashy bar number with lyrics like Jis mehfil mein jaon jadoo aisa chalaon/Sab mujhe bole, hai re aaja re aaja.
Except this guy was so genuine in his request and oblivious of its insinuation that I had to oblige.
And so I gave him the most sanitised version of the same -- Pahlaj Nihalani would approve -- and steered clear of Indian restaurants for the rest of my stay.
Friday
This week's releases -- Shab and Jagga Jasoos -- could not be more different.
While it's always nice to see Raveena Tandon back in the spotlight, it's also disappointing when the movie turns out to be a big bore.
And that's pretty much what the usually reliable Onir's latest offering is.
Although I should probably check out those quaint looking restaurants he filmed across Hauz Khas and Mehrauli while I am still in the capital.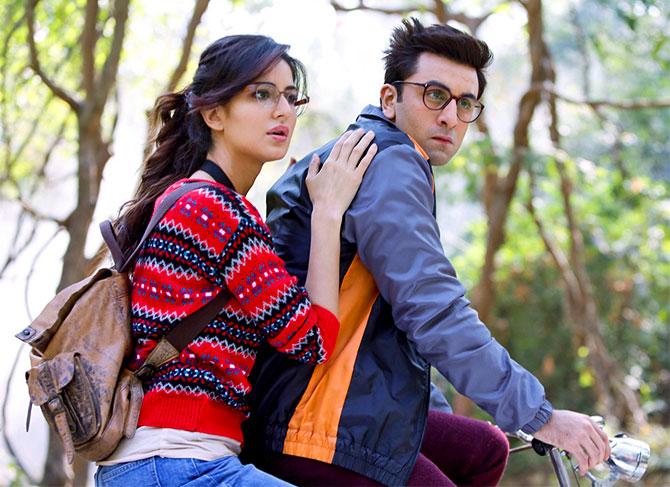 As for Jagga Jasoos, it's a shame that Ranbir Kapoor-Katrina Kaif's zany adventure is not finding its audience. At least that's what the empty PVR I watched it in seems to suggest.
Even as I rave about its creativity in my review, a lot of friends share their distaste for the film's whimsical energy and increasing instances of people walking out mid-way.
Saturday
Grey skies galore, yet no sign of rain.
All show, no shower, what a dull start to the weekend.
And so I am beating the blues by playing Hindi songs ,strong>I liked most in 2017 so far and testing the efficiency of my new Bluetooth speaker.
Here's my playlist in no particular order of favourites:
Zaalima, Raees
Yeh Ishq Hai, Rangoon
Sahiba, Phillauri
Baarish, Half Girlfriend
Jee Lein, OK Jaanu
Maana Ke Hum Yaar, Meri Pyaari Bindu
Dil Ullu Ka Patha, Jagga Jasoos
Humsafar, Badrinath Ki Dulhania
Safar, When Harry Met Sejal
What's yours?
Sunday
Surfing movie channels has thrown me in a reflective mood.
Films are full of wild fundas. Some of them are so deeply entrenched in our system that we don't even realise until we subconsciously start following them.
Like Shah Rukh Khan's 'Palat' philosophy? I totally bought it.
Not from SRK, but his co-star Nana Patekar in Raju Ban Gaya Gentleman who shared the exact same beliefs three years before Dilwale Dulhania Le Jayenge.
As a kid, I truly thought Gabbar Singh's 'Jo dar gaya, samjho mar gaya' was the last word.
Every time I passed a dangerous looking mutt on the street, I was convinced he will sense my unwarranted fear and pounce on me right then and there.
My apologies to all the lovely pooches for judging them so unfairly.
In recent times, the view that Toote hue dil se hi sangeet nikalta hai in Rockstar has fascinated me the most.
I try to hear the profound, concealed pain in every good singer's riveting rendition.
Most times it's a mystery, occasionally there's a breakthrough.