Of all the Indian films screened in Toronto, three stood out for Aseem Chhabra -- A Death in the Gunj, Mostly Sunny and An Insignificant Man.
"There are so many films from India this year," my friend La Francis Hui, a film curator at the Museum of Modern Art, said to me. We were seated for the North America premiere of a Nepali film White Sun playing at the Toronto International Film Festival.
Hui was right. This year TIFF programmers were very generous by bringing quite a few films from India and those directed by filmmakers of Indian origin.
IMAGE: Lupita Nyong'o in Mira Nair's Queen of Katwe.
Mira Nair's Disney production Queen of Katwe premiered at TIFF before its theatrical release on September 23.
And Deepa Mehta -- a regular fixture at TIFF -- brought her controversial new film Anatomy of Violence to the festival.
Actress Konkana Sen Sharma surprised everyone with her first directorial venture, an ensemble piece, A Death in the Gunj.
Plus there were films by Indian masters Adoor Gopalakrishnan (Once Again) and Buddhadeb Dasgupta (The Bait).
Also, for the first time four documentaries about India were shown at TIFF -- India in a Day, The Cinema Travelers, An Insignificant Man and Mostly Sunny.
Serbian director Goran Paskaljevic had an India-based film at TIFF, Dev Bhoomi: Land of the Gods (starring Victor Banerjee).
Indian-American filmmaker Vikram Gandhi showed Barry, a take on Barack Obama's college days. And finally Australian director Garth Davis had his film Lion (with Dev Patel).
A Weinstein Company release, Lion created a lot of Oscar buzz at TIFF.
Of all of these films, three stood out for me -- A Death in the Gunj, Mostly Sunny and An Insignificant Man.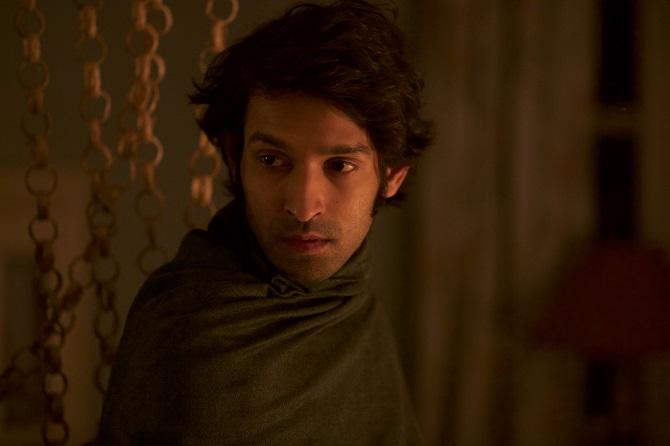 IMAGE: Vikrant Massey in A Death in the Gunj.
A Death in the Gunj opens with two men stuffing a dead body they have picked up from a morgue into the truck of a car. But then we are not sure if there are only two men or three. The mystery will be revealed at the end of the film.
Gunj is set in the late 1970s in McCluskiegunj, a vacation resort near Ranchi. A family arrives and spends a weekend with elderly parents (a luminous Tanuja and Om Puri). And there are neighbours and old friends.
Much of the film has the group of friends played by Tillotama Shome, Gulshan Devaiah, Kalki Koechlin, Ranbir Shorey, hanging out, eating, relaxing, drinking, flirting and even holding a seance.
And then there is one odd man in the group -- Shutu (a heartfelt performance by Vikrant Massey) who has had a series of unfortunate incidents in his life which is now layered with lies.
As the title suggest, the sense of death and ghosts looms largely over all of these characters. But we will only keep guessing who amongst the lot will actually die.
Sharma takes her time unfolding the plot, but the leisurely pace of the film is very engaging given that all the actors get a chance to shine.
Gunj is an amazing achievement for Sharma, who until now is known as one of India's leading actresses. It is a wonderfully assured directorial debut and a promise that she will deliver many more such exciting films.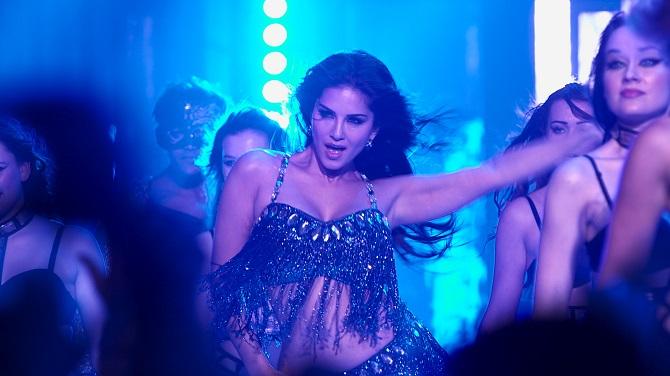 IMAGE: Sunny Leone in Mostly Sunny.
Towards the beginning of Mostly Sunny, director strong>Dilip Mehta's perceptive and entertaining documentary on actress and former porn star Sunny Leone, the director interviews Suhel Seth, media commentator, consultant and socialite.
In the interview, Seth points out that the reason why Leone was able to transition so smoothly into Bollywood films (well, after a few hiccups) is because she is married and that gives her the sense of respectability in the minds of Indians.
It is an interesting observation by Seth. Throughout Mehta's likeable film, Leone talks about her husband Daniel Weber. He is often sitting besides her when she talks with much honestly about her work in the adult entertainment industry, her family life (including some deeply sad stories about her parents) and her attempts to transition into Bollywood.
She makes it very clear -- she loves her husband, has loved him for a very long time and he never had issues with her work in the adult entertainment industry. In fact, as we learn from some rather amusing anecdotes, Weber and Leone acted (or rather performed) in a few of the adult films, and later also launched their own hugely successful production company.
For Mehta, the film is a real coup, getting close to and understanding the most Goggled woman in India and to follow her career -- or two parallel careers -- in the US and then in India.
Leone may not have much acting talent, and I wish Mehta had talked a little bit more about her Bollywood work and placed her in the context of her peers, actors like Deepika Padukone and Priyanka Chopra. But although she lacks acting talent, Leone more than makes it up with her charm.
There is no doubt that Leone is very beautiful. She talks very intelligently, the camera loves her and it is hard not to care for this very independent spirited woman who continues to chart her life on her own terms.
Mostly Sunny is a must watch film!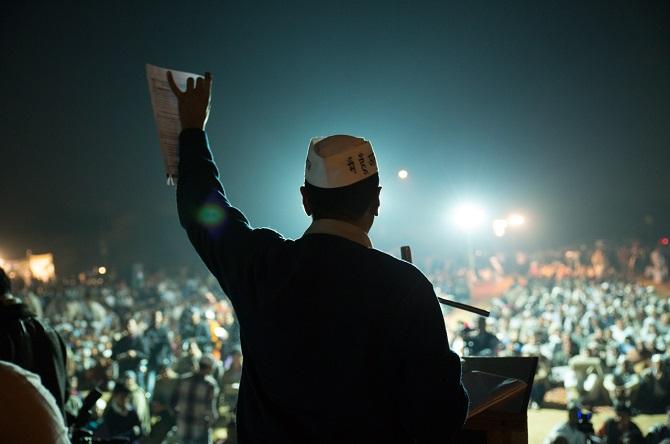 IMAGE: A scene from An Insignificant Man.
On India's current political landscape Arvind Kejriwal is an anomaly -- a former income tax officer who despite a successful anti-corruption campaign, failed to convert the mass support into any results.
And then in his 40s he decided to become a politician and launch a political party.
The jury is still out on whether Kejriwal has really succeeded as a politician. Despite the massive support he has received from the electorate in Delhi, his politics is often coloured by the errors in judgment that he and his Aam Aadmi Party members continue to make.
But filmmakers Khushboo Ranka and Vinay Shukla are not interested in passing judgment on Kejriwal. Their remarkable documentary An Insignificant Man (Kejriwal says towards the end of the film 'Main ek mamooli aadmi hoon') is a terrific record of the making of a politician and a political party in India, given that most people join politics at an early age or they inherit their base from the famous family name.
A riveting film, An Insignificant Man ends with Kejriwal being elected as Delhi's chief minister for the first time. And while we know how the story will unfold, at every step of way we are gripped with a sense of suspense and excitement.
A rare political film from India, An Insignificant Man needs to be seen by all -- Kejriwal's supporters and detractors.
It is a fine lesson about why more good intentioned people should join politics, but also a fair warning about the rough road such people have to travel on.