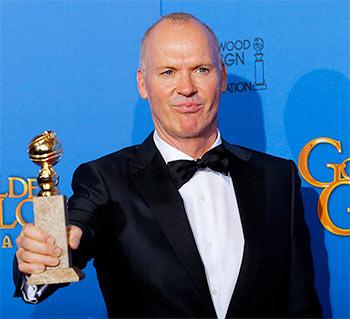 'This is the year of the three Bs -- Budapest, Boyhood and Birdman -- and if you love the movies, one or all three of those will feature in your top bracket in English language cinema this year.'

Raja Sen takes stock of the 72nd Golden Globe awards.
Here's a theory.

What if the Hollywood Foreign Press Association doesn't exist?

No, I mean the crew of hangers-on and collectors of celebritified selfies are actual people, of course, but what if the jury's been replaced by a couple of kids reading Internet trends?
Image: A scene from The Grand Budapest Hotel
That would explain, in no small part, the crowdpleasing Golden Globes we had this year and, indeed, last year.

The last few years have seen the right mix of winners.

We've had Globes which awarded the films with the right buzz, awards that threw up just the right amount of surprise, awards which made sure not too many films went home empty-handed.

They've been fan-favourite awards, with a deviation or two every now and again, but essentially awards we can't fault.

How, for example, can we possibly fault Wes Anderson's lovely The Grand Budapest Hotel winning a Globe for Best Motion Picture (Comedy/Musical) even though fellow competitor Birdman had already shunted it out in the Best Screenplay and Best Actor categories?

No, fans of both movies were satisfied with their respective wins, and them -- and mostly everyone else -- clapped in unison for Boyhood.

I tell ya, someone at the Globes is looking over satirical op-ed pieces and doing a lot of checkbox-analysis.

This clearly isn't the work of an otherwise awful jury.

No complaints, of course, save for the one voiced by Meryl Streep at the end of the telecast: whatever will we do without Tina Fey and Amy Poehler?

Over the last three years, from high-fives to drunk jokes to sharp jabs with targets as diverse as Cosby and Clooney, the ladies have entertained us with genuine wit, sharpness and -- despite all the bawdiness -- great elegance.

They have, as the Seinfeld episode said, Grace.

And we'll miss 'em.

It may as well be, as Poehler kidded, the final Golden Globe awards.

Coming back to the films, here's what you really need to know: this is the year of the three Bs we already mentioned -- Budapest, Boyhood and Birdman -- and if you love the movies, one or all three of those will feature in your top bracket in English language cinema this year.

Every award show is going to give these great, great films a hand (or a handful) and all we need to know is despite the fanatical infighting and personal preference, they're all films worth toasting very warmly indeed.

The rest of the field for the rest of the Oscar-season is mixed, with great films like Whiplash forced to stand alongside feeble fare like Cake.

Will Interstellar show up to the awards banquet at all? Will there be a surprise nomination for genuine wit in a blockbuster, like Guardians Of The Galaxy or The Lego Movie?

Will that laborious Foxcatcher or Angelina Jolie's Unbroken end up winning things?

Will Benedict Cumberbatch lose to Eddie Redmayne at the Oscars? Will Selma win nothing?

These are all questions of tremendous filmgeekery, but what the Globes have shown with their (well-curated) mixed bag of winners is that despite personal favourites, this has been a year with diverse kinds of champions, and much applause to them for singling out work like Transparent, The Honourable Woman, Still Alice, Jane The Virgin and The Affair.

So much fine work has gone on in film and television this time that everyone can't make the ballot, but these are names we need to point at and explore, and try to find new favourites instead of only clinging on to old loyalties.

Following Kevin Spacey's example, let's all look to be "better."

Image: Michael Keaton. Photograph: Mike Blake/Reuters