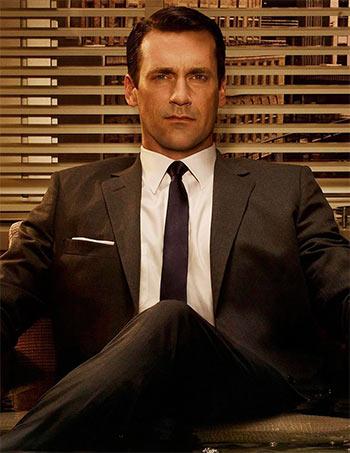 Image: Jon Hamm as Don Draper in Mad Men.
'That Mad Men is currently the best-written show and quite unlike anything else out there is an understatement.'
As Mad Men draws to a close after eight seasons, Aseem Chhabra gets ready for the finale.
This Sunday I met my dear friends again -- Don, Peggy, Joan, Pete, Roger, Megan, Ken, Harry, Sally and even Betty, even though I find her quite annoying.

They are all characters that Matthew Weiner created for his hit show Mad Men in the summer of 2007 and they have stayed with me since then.
They may be characters from a television serial, but as far as I am concerned, they are real people.
I know them very well.
They have grown in front of my eyes over the last eight years.
They are flawed human beings -- they have cheated, lied, loved, hated and competed with each other. But I believe they have grown to be stronger persons, as America itself has struggled through tumultuous decade of the 1960s.
Yes, I believe all of Weiner's characters are regular people who have been visiting me in my living room.

I am very fond of them, and I will miss them terribly once they are gone for good when the show ends mid-May.
The landscape of cable television and sites providing streaming services is littered with shows.

Once the prerogative of the likes of HBO and Showtime, the market has been taken over by Netflix and upstarts like Amazon, etc. And thanks to Netflix's innovation, fans do not have to wait for 13 weeks to live through a season of their favourite shows.
The entire House of Cards, Orange Is the New Black or my new obsession Bloodline is available to be seen over one weekend. It seems the term 'binge watching' was coined for our times.
But there was a time when loyal HBO fans lived through many years and seasons of their favourite shows like The Sopranos, Sex and the City and Six Feet Under. These shows upped the ante for good drama and programming, and definitely gave quite a challenge to Hollywood.

People still say the best cinema/ drama is on cable television or now on Netflix.
We would watch the shows over several weeks (or more regularly on HBO on demand) and then wait a year for our favourite characters to return the next year. Often, a show's status would be in limbo, while the cable channels would decide whether to renew the programme or to kill it. The Killing, a terrific show on AMC, inspired by a Danish series, was eventually canceled and then it found new life on Netflix.
Man Men went through that trauma also.

Initially, the show's audience numbers were small, but they picked up once Netflix started streaming older episodes.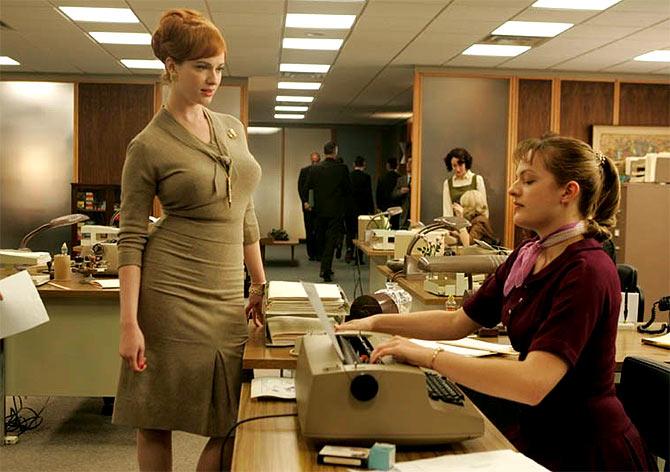 Image: Christina Hendricks as Joan Harris and Elisabeth Moss as Peggy Olsen in Mad Men.
That Mad Men is currently the best-written show and quite unlike anything else out there is an understatement.
So we were brought into the world of advertising as it once used to exist on Madison Avenue, where smart people would spend all day drinking martinis and whiskeys in their offices or at the local bars, and then strategise on how to get more Americans to smoke cigarettes, fly on airplanes and even vote for Richard Nixon.
Weiner created the show with perfect period details, from clothes to the excitement of the early flights across the American continent -- from New York City to Los Angeles.
His women characters, especially the strong Peggy Olson and Joan Harris, were set to break the class ceilings, while married men liked Don Draper, Pete Campbell and Roger Sterling tried to escape the dullness of their suburban lives and had affairs on the side in Manhattan.

They made mistakes, but they also tried to make amends.

We got angry at some of them -- Don, especially, for all his philandering. But Weiner also made us care for them.
There is a quote from Weiner on display at the terrific Mad Men exhibit currently on at the Museum of Moving Image in Astoria, Queens, New York City. The quote reads: 'The show is about using advertising to talk about the human condition; it's always used metaphorically as an expression of what's going on with the characters.'
During the decade the show is set in, America and Americans went through one life-changing experience after another: The assassinations of John F Kennedy, Robert Kennedy, Martin Luther King, the election of Nixon and Neil Armstrong's walk on the moon.

The fact that Weiner's characters watched, experienced and reacted to these dramatic moments on their black and white television sets made them just like all of us, although they lived in a different time period.
I recognised the characters on Mad Men very well, having seen and worked with their counterparts three decades later in large American corporations, in media companies like Reader's Digest, the old CBS Records, which eventually became Sony Music, Conde Nast, and even American Express.

America's work ethos had changed a lot.

People usually do not drink in their offices and smoking is prohibited in most work places. But believe me, I have met many variants of Don Draper, Peggy Olson and Pete Campbell.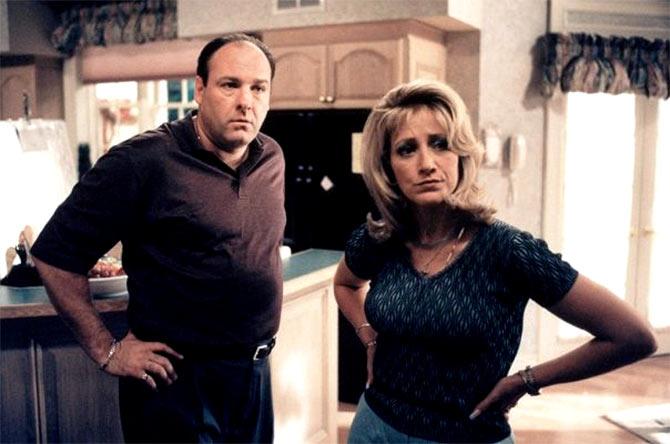 Image: James Gandolfini as Tony Soprano and Edie Falco as Carmela in The Sopranos.
Weiner came from The Sopranos school of writing for series, where the show's creator David Chase gave a modern day touch to the mafia.

Chase's protagonist, the larger-than-life Tony Soprano, killed, robbed and cheated in his professional life. His most legit business was a strip club. But he was a mobster for the 21st century. He dealt with anxiety attacks, and saw a therapist on a regular basis.

The most pleasure he got was from eating ice cream with his young son while they watched television in their suburban New Jersey home.
So now for the next seven Sundays, I will see my Mad Men friends again -- the last time, as they sort out their issues and hopefully clean up the cobwebs that have entangled them for all these years.
I have no idea how the show will resolve, but I really hope Peggy can see her son again and also let Pete know that he was the boy's father.
I hope Joan's son can also connect with his real father.

I hope Sally will grow up to be a strong, capable woman and somehow forget that she once saw her father cheating on his third wife.
I hope Don finds peace from the demons of his past and straightens up his act.

And I hope he gives up smoking. That will be a nice way to end the era.
On May 17. I will bid farewell to the show and my friends.

They will be free to live their lives without the additional burden of living it in our presence. I know they will be okay.