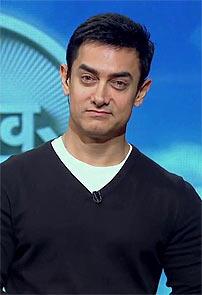 If only Aamir Khan had resisted spoon-feeding his audience...

By the looks of it, Aamir Khan doesn't want his fans to make informed decisions when it comes to their social responsibility as Indian citizens.

He wants to hold their hands and guide them to what HE thinks is the right thing to do because clearly the audience hasn't got a clue.

Or such is the consistent impression I've got after watching him on Satyamev Jayate Season 2.

The series finale of the show's second season, aired on March 30, couldn't come at a better time considering how close we are to the Lok Sabha polls.

Titled Criminialisation of Politics, the episode begins with horror stories of how notorious history-sheeters have been routinely given party tickets by regional and national parties to contest elections and, what's more, actually won.

Then there are some truly telling statistics that illustrate just how twisted this whole system is.

How a middle-aged former MLA from Madhya Pradesh sexually abused and killed a relative's daughter, how an honest-to-a-fault Ajit Sarkar, member of Bihar Legislative Assembly for Purnia constituency, was gunned down by his rival Pappu Yadav's men, among many other such stories.

Several former Chief Election Commissioners make appearances too, the most notable one being of Shahabuddin Yaqoob Quraishi, who recounted stories of political parties ferrying cash ahead of polls in ambulances, of fake lavish wedding parties that are thrown to appease voters.
Adding more bleakness to the situation were some more statistics -- out of 543 Lok Sabha MPs (Members of Parliament) and 4,032 MLAs (Members of Legislative Assembly), 30 per cent and 31 per cent have criminal cases pending against them respectively.
Then there's a clip featuring blurred faces who admit that they will vote in lieu of a mobile phone, cash, or, in some cases, for a refrigerator.
These are all very pertinent points raised by the show and are, more or less, balanced in their approach.
But it still leaves a lot to be desired.
Aamir Khan, and the content of his show, don't challenge their audience to think on their own.
Instead, they offer up scenarios where everything is perceived as either black or white, and there is always a definitive solution to a problem.
As if to further back this point, the cameras routinely pan to audiences' faces every time a shocking revelation is made on the show.
They seem to convey appropriate emotions by pursing their lips, raising their eyebrows or making disapproving noises.
But that's all there is to it, really.
They are emotions that exist in the now and will probably last in public memory until the new season of the show commences.