'My father may not be there for me the way he is for Taimur, but that doesn't make me feel any less special.'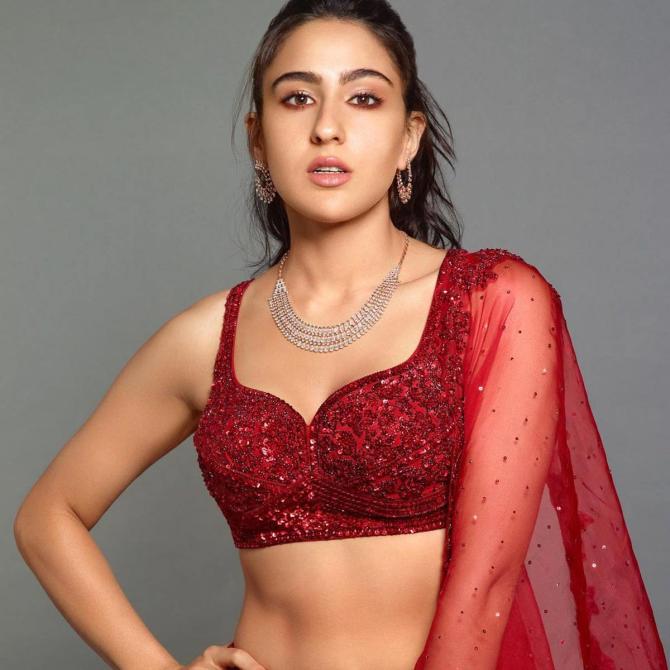 Sara Ali Khan was born to be a star. Or so she thinks.
She was a star in her head from childhood. I first saw Sara when she was 9 or 10 at the Screen awards where I had accompanied Sanjay Leela Bhansali. That evening, Black swept the awards. We were all in a celebratory mood.
In the middle of all this, a chubby girl walked up to Sanjay, did an Umrao Jaan adaab and left.
"Who is that girl?" I asked Sanjay.
"That's Saif (Ali Khan) and Amrita Singh's daughter. She's already behaving like a star."
Years later when I recounted this incident to Sara, she replied, "This sounds very much like me. I am what I am. I guess it comes from being honest, and that's the only way I can be. Let those who can lie convincingly do it. I can't! I start fumbling the minute I lie. Staying true to myself suits me just fine."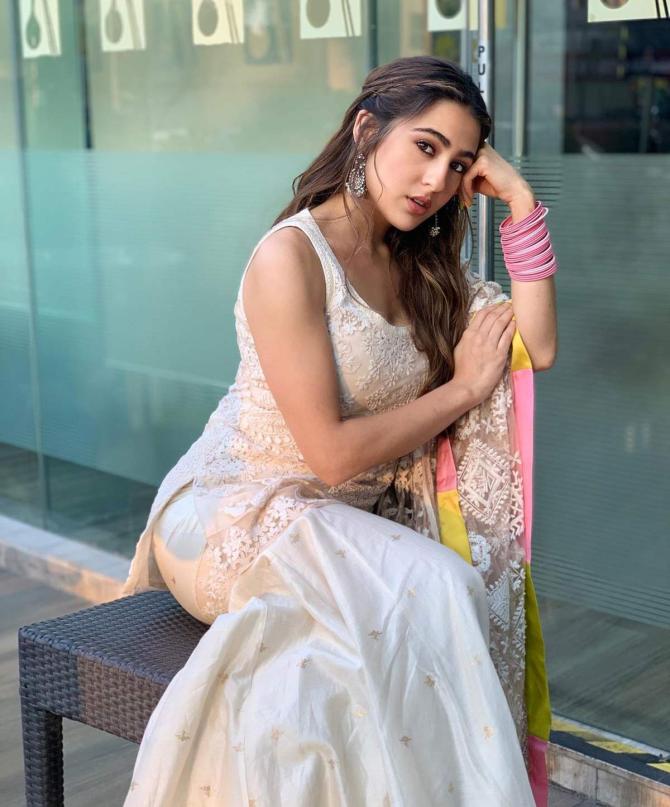 When I first interviewed Sara, she struck me as clever and confident.
When I asked if she thought she deserved to be one of the most talked about newcomers, Sara shot back: "80 percent of it, I deserve. The other 20 percent I don't know where it comes from. It's making me feel very grateful and emotional."
She did not attend any acting school; she was educated at Columbia University in New York.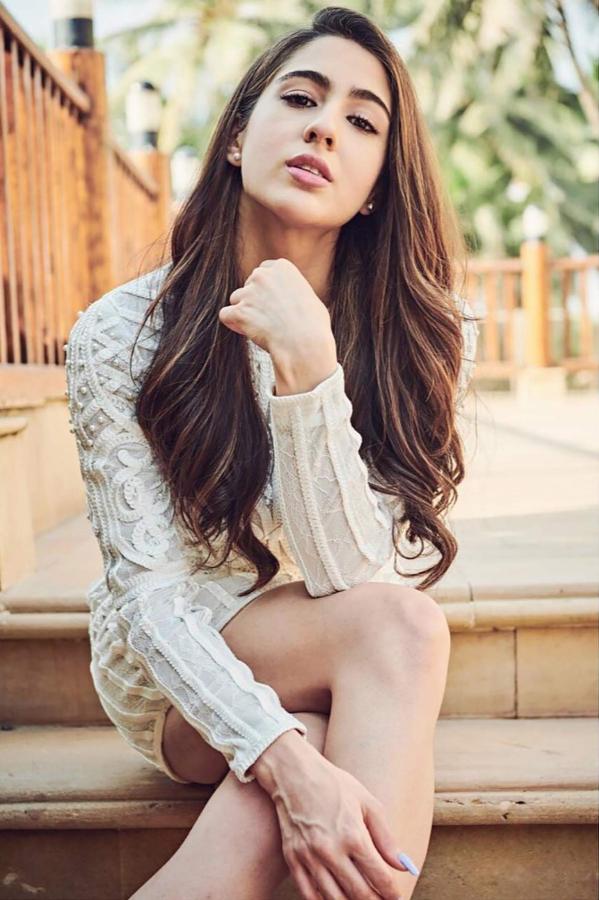 Sara remembered visiting her parents on the sets of their films.
"I had been on film sets before to see my mother shoot in Kalyug and my father in Omkara. But all I did was play around with my parents' co-stars' makeup. Kedarnath was my first opportunity to observe film-making and be a part of the process."
"My only tool of working on the sets was my honesty. Of course, I always wanted to be an actor."
So if she wanted to be an actor from childhood, why did she waste her parents' money by attending one of the best universities in the world?
"To me, education was not a means to get a job. It was a way of widening my horizon. I didn't think I was going to be a practising lawyer after attending Colombia. Education has made me a confident person. It not only teaches you history and geography, education gives you an insight into life. That helped me become a better actor."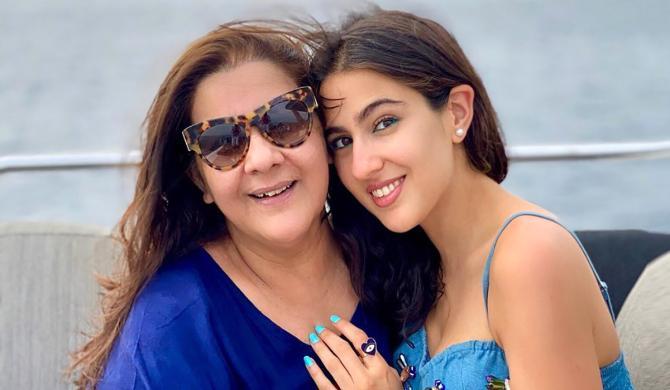 Being raised by a single parent didn't seem to bother Sara.
"I was more than okay with that arrangement," she says. "I think having two happy parents in different homes is more preferable than two unhappy parents in the same home. I think I am the way that I am because my mother didn't let me feel any kind deprivation for even a second.:
"I have a very hands-on mother. Once my brother and I were born, she did nothing but look after us."
"My father was always a phone call away for us. I've never felt he was not there for me. "In many ways, I am glad my parents were not together. I know they'd have never been happy together. And if they were not happy, I'd not have been happy."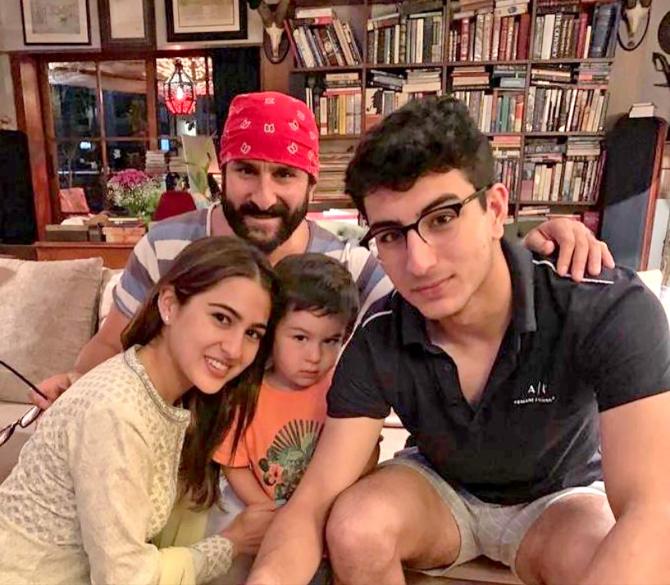 Sara is not perturbed by Saif's undivided attention for Taimur.
"When my father was living with us, he was completely taken up by me," she says.
"When he moved away, he was still as caring. There's nothing he wouldn't do for me. Even when he doesn't live with us, the thought that he'd do anything for me makes me feel very special."
"My father may not be there for me the way he is for Taimur but that doesn't make me feel any less special."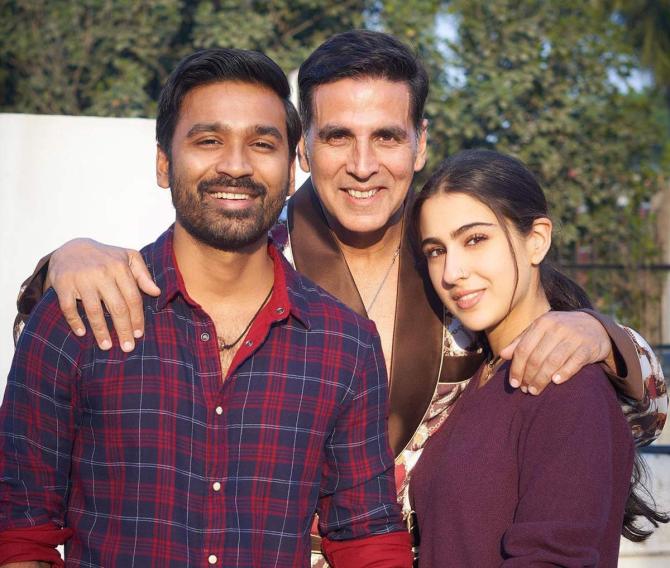 Sara's self-confidence has stood her in good stead.
It has helped her to survive a disastrous performance in Imtiaz Ali's Love Aaj Kal. Hopefully, Aanand Rai's Atrangi Re, where she co-stars with Akshay Kumar, gives her a chance to prove that she can act.