'Rajkumar Hirani could have gone for the jugular but has chosen instead to play to the gallery,' says J Jagannath.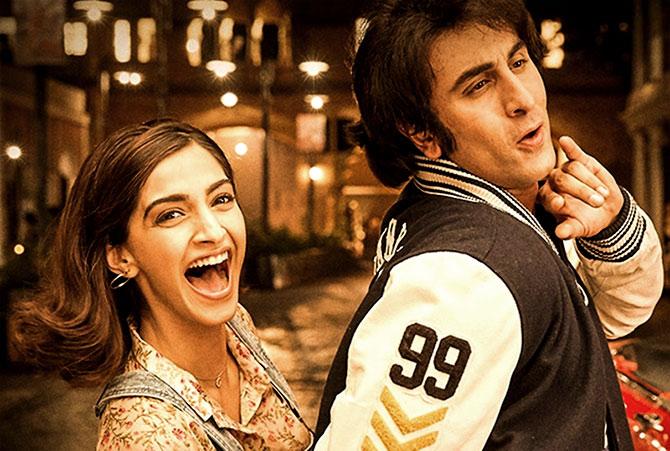 I don't usually bother myself with most biopics by Indian film-makers.
They are usually hagiographic and steer clear of anything that remotely discomfit the subject because the Indian public can take offence at anything that's thrown at them regarding their favourite celebrities.
Despite these reservations, I watched Rajkumar Hirani's Sanju and, as expected, he dished out a very sanskari version of the life of the enfant terrible of Hindi cinema, Sanjay Dutt.
Ranbir Kapoor is transcendentally batty as the man possessed by multiple demons.
His fantastically overdone ham as the cocaine-snorting, skirt-chasing next-big-thing of Bollywood is as edgy as Hirani is capable of producing.
But along with Abhijat Joshi, Hirani wrote a script that has more holes than Swiss cheese.
We know nothing about the subject's chequered marriage with Richa Sharma, the agonising court battle for the custody of his daughter and Sanju's subsequent relationship with her.
Hirani conveniently forgot about how the Congress deserted Sunil Dutt when his son was caught in the crosshairs of the Mumbai riots while in possession of an AK-56, and had to seek Bal Thackeray's help.
I'm not asking for sordid details of his supposed affairs with co-stars, but all I need is some meat around my bone to chew rather than just suck on it aimlessly.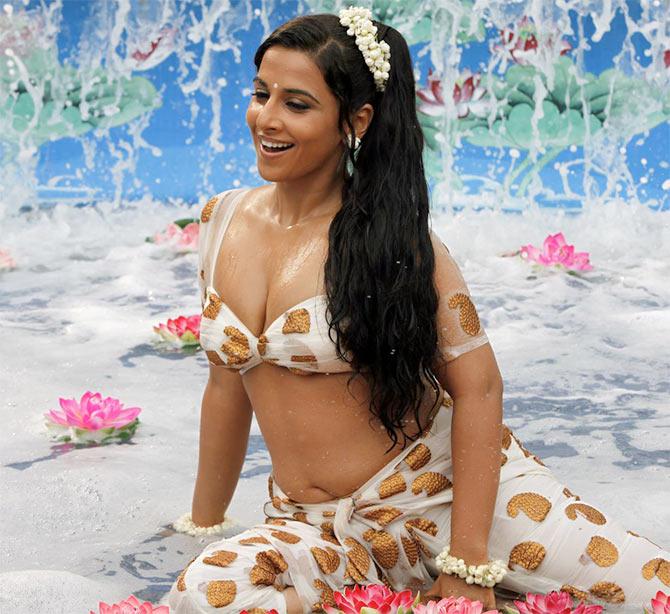 Not just Sanju, most Indian movies come a cropper when it comes to biopics.
M S Dhoni and Azhar are recent culprits.
But unlike the film-makers behind these movies, Hirani is someone who can actually quarry magic from the quotidian and that's what dismays me most.
He could have gone for the jugular but has chosen instead to play to the gallery.
Not so surprisingly, biopics centred on women have been far more absorbing.
Be it Vidya Balan in Dirty Picture or Priyanka Chopra in Mary Kom, we get fleshed-out characters, warts and all.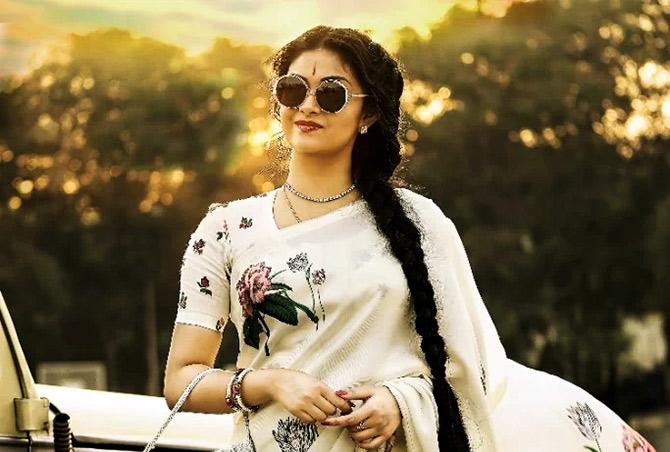 Most recently, the Telugu movie Mahanati set a new benchmark on how to approach such stories without walking on egg shells.
The story of Savitri -- imagine the grace of Vyjayanthimala, the range of Sridevi and the beauty of Madhubala rolled into one -- the reigning heroine of Tamil and Telugu cinema of the 1950s and 1960s, is one of the highest-earning movies of the year so far.
Director Nag Ashwin didn't hold back any punches and gave the whole lowdown on her spiral into alcoholism and depression after ruling the roost for long.
Keerthy Suresh is stunning in her portrayal that exudes the emotional void felt by the actress in her final years.
Keerthy might not be a Ranbir when it comes to bodily transformation according to age but her ravishing performance more than holds its ground.
Within six months, Andhra-Telangana will see two contentious biopics: One on N T Rama Rao and another on Y S Rajashekhar Reddy.
The former, to be directed by Krish and the iconic leader's son Balakrishna, reprises the terrific life story of the founder of the Telugu Desam Party.
But it remains to be seen how much of his personal life will be on display even though the ever-excellent Vidya Balan bagged the crucial role of NTR's wife, Basavatarakam.
The one on YSR (played by Mammootty) is touted to concentrate on his padayatra, when he traversed the then united Andhra Pradesh on foot for three straight months in 2003 to gauge the public pulse.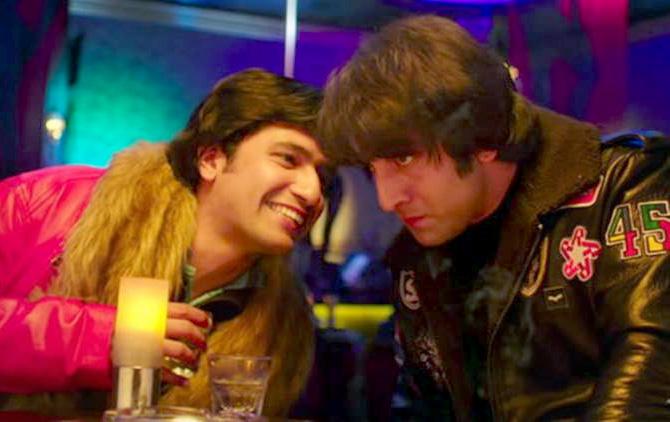 Expecting these biopics to be controversial is as laughable an idea as expecting rom-com vibes from a weepie.
Barring Ashwin's bracingly honest movie, all others are to be consumed with a pinch of salt.
Maybe biopics with female protagonists can afford to stick to facts because the industry is inherently patriarchal and a sanitised portrayal of men is of paramount importance -- unless, of course, we are discussing Rani Padmavati, who proved last year how divisive this country can get.
For Hirani, it will be unthinkable to burn bridges with his 'Munna Bhai', while Milan Luthria could make a no-holds-barred movie about starlets who were staples of '80s Hindi and South Indian cinema.
Not everything about Sanju is unwatchable though.
Like Arshad Warsi as Circuit, Vicky Kaushal as Sanju's all-weather friend Kamlesh is a hoot. Too bad he stole the thunder of the lead character.