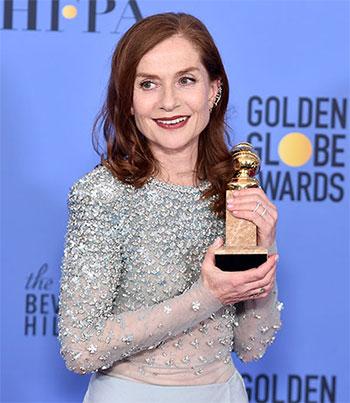 Minutes before Stallone and Carl Weathers walked out, however, viewers were treated to what, for Raja Sen, was the sight of the night.
Can there please be a whole show made up of cutaways featuring Michael Shannon in sunglasses?
The cutaways -- the candid shots of famous people who are pretty, drunk and frequently pretty drunk -- are what make the Golden Globes ceremony bearable.
This year, there was nothing on stage that could match up with what was off it: Shannon wearing his Elvis & Nixon glasses and looking like he'd wandered into the wrong room, Amy Adams stunned to see that Meryl Streep remembered her birthplace, Ryan Reynolds and Andrew Garfield kissing while Ryan Gosling strolled up to take his Globe, a slackjawed Mel Gibson looking like he'd forgotten what words are when Meryl Streep spoke about actors and empathy, Bryan Cranston determinedly chugging champagne from a bottle intentionally labelled Poet, not Moet...
That was the good stuff.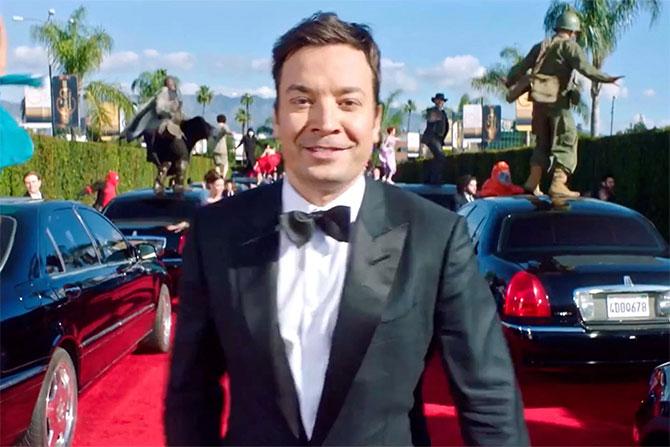 IMAGE: Jimmy Fallon opens the Golden Globes with a song and dance
The eternally, inevitably buoyant Jimmy Fallon, bless his heart, tries so gosh-darned hard it feels almost as if he's a real boy.
The La La Land opening sequence at the head of the show was well-made -- highlights included Evan Rachel Wood singing in character as a robot from the snubbed Westworld, the kids from Stranger Things being adorable as always, and Jon Snow not knowing how long his bit should be -- but Fallon is so proudly toothless it feels mildly embarrassing to watch him try to make Trump jokes in the opening monologue.
'What if King Joffrey had lived?' he snickered, to an unimpressed smattering of applause from sloshed celebs who, presumably, wanted to forget how orange the new black was going to be.
There was, however, one revelation: while summing up who the Globes honour, 'the best of TV, the best of movies, the best of music,' he did, rightly and tellingly, gave television top billing.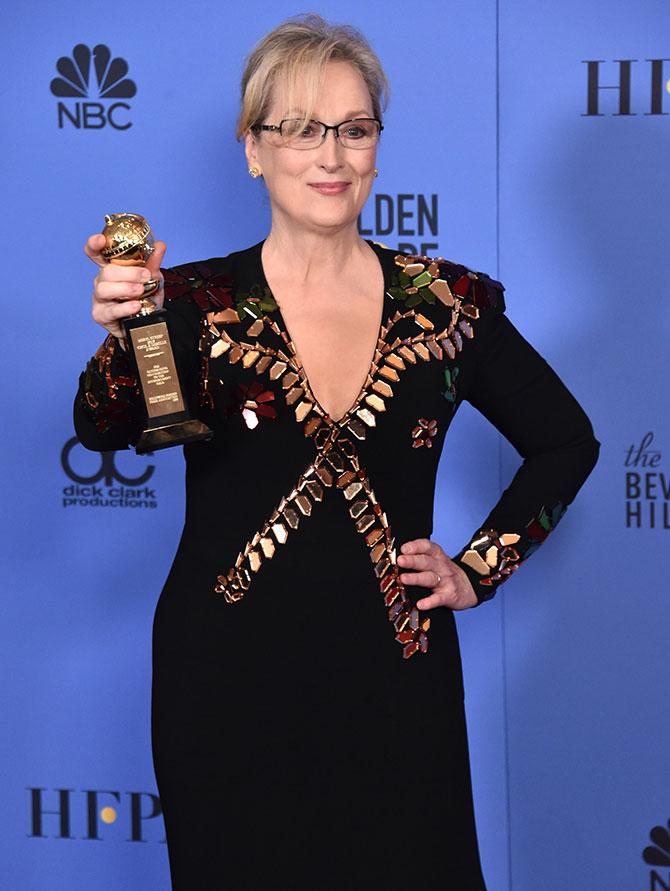 IMAGE: Meryl Streep gives one of the best speeches of the night. Photograph: Alberto E Rodriguez/Getty Images
Speaking of prestige television, it is almost difficult to get awards wrong these days.
The best show -- or your favourite show -- might not win, but what does win in its stead isn't likely to be The Big Bang Theory either.
The Night Manager plods and waffles a fair bit, but it is cinematic storytelling with a fine cast, and I'm all-in when it comes to victories for the ever-incredible Olivia Colman (I'll just pretend she won for Flowers) and Hugh Laurie, who might be losing hair but isn't short on wit.
Laurie beat Streep to the punch by being the first to single out each part of the 'Hollywood', 'Foreign' and 'Press' bits, and went one further: 'I think, to some Republicans, even the word "Association" is slightly sketchy.'
Several of the speeches were, as usual, a delight.
Ryan Gosling was a smooth stick of emulsified Clooney up there, going from winking kidder to teary husband through his articulate speech.
Claire Foy, who won for playing the increasingly stuffy regent Queen Elizabeth in Netflix's The Crown, turned out to be a wonderfully jumpy young woman squeaking about her Globe.
Streep's speech -- read it here -- was full of grace and fervour, the only sincerely moving part of an otherwise skippable ceremony.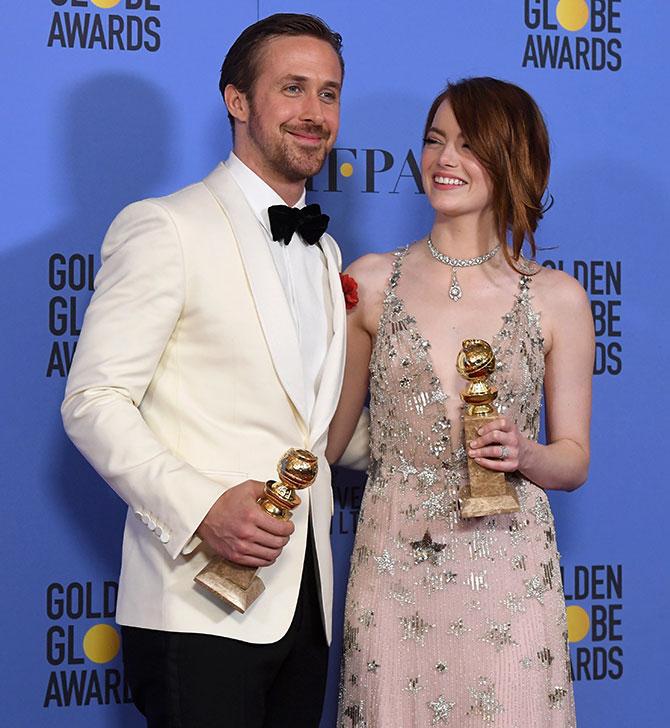 IMAGE: Ryan Gosling and Emma Stone win big st the Globes. Photograph: Kevin Winter/Getty Images
Who won? La La Land.
Well, kinda. If you have been following the awards season you'd have seen that Damien Chazelle's musical and Moonlight, by Barry Jenkins, have been scooping up the big awards in their race for the Oscar, and perhaps you thought the Golden Globes might nudge the odds somewhat? Nope.
La La Land won all seven of its categories: Best Film (Comedy/Musical), Best Actor (Gosling), Best Actress (Emma Stone), Best Song (City Of Stars), Best Score, Best Screenplay and Best Director. But the last award of the night was the one presented by Rocky Balboa and Apollo Creed in a year that marks 40 years of Sylvester Stallone's boxing classic, went to Moonlight. It was the only one, but it was the big one at the end.
Minutes before Stallone and Carl Weathers walked out, however, viewers were treated to what, for me, was the sight of the night.
An overwhelmed Isabelle Huppert was affectionately expressing her gratitude for the Best Actress trophy she won for the superb Elle, going on about love and passion and director Paul Verhoeven, when the music played to cut her off -- and then, because she exceeded it more than expected, the music for the next segment started playing.
So, for a fabulous couple of seconds, we had the magnificent Isabelle Huppert, trophy in hand and grin on face, up on stage while Hollywood looked on from below and the Rocky theme blared from the speakers.
Gotta fly now.