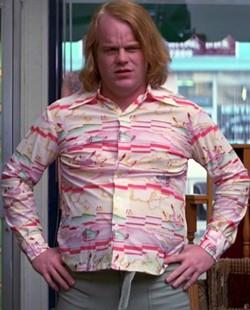 'He was overweight and mostly seen in crumpled clothes. His scruffy, unshaven look had become his identifier and he did not seem to give a damn.'

Philip Seymour Hoffman, says Aseem Chhabra, was one of the greatest actors of our time.

In a standout scene from Paul Thomas Anderson's Boogie Nights (1997), Scotty (played by then 30-year-old Philip Seymour Hoffman) grabs Dirk Diggler (Mark Wahlberg) and kisses him on the lips.

It is New Year's Eve and a drunk Scotty, a closeted gay production assistant with long unkempt hair, had asked porn star Diggler to come out and see his new car.

'What the hell is the matter with you?' a confused and earnest Diggler asks, wiping his lips. 'Why did you do that?'

And then, Scotty starts to beg. 'Can I kiss you? Please can I kiss you on the mouth?'

Diggler yells out a firm 'No' and walks away after a quick hug.

This is only one of the saddest scenes in Anderson's film -- a remarkable exploration of Los Angeles's pornographic film industry.

Drunk Scotty then gets into his car, and cries out loud: 'I'm a f****** idiot!' He says that again and again while we cringe in our seats, grasping the magnitude of his absolute embarrassment.

How does one define a good actor?

In my book, a good actor is one who completely transforms himself into the character he is playing, to the extent that we can no longer see the actor in him when we set out to watch the film, play or television show.

A good actor then takes us along on the narrative arc of his character's journey. We are like voyeurs privileged to peek into the dark or joyful world of the character. And when the show ends, the character's sadness, shame or happiness stays with us.
We feel better as human beings after having known a character, especially a flawed one, so intimately.
Our lives are enriched in understanding the human condition that the actor has projected. We love that actor and admire him for his chameleon-like versatility.
He makes us feel that we are not alone in this world. It comes as a life-affirming reminder that our own frailties, flaws and warts are not unique to us.
Hoffman was a great actor in that regard, one of the greatest of our times.
He was a male Meryl Streep -- he could transform into anyone on screen, and despite his stocky self.
Hoffman was not a matinee idol; he wasn't a good-looking man like Brad Pitt, Leonardo DiCaprio or George Clooney.
He was overweight and mostly seen in crumpled clothes. His scruffy, unshaven look with disheveled, often long hair had become his identifier and he did not seem to give a damn.
On one rare occasion, he was required to shed weight and look effete for his Oscar-winning portrayal of Truman Capote.
In the film Capote, he also dramatically changed his voice and accent, and became the most believable Truman Capote we'd ever see on screen.
At all other times too, he had used his body, heft, and his deep rough voice to create unforgettable, sometimes devastatingly believable characters.
Hoffman acted in so many films -- over 50 in his young 23-year-old career, each memorable even if the films themselves were dismissed by critics and also rejected by the audience (for instance his wonderfully flashy performance of a cross-dresser who helps rehabilitate Robert De Niro's homophobic cop in Joel Schumacher's Flawless).
But it is the early Hoffman, where he repeatedly played sad, creepy, misfits that always appealed to me, just as I am still a bigger fan of Leonardo DiCaprio's pre-Titanic roles.
That is why I will always be haunted by Boogie Nights's Scotty, or the creepy neighbour who masturbates while making dirty phone calls in Happiness, or the troubled male nurse in Magnolia.
I liked the Hoffman of Love Liza (written and directed by his brother Gordon), a depressed, lonely man coping with his wife's suicide; or the frightening conman of Punch Drunk Love (also directed by Anderson) who yells out the f-word so many times, with such a fierce anger that it scares the hell out of Adam Sandler's nervous salesman.
There was a raw actor in the Hoffman of those days, before he became a celebrity, who broke the glass ceiling of good-looking movie stars to make a unique space for himself in Hollywood.
I saw Hoffman in 2002 at the Hamptons International Film Festival as he stood outside the theatre where Love Liza was about to be screened.
He looked confused and anxious, as he was about to face the audience. He was certainly not attempting to look cool and glamorous as most movie stars do when they walk the red carpet at Cannes or other top-line festivals.
I quickly recognised his insecurities as an actor.
I liked that look on him. He looked liked a regular guy who lived in Manhattan's Greenwich Village where neighbours would see him walk his three young children to school, like other New York film actors, including Ethan Hawke and Isabella Rossellini.
But the regular guy was also troubled, much like the characters he played. In 2006, he told 60 Minutes that he had battled drug addiction and a hard-partying lifestyle since graduating from drama school at New York University.
'It was all that (drugs and alcohol), yeah, it was anything I could get my hands on,' he told 60 Minutes's Steve Kroft, giving an awkward laugh. 'I liked it all. I went (to rehab), I got sober when I was 22 years old. You get panicked, and I got panicked for my life. It really was just that.'
And then in what could only be defined as a foreboding moment, he added: 'I have so much empathy for these young actors that are 19 and all of a sudden they're beautiful and famous and rich. I'm like, 'Oh my God. I'd be dead.' You know what I mean? I'd be 19, beautiful, famous and rich. That would be it. I think back at that time. I think if I had the money, that kind of money and stuff. So, yeah (I would have died).'
On Sunday, February 2, Hoffman was found dead in his apartment, lying on his bathroom floor with a hypodermic needle stuck in his left arm. He was 46 years old.
The regular guy died an ordinary death. It would have been a perfect role for him to play. But this was real life.
Also Read: Raja Sen: Goodbye Master
Image: Philip Seymour Hoffman in Boogie Nights.