'The maverick, alpha male, super suave spy, who kills as efficiently as he charms the pants off women, doing the mother of all gender-benders and trading his tux for high heels?'
Shuma Raha explores the possibilities.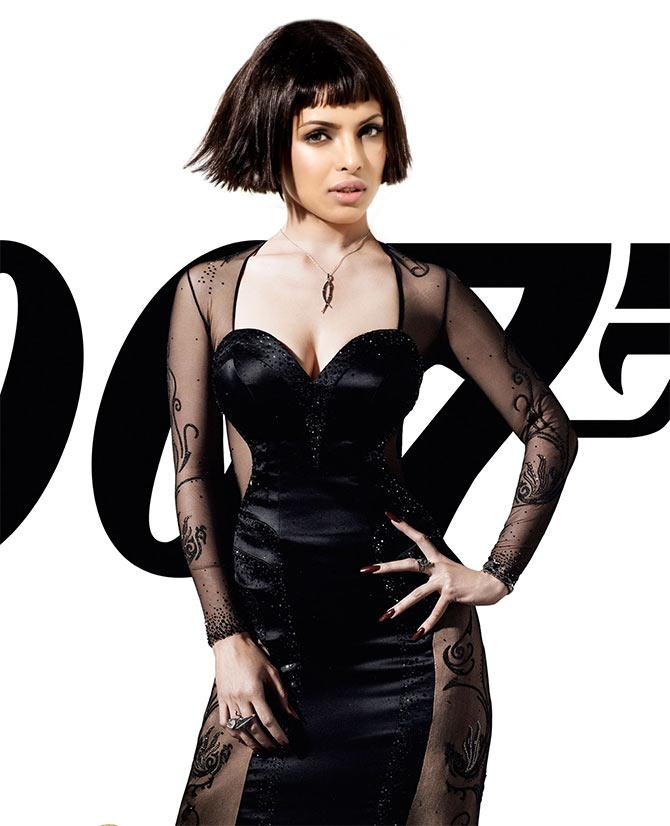 IMAGE: What if Priyanka Chopra played 007? Imaging: Uday Kuckian/Rediff.com
Twitter erupted in squeals of delight when Gillian Anderson, star of the American TV series The X-Files, tweeted a mock-up poster of herself as a female James Bond. 'It's Bond. Jane Bond,' she said, at once sparking furious speculation that perhaps she was in the running to play the iconic British spy in the next Bond movie.
Indeed, ever since actor Daniel Craig refused a 68 million pound offer to play 007 for the fifth time, fans have been all aflutter trying to figure out who will get the role next.
But wait, James Bond a woman?
The maverick, alpha male, super suave spy, who kills as efficiently as he charms the pants off women, doing the mother of all gender-benders and trading his tux for high heels? So we get to call him -- sorry, her -- Jane Bond? Or, maybe Jemima Bond, if you like?
It's a staggering thought, but it's been expressed for a while. Equal opportunity types have long argued that if Judi Dench can turn in a steely and spectacular performance as M, Bond's boss at the British secret service MI6, why can't a woman do a Bond?
And now that M is back in a male avatar (as of the last movie, Spectre) the demand has only grown louder.
Last year, British Labour Party leader Ed Miliband said he was keen to see a woman don the role. Daniel Craig too feels it's a great idea. And Sadiq Khan, London's first Asian mayor, recently told The Huffington Post, 'How about a woman? A woman Bond.'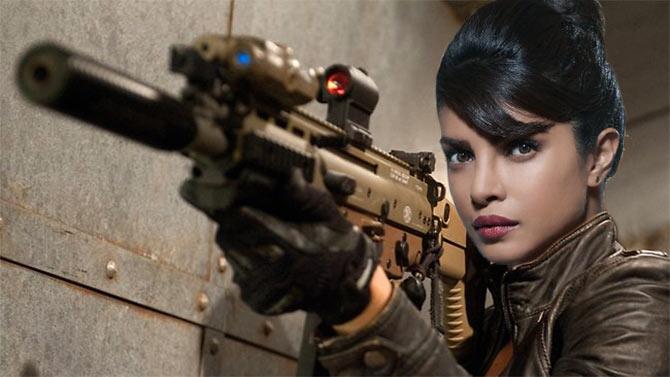 IMAGE: What if Priyanka Chopra played James Bond? Imaging: Uday Kuckian/Rediff.com
In fact, our very own Priyanka Chopra, who has wowed American primetime television with her kickass lead role in Quantico, has scoffed at the suggestion that she could be a 'Bond girl' (regulation eye candy in every Bond movie), declaring instead that she wants to play the man himself.
Now I'm all for women shattering every glass ceiling imaginable. Gender roles are not written in stone and popular culture should definitely depict women as action heroes, super heroes, sleuths, spies, dirty rotten scoundrels and so on.
But here's why I still won't root for Gillian Anderson, or any other woman, in the role of James Bond.
The Bond character created by Ian Fleming in his 1953 novel Casino Royale is quintessentially male. The 26 Bond films made so far -- the Bond franchise has gone far beyond the 12 novels Fleming wrote before he died in 1964 -- only exaggerate his masculinity.
Indeed, Bond simply wouldn't be Bond if he weren't dripping with machismo and testosterone, pulling off stunning acts of derring-do and saving the world even as he dashes about in his Aston Martins and hi-tech boy toys and beds a woman or three.
It's all part of his USP, for heaven's sake -- and feminising him destroys that completely.
Of course, cultural diversity is now a buzzword in the West. In the last few years, Marvel Comics has launched a female Thor and a half-black, half-Puerto Rican Spider-Man. Another crusading comic book character called Captain Marvel has also undergone a sex change. Her understudy, Ms Marvel, is now a 16-year-old Muslim girl called Kamala Khan.
It's all terribly edifying and one sees where the diversity warriors who demand a female James Bond are coming from. The question is, must gender justice involve gender fluidity -- so that our beloved fictional characters are made to do duty in both masculine and feminine roles?
What's next then? A female Sherlock Holmes? A trio of female Three Musketeers? A transgender Dirty Harry?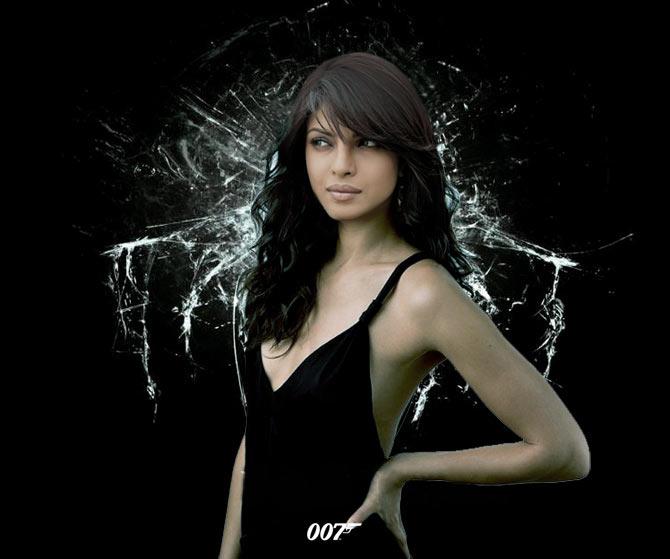 IMAGE: What if Priyanka Chopra played 007? Imaging: Uday Kuckian/Rediff.com
While James Bond hasn't switched sex yet, both the character and the franchise have undergone significant changes lately.
Responding to the blast of political correctness everywhere, recent Bond films have become less sexist and more racially inclusive. Bond girls are no longer the white-only beauties with suggestive names such as Pussy Galore (Goldfinger), Honey Ryder (Dr No) or Plenty O'Toole (Diamonds Are Forever).
James Bond himself has shed much of his chauvinism -- and I can't remember when was the last time he indulged in a bit of risque double entendre with one of the ladies.
Indeed, the increasingly humourless portrayal of Bond by Daniel Craig, the hunk with the workman-like face (Oh, Sean Connery! Oh, Roger Moore! Oh, Pierce Brosnan!), has made the character much less fun than he used to be.
Even so, I would rather have a melancholy Bond who drops his Walther PPK at times and reveals a vulnerable feminine side (he shed tears at the passing of Judi Dench's M in Skyfall) than have him emasculated and turned into a woman.
Let's have Bond-like women characters in books and movies by all means. Let's have female action heroes with a licence to kill, women who are as lethal and gorgeous as Bond is.
But the idea of forcing a sex change on the ultra-masculine James Bond for the sake of equal opportunity is beyond ludicrous.
Sorry, Gillian Anderson -- this is one male bastion that should be neither shaken nor stirred.